Editorial: One more link
The election laws (amendment) bill, 2021 allows electoral officers to ask for the Aadhaar number of those seeking to enrol as voters, as and those already enrolled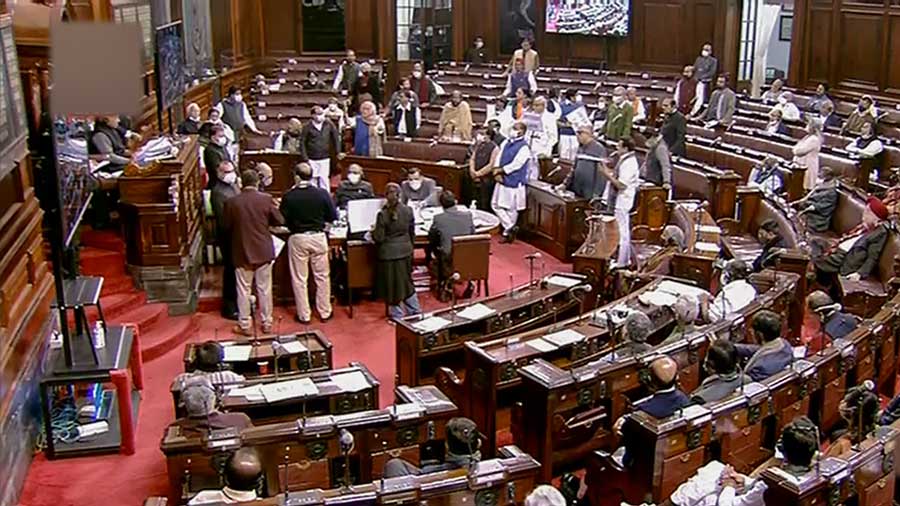 Rajya Sabha Deputy Chairman Harivansh Narayan Singh conducts proceedings in the House during the Winter Session of Parliament, in New Delhi, Tuesday, Dec. 21, 2021.
PTI
---
Published 22.12.21, 02:18 AM
|
---
For elections to be fair and free, one condition is the systematic registration of voters. Which is why cleaning electoral rolls of multiple registrations for the same voter ID has long been needed. Not that repeated entries are always intentional; a change of address, for example, may mistakenly leave the voter's earlier address untouched, thus registering him twice. Multiple entries are not only messy, but also allow political parties to take advantage of the erroneous entries. The Narendra Modi-led government's move towards cleaning this up is therefore welcome. The election laws (amendment) bill, 2021 allows electoral officers to ask for the Aadhaar number of those seeking to enrol as voters as well as of those already enrolled, to authenticate entries and eliminate repetition. It heralds other changes as well, such as notifying four days a year for registering voters above 21 instead of one day, and changing the word 'wife' to 'spouse' to make it gender neutral.
It is, however, the linking of Aadhaar with voter IDs that has the most impact. Although the Supreme Court ruled Aadhaar to be constitutionally valid in a 4:1 judgment, its use by the government was only allowed for income tax filing and for Central government benefits, with alternative means of identity verification also allowed in the latter. The sweeping move — the government pushed the bill through by voice vote, ignoring the Opposition's arguments as usual — to embed Aadhaar within a step that verges on constitutional reform is reason for much discomfort. Apart from concerns about the breach of privacy, there is also the mix-up between issues of citizenship and residency; Aadhaar validates the latter without proving citizenship. Such confusions may become significant in the context of the recent citizenship laws. More worrying is the possibility of exclusion, given that Aadhaar registration itself has proven to be imperfect and even incomplete, particularly with reference to underprivileged and marginalized groups. Surely that is not what the government wants? Yet its thrust for single entries in a clean electoral roll — laudable, no doubt — but with the help of Aadhaar, which may result in exclusions, may seem to echo the thrust for 'one nation, one election' that it is so keen on. A multi-party democracy must allow for diversity; free and fair elections are resistant to too much single-mindedness.