A ticker tape parade saluted the US women soccer players in New York
The chant of 'equal pay' was heard in the crowd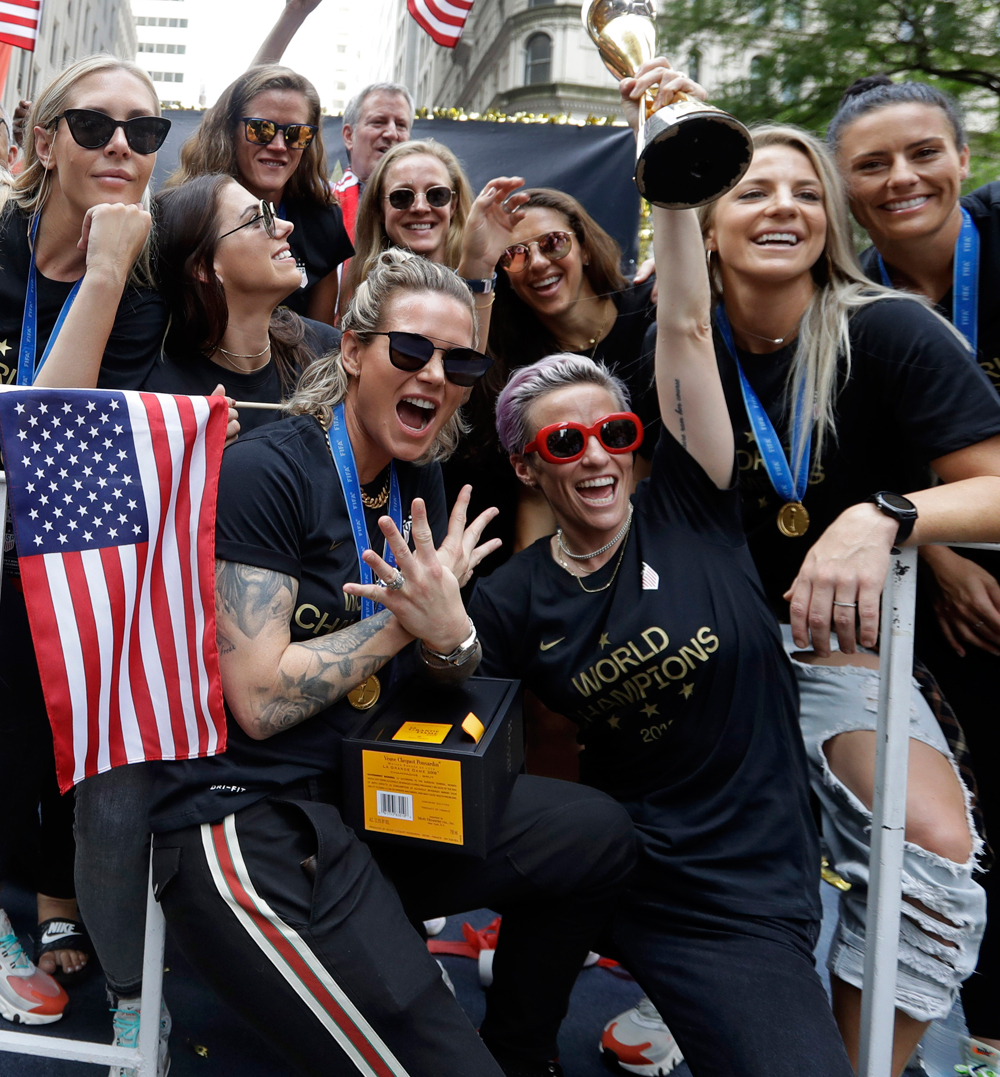 United States of America's women's national soccer team: True fighters
(AP photo)
---
Published 20.07.19, 07:06 AM
|
---
Hundreds of New Yorkers gathered on July 10 to celebrate New York City's 'ticker-tape' parade, honouring the World Cup victory of the United States of America's women's national soccer team. It was the 207th official ticker-tape parade, and the first since 2015. The very first one was in 1886, when the Statue of Liberty was unveiled. Since then, the parade has been held to celebrate sports victories, and sometimes political figures. It involves throwing the ticker tape in celebration. The one-inch strip of paper was used to print stock quotes from the ticker machine. As the stock exchange moved to electronic boards in the 1960s, shredded paper and confetti took its place.
The whole world watched the team win its fourth World Cup, when it beat the Netherlands. It was the second consecutive Fifa championship for the women's team after its win in 2015. At that time, too, there was a parade in the team's honour. It started in lower Manhattan with several women on motorcycles with American flags and placards stating 'Imagine Equality', followed by a marching band. The parade travelled down a stretch of Broadway known as the Canyon of Heroes, while confetti was strewn on the team and thousands of fans shouted "USA" and waved American flags. "Equal pay" was chanted among the crowds.
Earlier this year, the team filed a federal lawsuit accusing the US Soccer Federation of "institutionalized gender discrimination". The suit states that the women players were paid a total of $1.725 million in bonuses after winning the 2015 World Cup, while the men were paid a total of $5.375 million in bonuses in 2014. Favourite food

Of course there is a National Hot Dog Day in the US. It is celebrated by retailers and restaurant chains every year in July, sometimes for the whole month. People in the US are expected to consume around seven billion hot dogs between Memorial Day in May and Labor Day in September, according to the Washington DC-based National Hot Dog and Sausage Council (yes, such a body exists). On National Hot Dog Day, this number spikes, with stores offering free or heavily discounted hot dogs.
Chicago goes one step further and celebrates all week long. The restaurant, Portillo's, offers free delivery and two hot dogs for five dollars as part of this week-long special. Maple Leaf Foods, the creator of the Maple Leaf Natural Top Dogs brand, released new 'Canadian Hot Dog Etiquette' aimed at helping Canadians enjoy this food on National Hot Dog Day, and throughout July. Their etiquette rejects the common rule popularized in Chicago that ketchup on hot dogs is a big no-no, pointing out that for Canadians, "reaching for ketchup is as natural a reflex as gripping a hockey stick". The etiquette also emphasizes the appropriateness of eating with hands.
As part of the Hot Dog Month fun, the NHDSC is inviting hot dog fans to show their creativity by developing a meme that demonstrates their love for hot dogs.
Time to shop

Amazon Prime Day was on July 15 and 16. Every year, this occasion drives up Amazon's revenue stream and adds hundreds more Prime subscribers. Other giants like Walmart, Target and Best Buy also offer online discounts and almost always match Amazon's rates. Last year, Amazon said that over 100 million people around the world were paying for Prime. The company has expanded this by adding discounts at its Whole Foods grocery chain and faster shipping in many markets.
Technically, if you do not actually need anything, then it is not really a worthy deal. The entire exercise works on our 'FOMO' — 'fear of missing out' — with these 'exclusive' deals. Yet, many people set out to boycott Amazon on Prime Day for other reasons. The event is used as a platform by employees to air their grievances. Amazon employees at a fulfilment centre in Minnesota went on strike for six hours to protest against gruelling working conditions and productivity quotas. The company has come under fire for its treatment of workers. Last year, nearly 1,800 Amazon workers in Spain went on strike on Prime Day, and thousands of workers in Germany walked out of their jobs.
Go more green

Recycling is broken in America. Companies and retailers are trying to fight against contamination and rising processing costs. This includes reducing waste, reusing material and also going to the very source of the problem — plastic. Coca-Cola and Pepsi, and the plastics producer, Dow, support non-profit groups like Keep America Beautiful, which organize events like litter clean-ups. Coca-Cola wants to use 50 per cent recycled plastic by 2030. Nestlé Waters North America is aiming for 50 per cent recycled plastic in its domestic brands by 2025. PepsiCo aims to use 25 per cent recycled plastic in all of its bottles and packaging by that year. Most of these companies and other beverage companies use less than 10 per cent recycled plastic in their packaging now.
PepsiCo will begin packaging its Aquafina brand of water in aluminium cans for US food service outlets next year. Some start-ups have cited aluminium canned water as a more environmentally friendly alternative to the bottled variety. The awareness is spreading to consumers as well. A Change.org petition calling for McDonald's and Burger King to do away with plastic toys in kids' meals has gained more than 3,98,000 signatures. Cats and dogs can take a back seat; cuddling up with a cow is the latest stress relief technique. A 33-acre bed-and-breakfast in New York's Finger Lakes region is charging $75 per hour for 'cow cuddling'. "It's a fun and...relaxing experience," says the website. "We can't guarantee that the cows will be lying down. It's not a trained skill but their natural behavior." United Airlines is limiting emotional support animals to dogs and cats. Should that now change?