A personal journey to explore the universal
I convinced myself that chasing the stars would be the ultimate adventure, the final act of journalism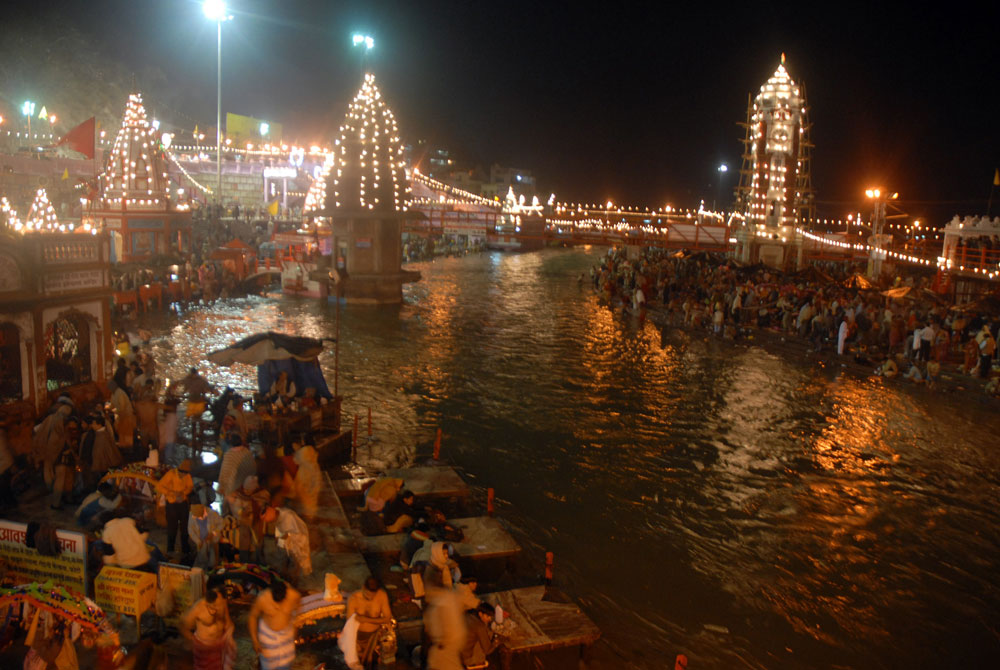 Through 12 eventful, if tiring, years, I periodically drove to Haridwar to partake in the discourses at a satsang little known to the outside world
File picture by Amit Datta
---
Published 24.03.19, 06:24 AM
|
---
Unrestrained curiosity and an innocuous question to a media mogul took me on a wild journey on the banks of the Ganges at the foot of the Himalayas, in Haridwar, 13 years ago. I was on the verge of a burnout from years of chasing news, and submitting to deadline pressures. That perhaps, had aroused an unrelenting urge to chase the stars, to figure out what really could be the purpose of life. Who am I, after all? I asked aloud. I convinced myself that chasing the stars would be the ultimate adventure, the final act of journalism, investigating the nature of the bewildering unknown. Up there in the sky, I could finally join the dots.
Zara's Witness, my first work of fiction, is the culmination of that quest. Scripted in bursts of mystical insights and inspiration following rigorous study of secular Indic literature, it narrates the story of a young girl's search for the meaning of life, figuratively, along the course of an imaginary river — from high up in the mountains to just short of where it merges with the sea before rising to the sky, first as vapour, and then, as cloud, repeating the cycle of birth and death, over and over again.
For me, that journey lasted 12 years — which, quite by grand coincidence, is the complete cycle from one Kumbh Mela to another. It is also, by the ancient code of the ashramas in Indic life, the time that a student actually spends in the abode of his master before moving forward to lead the life of a householder.
Through those eventful, if tiring, years, I periodically drove to Haridwar, to partake in the discourses at a satsang little known to the outside world.
What I discovered there in the company of the seer and the seekers had so little to do with the search for God — of the One imagined, almighty, unknown, up there. And it had still little to do with the question if He was up there, for real.
Instead, it had to do with our mundane pangs of everyday grind. What happens to my business? What happens to my wealth? What happens to my health? What happens to my spouse? What happens to my offspring? What happens if I die? In other words, it was all about career, wealth, health, sex, inheritors and death. And why all of these worries, either singly or in collective, do not perform to my command.
Zara's Witness attempts to address those questions in a fairy-tale setting, by the river bank and through an enchanted forest, before culminating inside a star kitchen in a dazzling city of the bold and the beautiful. There, Zara discovers the fullness of her life's longings. And that fullness is to be found in Universal Love!
The narration draws on concepts from early Indic literature to contemporary Disney classics. It also imports narrative techniques from poetry, theatre, classical music, cinema and quantum computing.
The story, and the turmoil and euphoria it brings to life, is only apparent at the surface for a first-time reader. At a deeper level, there are several underlying layers that transport readers to the inner realms of their being. And in it is told the story of subversion: that there is no merit in abstinence. No virtue in denial.
At another subcutaneous level, Zara's Witness is a simple musical score of computational mathematics and the measurement of time and distance. Of how one became many over a period of time. How an epoch is hidden within a moment, and how a moment is hidden within an epoch. That story is not only for a mind informed on the subtle beauty of Indic wisdom. It should also fascinate a nerd exploring the final frontiers of computing. Which is why this story is not only for those seeking spiritual liberation or for those keen on listening to the songs of their soul. It is equally relevant for the high school grad, the IIT scholar and the Silicon Valley techie, to discover the beauty of a parallel universe.
A few years ago, I remember reading about Facebook's maverick founder Mark Zuckerburg wondering aloud if there could be an equation that could explain everything in this Universe. I am not a scientist nor a technologist to be able to draw up a mathematical equation to satisfy that curiosity. But Zara's Witness does attempt to draw up a linear stream of thought in a chapter at the end of the story titled "The Essence of This and That!"
Above all this, Zara's inner journey seeks to invite the Gen Z to explore the hidden world of Indian classics in their unabridged form, to figure out for themselves how millennia old knowledge is shaping our understanding of the complex human mind even now.