A new model
Exploring the idea of 'one nation, one election'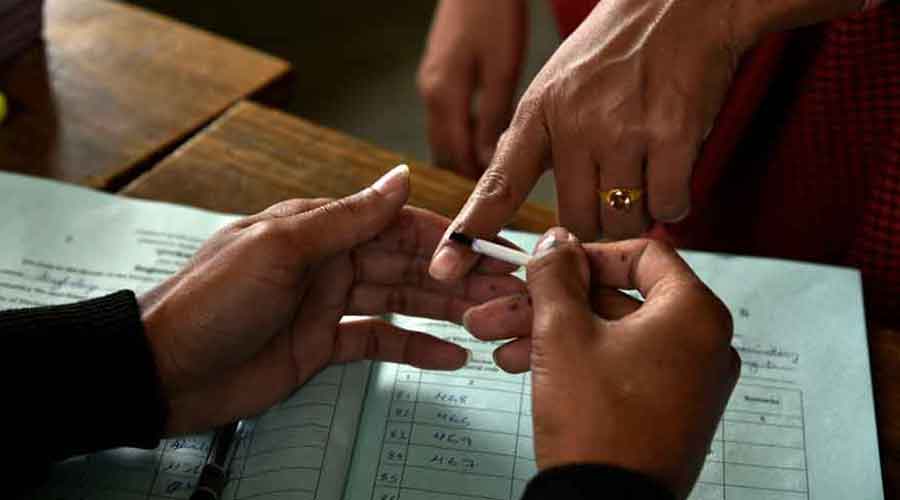 The current election cycle is haphazardly spread out, the result of the imposition of presidential rule and the dissolving of the Lok Sabha and the legislative assemblies.
File picture
---
Published 26.05.22, 02:40 AM
|
---
Whether constant electioneering has a significant impact on the quality of governance is a question worth asking. From economy to governance, there are arguments against it. As a solution, the idea of 'one nation, one election' has come up in discussion among various stakeholders, such as the Election Commission of India, the Law Commission and others. In recent years, the Bharatiya Janata Party has emerged as its firm advocate. The proposal for simultaneous elections for the Lok Sabha and the Vidhan Sabhas found a place in the BJP manifesto in 2014. Since then, the prime minister, Narendra Modi, has raised it many times, highlighting the economic costs of separate polls.
There can be different opinions about the feasibility of simultaneous elections. But one thing is clear. The current election cycle is haphazardly spread out, the result of the imposition of presidential rule and the dissolving of the Lok Sabha and the legislative assemblies. The 2019-2020 election cycle began with polls to the Lok Sabha and four state elections, resulting in frequent impositions of the Model Code of Conduct in various parts of the country that, in turn, hampered governance and development.
This is a good time to ask whether the current template of holding elections can be improved upon.
A concept like 'one nation, one election' would require numerous constitutional amendments concerning the term of the legislature and the conduct of elections. Since this would involve substantial disruptions to the tenures of many legislative assemblies, political consensus would be of utmost importance. An alternative, flexible route exists. Election schedules could be synchronised in two large cycles. One cycle could be held along with Lok Sabha elections and the other could take place after around 30 months of the general elections. Additionally, polls for urban and rural local bodies could also be accommodated in this 30-month interval. Let's take Odisha and Uttar Pradesh as examples. Lok Sabha and Vidhan Sabha polls will take place in Odisha in 2024; UP could hold local bodies' elections along with the Lok Sabha schedule. In turn, when UP plans its Vidhan Sabha polls in early 2027, Odisha could conduct its local bodies' elections. Other states would gradually converge their schedules to the nearest of these two cycles by dissolving legislative assemblies a little ahead of their time and calling for early elections. For a large-scale convergence, terms of some assemblies need to be extended or curtailed by constitutional amendments. The disruption would be relatively smaller than that caused by the 'one nation, one election' model.
This proposal is not new. The 79th report of the Parliamentary Standing Committee on Personnel, Public Grievances, Law and Justice released in 2015 examined the feasibility of simultaneous elections for Lok Sabha and state legislatures and recommended two election phases within five years. A working paper released by the Niti Aayog in 2017 built upon the Parliamentary Standing Committee's recommendations and featured a discussion about sustaining two election cycles in the events of political instability and untimely dissolution of state assemblies.
However, these two recommendations had only the top two tiers of governance in mind. Elections to urban and rural local bodies across states are marred by delays, thereby hindering decentralisation and accountability. A 30-month cycle in all three tiers of governance would balance long-term governance imperatives with shortterm electoral compulsions. Two and a half years is sufficient time for the electorate to assess the incumbent's performance. Mid-term results would also be an occasion for the political parties to recalibrate their strategies. Above all, this would give due recognition to urban and rural local bodies for playing a key role in citizens' lives. Modi is heading a call for change. Should not BJPruled states then  kick-start this process? 
Sunil Choudhary is a doctoral candidate at Jawaharlal Nehru University, New Delhi