A matter of education
The Supreme Court's judgment on the Haryana law that prescribes a minimum educational qualification for contesting panchayat elections in the state has split the legal community, says Avijit Chatterjee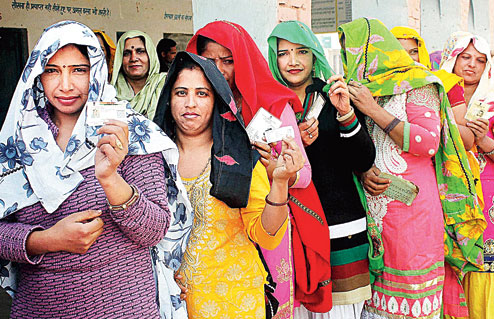 ---
---
Is it only education that gives a person the power to discriminate between right and wrong or good and bad? The Supreme Court says so, but the verdict on the verdict is divided.
The crux of the matter is a Haryana state law mandating that only those with "minimum" educational qualifications will be eligible to contest panchayat elections in the state.
The minimum education required to be able to contest in a panchayat election is the completion of matriculation in case of general candidates; the completion of Class VIII for a woman candidate or a candidate belonging to a Scheduled Caste; and the completion of Class V for Scheduled Caste women candidates contesting for the post of panchayat pradhan.
The Supreme Court recently upheld the Haryana law. A bench of Justices J. Chelameswar and Abhay Manohar Sapre underscored the need for education in justifying the bar on illiterate people contesting the polls.
Rajasthan is the only other state to have fixed a minimum education qualification for those contesting panchayat polls.
The Haryana Panchayati Raj (Amendment) Act, 2015, also states that a candidate can be barred from contesting for failing to pay arrears to any primary agriculture co-operative society or agriculture co-operative bank, electricity bill arrears and not having a functioning toilet at home.
The Supreme Court judgment has generated a fierce debate, with some legal luminaries and academics hailing the verdict, and others describing it as an "attack" on the democratic rights of the people. No such restrictions exist for candidates contesting either Assembly or parliamentary elections in the state.
Adish C. Aggarwala, senior advocate and chairman, All India Bar Association, feels a minimum educational qualification should be a prerequisite for contesting panchayat elections. The panchayat, he believes, is distinct from legislative assemblies or Parliament since it is only an administrative body while the other two frame laws. The responsibility of executing the work is bestowed on panchayats.
"They have to construct roads, provide water, set up health centres in the villages. A lot of financial responsibilities are bestowed on them and that's why literate panchayat leaders will be in a better position to discharge their responsibilities. Instances of embezzlement of funds often occur when sarpanch leaders are not educated and do not know what documents they are putting thumb impressions on," he says.
Aggarwala, a former senior additional advocate general, Haryana, believes such a law will strengthen Panchayati Raj because "once we have educated people as representatives, there will be successful representation and administration".
But not many agree with him. "Though minimum education is desirable and helpful for contesting polls, it should not be mandatory," says Sudha Pai, rector and professor, Centre for Political Studies, School of Social Sciences, Jawaharlal Nehru University, New Delhi.
She points out that a number of illiterate women who contested panchayat polls and became pradhans learnt on the job and managed to perform well.
Some feel the practice is discriminatory because people remain uneducated not by choice but mostly because they have little access to schools. Education should be mandatory when the right to education has successfully been implemented, they hold.
"It should be kept in mind that the election framework in India is democratic and hence putting a restriction on the mandate of people based on criteria which the state itself cannot implement effectively is not prudent at all," notes Siddharth Nayak, advocate, Delhi High Court.
That apart, Nayak argues that there is hardly any link between "education" and "better administration". As Mark Twain famously said, "I have never let my schooling interfere with my education."
Nayak cites several politicians and business leaders who reached the top without formal education. "What formal education did Abraham Lincoln have," he asks.
On the flip side, a good degree does not necessarily mean a good politician, says Delhi advocate Dushyant Arora. "Most of our MPs are graduates but I don't think their representation in Parliament has been very good because of their qualification," he says.
"There are several instances where an uneducated person who is socially active is far better placed in understanding the problems of the village folk than a person who is highly educated," he adds.
Arora believes that there can be restrictions on contesting elections on the basis of a candidate's criminal records or age. "But restricting village folks who are the marginalised sections of society is highly undemocratic," he says.
The law also adversely affects women, he points out. Women's education was taboo for long years, and girls were seldom sent to school. Even now, fewer girls go to school than boys. "People feel there is no need to educate the girl child. So how can the victims of the failure be penalised," he asks.
The judgment has also drawn criticism for debarring people who have not cleared their dues from contesting panchayat elections. Lawyers argue that the clause ignores the cause of indebtedness, particularly rural indebtedness, which could be due to crop failure or a bad monsoon.
"Farmers are committing suicide because they cannot pay back loans," says Arora. "The Supreme Court has said that being in debt reflects a weakness of character. It is akin to saying people take debt by choice. But farmers are not in debt by choice. Also, there is no logic between indebtedness and governance."
That under the law people without toilets cannot contest a panchayat poll is also being criticised. The court had pointed out that of the 8.5 lakh families who live below the poverty line in Haryana, 7.2 lakh have constructed toilets at home with financial help from the state government.
The court agreed with the Haryana government that "if people still do not have a toilet it is not because of their poverty but because of their lacking the requisite will".
But critics argue that in most places there are no toilets and women have to walk several kilometres every morning to ease themselves.
The Haryana law, Arora observers, makes a mockery of one of the fundamental rights guaranteed by the Constitution — the right to equality.
The court, he adds, has failed to address the basic purpose of elections. "Is it to select the 'best' candidates or is it to select a candidate who might not be the best, but who reflects the voters' aspiration," he asks.