A happy blend of old and new
Today's library must be a blend of online resources and books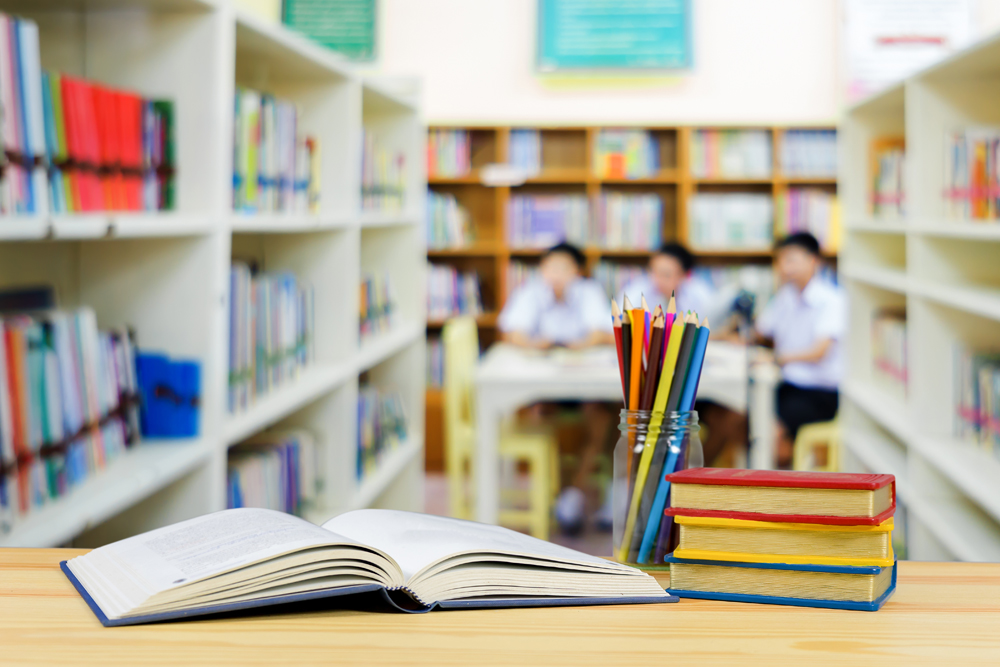 ---
---
The library has always been the heart of a good school. It will remain so if librarians learn to adapt and realign their space to the new learning environment. It is heartening to see that many librarians have already reinvented themselves in various ways to suit the needs of our tech-driven times. Earlier, school librarians would join work after having attended a course in librarianship and mastered the Dewey system of cataloguing. They would then settle down to the business of issuing books and supervising their return. From time to time, they would be asked for specific information or requested to locate books relevant to a particular topic. Libraries were meant to be silent spaces; even whispering was frowned upon. In some of these old-fashioned libraries, there would be gifted librarians who were able to instil a love of reading in children.
Currently, in a spacious library, there is a mix of 'silent', 'social' and 'study' zones. The silent zones are meant for individual reading, the study zones are for small groups who study together while the social zones are for discussions, book readings and library talks. The modern librarian is a tech-savvy expert who is able to navigate the digital landscape to locate relevant information for users. She is expected to be a research guide and to be knowledgeable about different websites as well as printed books and journals. A good librarian soon makes herself indispensable to the entire school. She becomes the 'go-to' person for information, or advice with assignments, projects or lessons. Apart from being a rich resource centre, the library also serves as a haven for disturbed children, for the slow as well as the precocious reader and, not the least, for frazzled teachers.
It is a fallacy to think that the library has dwindled in importance in the digital age. In fact, exciting opportunities have opened up in the way information is shared, and electronic media and printed books, magazines and papers make an interesting and attractive blend in the modern school library. But if we look upon the library as just a repository of static information and books to borrow from, children will not be attracted to it at all. They will find it far more convenient to read from their Kindles or look for information on their smartphones. The library should be the hub of lively discussions, book readings, talks and so on.
In early November this year, there was a librarians' meet organized by a reputed publishing house in collaboration with a bookstore. I was invited to hold an interactive session with over a hundred librarians who were attending the meet. The theme of my presentation that evening was 'The Library as the Nerve Centre of the School'. Some of the participants said that they had no real say in the choice of books in the library. Expectedly, most of them remained discreetly silent on the issue of the negative aspects of their work. I emphasized the tremendous value of the librarian to any school. Yet I realize that librarians as a rule are not as valued as the teaching faculty.
Some librarians complain that they do not get the freedom to stock up the library and run it the way they would like to. Others feel that their work is routine and mechanical. The reason for this, though, could also be the librarian's lack of initiative. When I needed to appoint a librarian for my school, I was quite surprised that I just couldn't find one who was fond of reading. In my opinion, it is far more important for a school librarian to be able to instil a love of books in children than to spend her time indexing and cataloguing. This can't happen if the librarian doesn't read herself.
A prickly point that came up in the course of my interactive session with the librarians was the matter of censorship. I know that different schools have different policies regarding this. In some schools, books are categorized age-wise or Class-wise — the flip side is that advanced readers feel restricted and deprived as do senior students who love reading children's books. Indeed, titles like Lewis Carroll's Alice in Wonderland, or the Bengali nonsense rhymes, Abol Tabol, by Sukumar Ray are certainly not age-related. In the end, we concluded that some screening was perhaps necessary for small children. For instance, we certainly didn't want them to read the Annual Sex Survey published in graphic detail by a national magazine.
It is unfortunate that school authorities these days feel that funds should be allotted to tablets and computers rather than printed books. What is the point of buying books, they declare, when children don't read these days and thousands of titles can be stored in a single tablet? But imagine how soul-killing it would be for children to enter a library and sit in front of a screen and 'search' for engaging titles. There would be no colourful books on the shelves, no pages to turn or illustrations to look at and no browsing to engage in. It is no wonder that a futuristic cartoon left a chilling feeling inside me. It had a man looking up from his laptop to remark, "Apparently, Amazon is putting a bunch of books into a big building so that people can look at them before buying." No matter how much you read on the screen, one of the few simple joys left in life is being able to spend time browsing in a library or bookstore. A good school library will have a happy blend of online resources and books. And, of course, a great librarian.