Lost and found amidst the bookshelves
Besides shy bookworms, libraries have hidden many a secret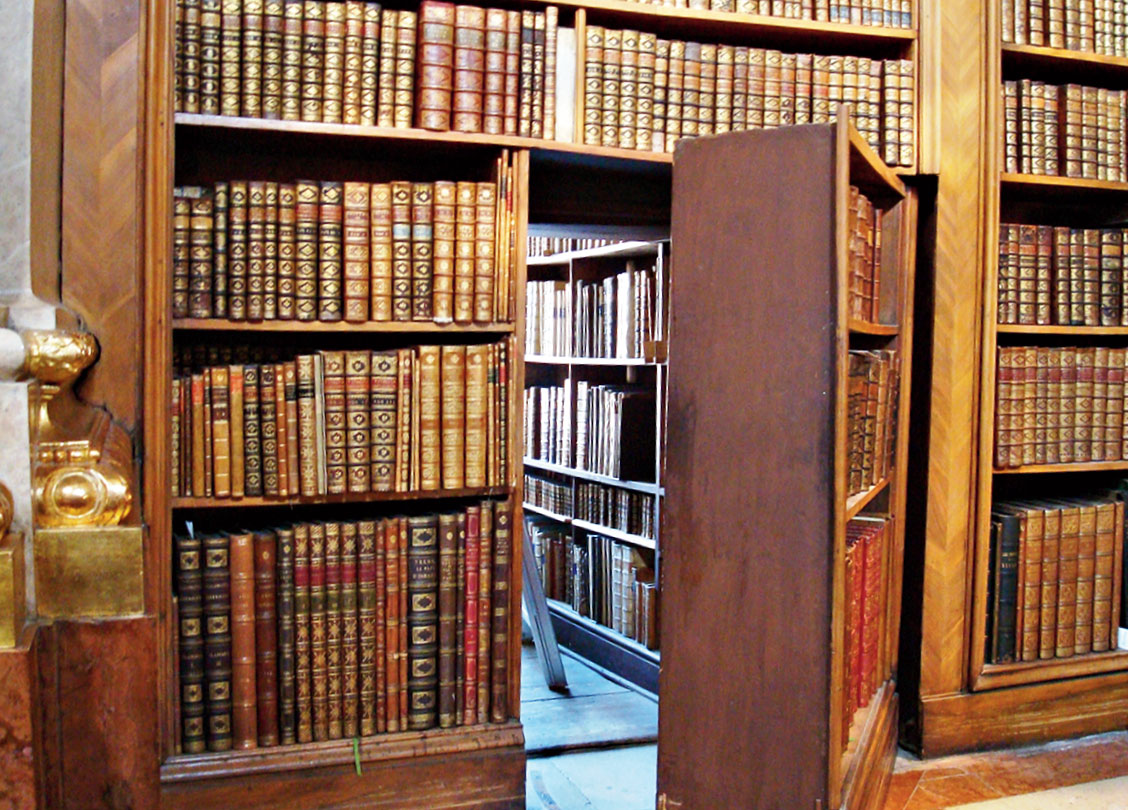 A secret library within the library of the Biltmore Estate in Asheville, North Carolina
(Pinterest)
---
Published 22.11.19, 07:35 AM
|
---
It is easy to get lost inside a library as any avid reader would tell you. But in Idaho, this phrase has been given new meaning. Someone has been hiding anti-Trump literature as well as books on LGBTQ issues, gun control and women's suffrage, tucking some of them away behind books already lined up on the shelves or cruelly refiling them as fiction instead of non-fiction. Although the line separating fiction and non-fiction is slim in the post-truth world, anyone who frequents a library knows that it can be a rabbit hole if it were not for meticulous cataloguing and omniscient librarians. 
Philistine though the supporter of the American president might be, he is not the first one to have found the perfect hiding spot inside a library. Besides shy bookworms, libraries have hidden many a secret. As if the shelves themselves were not cover enough, the New York Public Library has a secret room which "serves as a workspace to a rotating group of authors... The door is locked at all times, and access is restricted to those who have book contracts, a photocopy of which must accompany requests for a key card."
Then there are the matters of the heart, of course. Love letters are among the things that librarians routinely discover amidst books, especially unfinished ones secreted inside the pages of The Complete Works of William Shakespeare. But there are also matters of the body: Playboy magazines and centre-spreads of The Sun are known to have been discovered inside the pages of returned books, not to mention within the Encyclopaedia Britannica. 
There are also sombre, more critical secrets that have been kept by libraries and their primary residents. Take, for instance, the case of Shabiba, a youth organization fighting against the occupation of the Gaza Strip. One of its leading members, Tawfik Abu Khousa, worked at a lending library, which provided the perfect front to send and receive messages hidden inside books. 
Ironically, books, too, can be secreted within the library. The Vatican's secret archives have gone down in legends for housing classified books and scriptures dating back thousands of years, including the original acts of the 1633 trial of the astronomer Galileo by the Roman Inquisition. But the proverbial needle in the haystack when it comes to libraries are anonymous books. At one point in the history of literature, anonymous and pseudonymous texts were common, even predominant. There is no universally accepted code when it comes to filing these books. They are often shelved according to genre, category and topic. But even on the rare occasion when these are stored together as a category unto itself, the shelves of anonymous books hide treasures that only the indefatigable can unearth. What they also conceal are dreams and aspirations — say of women who dared to pick up the quill when writing was considered the man's domain — controversial political arguments, mistakes of the past that authors wish to separate from their present writing and so on.
But never underestimate the power of a tenacious bibliophile who spends more time in a library than outside it. Truth will always emerge and all secrets hidden in the library are thus bound to be discovered. That is a secret that Mr Trump's supporter does not seem to be privy to.