A friendly fourth estate
Being sceptical about Covid-19 numbers and highlighting the possibility of undercounting deaths is not always a deep State conspiracy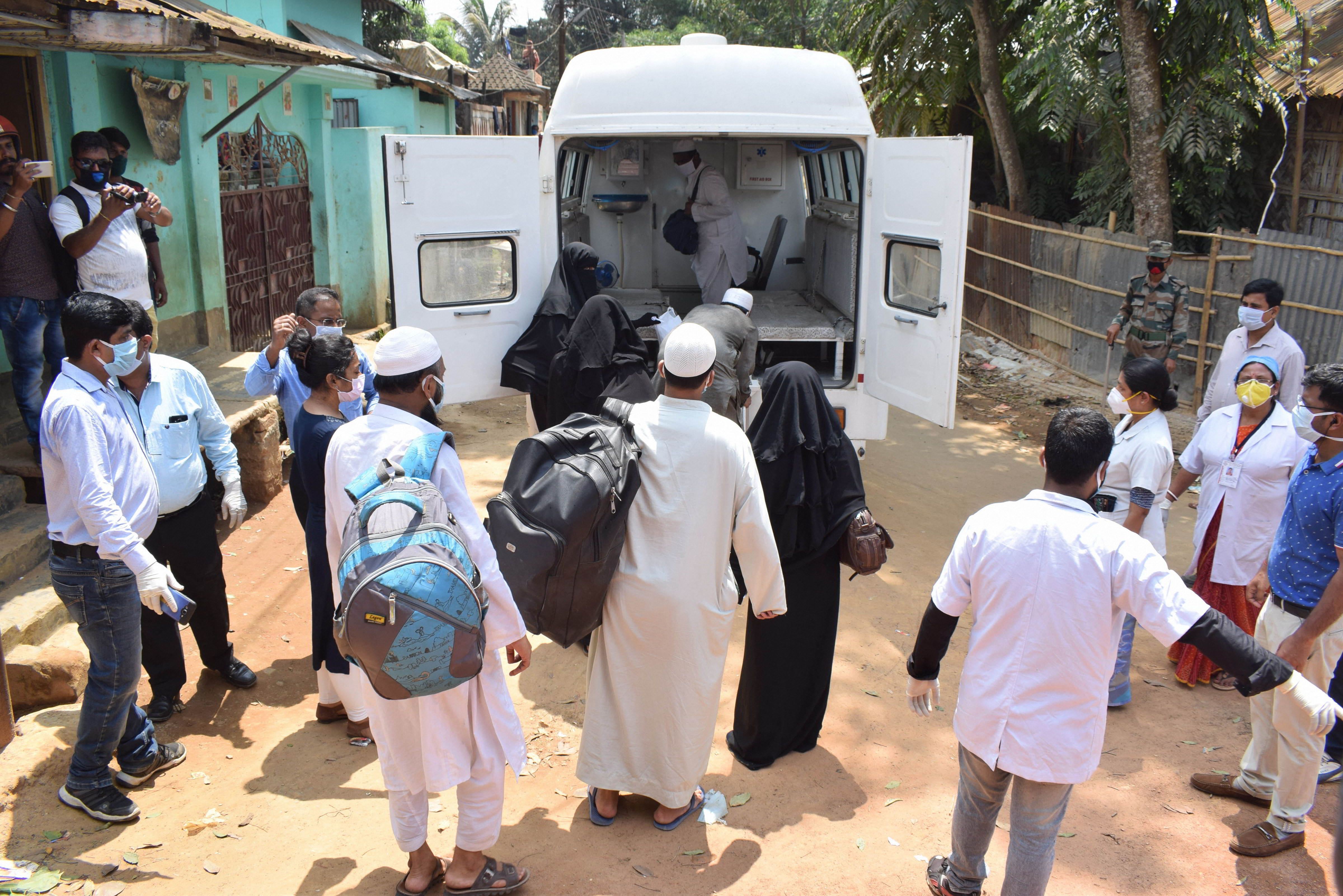 Attendees of a religious congregation in Delhi's Nizamuddin area board an ambulance for mandatory Covid-19 tests during a nationwide lockdown in the wake of the coronavirus outbreak, in Agartala, Saturday, April 4, 2020.
PTI
---
Published 11.05.20, 10:49 PM
|
---
The Indian media have not been active in checking Islamophobia during the coronavirus pandemic. They are equally culpable of being passive when it comes to questioning the government. A global pandemic, it is being argued, may not be the best time to subject the government to scrutiny. On the contrary, it is all the more important for the media to keep a strict vigil on the government's actions at a time like this. Instead, large sections of the media have become the drum-beaters of the government's self-congratulatory pronouncements on Covid-19. The other response is to resort to hyper-nationalism, within and outside the media, in a bid to confront negative stories about India.
Consider a senior journalist's defence of India's comparatively low Covid-19 numbers and fatality rate in the light of alarmist prognosis by international experts: "Our drains are not filled with bodies, our hospitals have not run out of beds. Our crematoriums and graveyards are not out of wood or space." Imagine what this means for a country like India where around 27,000 people expire every day. There could be an extra few thousand deaths in a month without drains being clogged with bodies or any alarm being raised. The consensus seems to be that this is not possible because India is a democracy with a robust press.
Ironically, the pandemic comes at a time when the Indian press is faced with the worst repression since the Emergency. A constant feature of the hyper-nationalistic manoeuvre is to compare India with authoritarian countries like China and North Korea.
Being sceptical about Covid-19 numbers and highlighting the possibility of undercounting deaths is not always a deep State conspiracy. It could be a recognition of the complex process of recording and interpreting data which are riddled with socio-cultural assumptions and medical misdiagnosis. If undercounting of deaths seems a fanciful proposition in India, we need to look at research and journalistic work being done internationally. The New York Times found that even after the counting of Covid-19 deaths, at least 63,000 more people had died in just 17 countries in over 60 days. These countries include the United States of America, the United Kingdom, Belgium, Sweden, Switzerland, Netherlands, France. These 'missing' deaths are on account of unreported Covid-19 deaths, delays in recording deaths during a pandemic and other causes. The possibility of undercounting coronavirus deaths in India, where only 77 per cent of deaths are registered, of which only 22 per cent are medically certified, may not be outlandish.
Yet, it was a foreign media outlet — the BBC — which reported that people dying of respiratory disorder were not being tested for Covid-19 in a hospital in India. But at a time when the government sends angry rebuttals to foreign media, the BBC story would be seen as a conspiracy against India. In March, the CEO of Prasar Bharti had written to the BBC for its "one-sided" coverage and stated that "fake news and biased reporting by foreign media are vitiating the atmosphere in India and perpetuating false perceptions abroad."This, however, is not to gloss over the racial and other biases that mark even venerated Western media outlets or their egregious role in what Noam Chomsky and Edward Herman has called as the "manufacture of consent" in America's imperialist wars, from Vietnam to Iraq. But to deflect any critical coverage of India on Covid-19 as a Western conspiracy is to fundamentally misuse the legitimate critique of Western media's ideological design and take refuge in hyper-nationalism. Neither can this explain why the Western press, supposedly interested in exaggerating the coronavirus pandemic in India, has carried stories praising Kerala's crisis. The alarming numbers of infections and deaths predicted for coronavirus in India are not a conspiracy either. Many of these simulations had been done before the lockdown and such dire predictions have been made for Western countries as well.
When celebrity journalists replace Donald Trump's use of the word, "retaliation", with seeking India's help for malaria drugs, when India is portrayed as a global saviour for the coronavirus, and when India is shown to have taught China a lesson with its latest FDI measures, hypernationalism takes attention away from the most pressing questions. This media acquiescence is especially worrisome since Narendra Modi is the only global leader to not address a single press conference on the coronavirus issue. Bureaucrats have been tasked with this job where the intention allegedly is to avoid questions. The inability of large sections of the media to question the government on Covid-19 has resulted in key questions remaining unanswered. These queries concern the government projections of zero new cases by May 16, the low rate of testing in spite of ramping up tests, the testing rate in some large states being lower than even the low national average, the need to test asymptomatic cases, patients being turned away from private hospitals, the exorbitant costs of treatment in private hospitals, the shortage of doctors and beds, the quality of PPE, the safety and working conditions of health workers, the continued denial of community transmission, the impact of scaled-down hospital services for people with other serious conditions, the state of the migrant workers and so on.
A hypernationalist media will make a dangerous pandemic worse.