Yadav hails flag-bearer Assam
Yadav said the entire country is now protesting against CAA by the influence of Assam and Northeastern people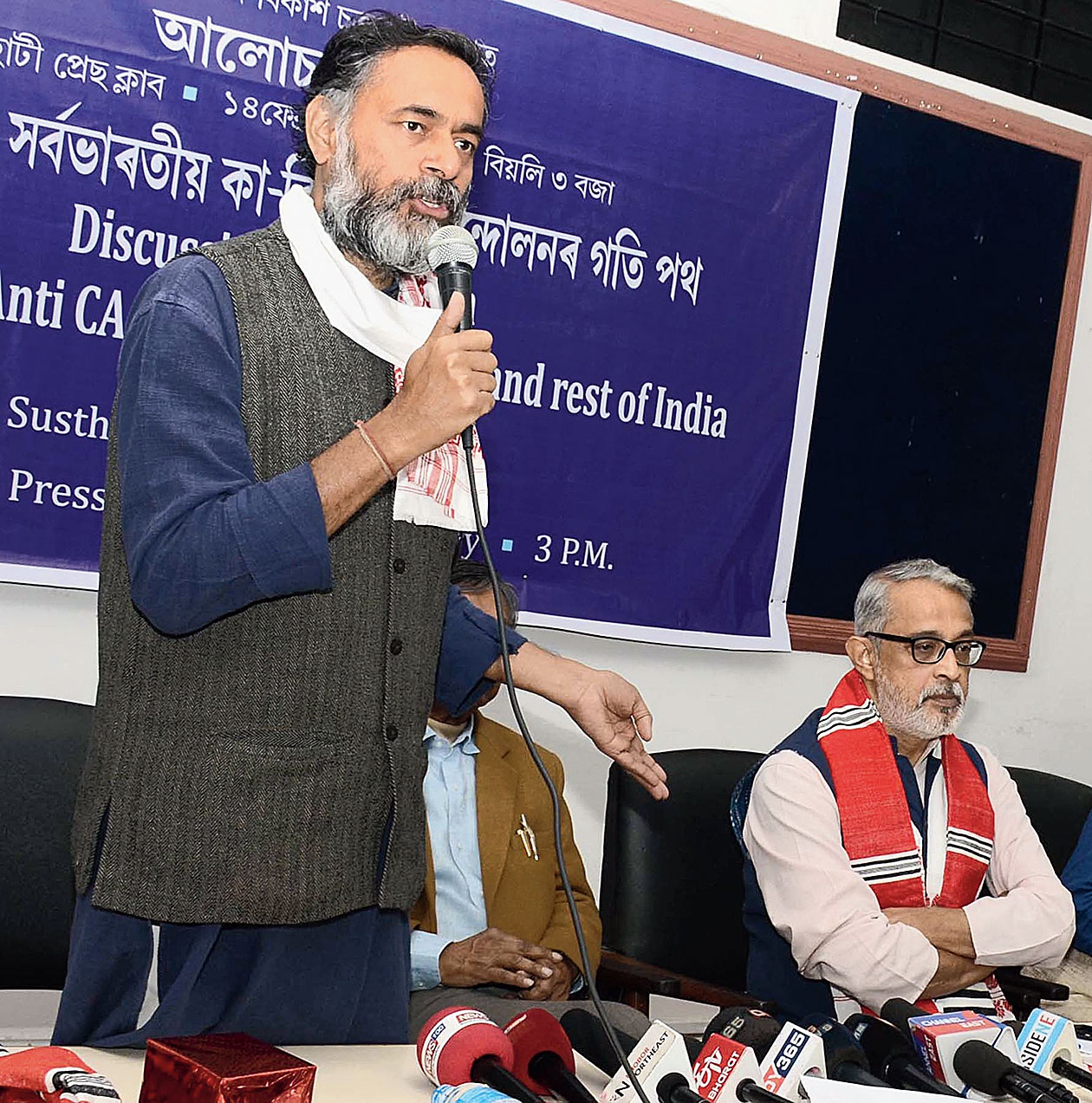 ---
|
Guwahati
|
Published 14.02.20, 08:13 PM
---
Swaraj India president Yogendra Yadav, who met KMSS leader Akhil Gogoi in Guwahati Central Jail on Friday, said the anti-Citizenship Amendment Act (CAA) protest that started from Assam had now turned into a nationwide movement.
During a discussion on the CAA and the protests against it, Yadav said it is only because of the people of Assam and the other states of the Northeast that the entire country is now protesting against the CAA. Assam had started the movement against the Citizenship Amendment Bill (CAB) in 2015 when the rest of the country had no idea about what it was. The people should now not back out from the movement, he added. He said the movement was a sign that the country was becoming united and heading towards a new India.
He said the issue of illegal immigrants, which Assam has been facing over the years, is real. To deal with it, the Assam Accord was signed — it is sacred and would depreciate if not implemented or changed.
Yadav said non-implementation of the Accord and delay in updating the NRC was a lacunae on the part of all the political parties of Assam. "The NRC should have been completed before 1990," he added.
He said his main motive in coming to Guwahati was to meet Akhil, who has been lodged in jail for the past two months.
"Slapping sedition charges on Akhil is extremely wrong. If he is being put behind the bars for his stand, a majority of the people of the country should be jailed too. They first charged him with sedition and then booked him under the National Security Act to keep him behind the bars but he was released by the court on bail. So they have now booked him under the Unlawful Activities (Prevention) Act. But we know that he will be out as he has done nothing to be booked under these laws. The government will have to frame a new law if they want to lock him down," Yadav said.
Akhil asked Yadav to convey his message to the people of Assam and all those in the country who are protesting against the CAA that they must join hands and that every person must protest against the Act. He asked the youths to be at the helm of the protests against the Act.