Writer aims to spread awareness on Covid-19
Love nature, animals, says play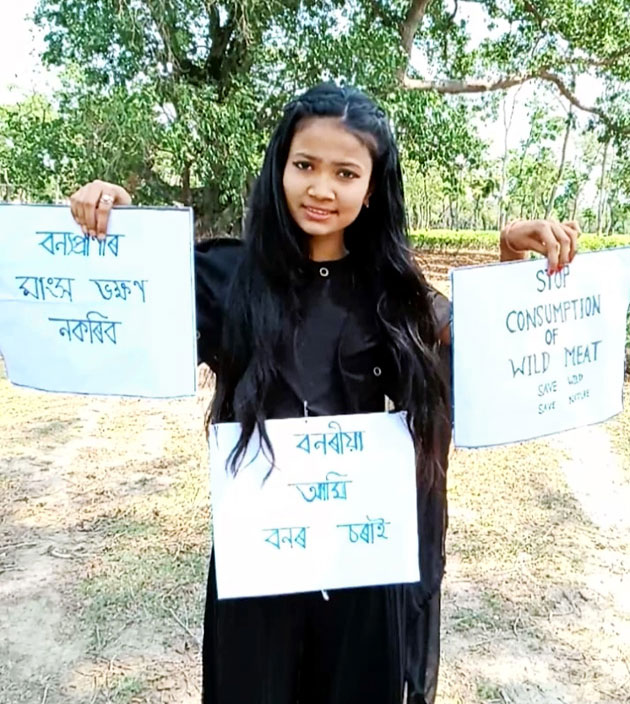 ---
|
Nalbari
|
Published 28.04.20, 07:06 PM
---
Badulir kothupokothon (Rendezvous of bats), a short play by Assamese nature writer Girimallika Saikia and enacted by school students, is helping spread awareness about the environment and the novel coronavirus.
"I wrote the short play to spread awareness about the coronavirus and it might act as a tool to fight the pandemic," said Sakia, who is also the director of the play.
"Its key motive is to make people, especially school students, aware about the value of the animal kingdom and dispense all misconceptions. It gives the message that if human beings remain insensitive to the environment, we might have to face deadlier pandemics than the Covid-19 in future," she said.
"Nature loves us, let's love nature", say the characters in the play. They also uphold placards urging people to "Leave wild meat, live life".
Saikia said the entire play, from its conceptualisation to shooting to release on social media, had been done from home during the lockdown. "Everyone did their job from home," she said.
Five students of Bongaon Chola High School in Golaghat — Pallabi Das, Pahi Majumder, Luna Majumder, Chumpi Saikia and Simpi Saikia — have acted in it.
The play assumes significance as the novel coronavirus is believed to have stemmed from bats and there have been reports of people killing bats.
Meanwhile, a group of bat researchers and conservationists from South Asian countries have stated that bats do not pose a direct hazard to human health.
Their statement says the exact origin of the SARS-CoV-2 virus, which causes the deadly Covid-19, or its precursor, is not known. It says it is premature and unfair to blame bats or any other animal for the pandemic and suggests that it is highly unlikely for SARS-like viruses to jump directly from bats to humans. Also, there is no evidence of humans contracting coronavirus or any such virus through excreta of bats.
They say bats, like other animals, are reservoirs of many zoonotic viruses but this does not mean that they spread diseases to humans. There is very little scientific evidence to prove that bats directly transmit viruses to humans. "The mass hysteria against bats is unfair and uncalled for. The current pandemic is an outcome of the ongoing ecological destruction, increasing intensification of livestock farming and wildlife trade," it says.
"Bats perform vital ecosystem services. They pollinate the flowers of some mangroves and many other commercially and culturally important plants. Insect-eating bats eat pests in rice, corn, cotton and, potentially, tea farms. Bats benefit ecological and human health, and provide intangible economic benefits," it says.
Out of the 128 bat species found globally, 76 are in found in the Northeast, of which Meghalaya has recorded 65 species so far.