Workers vandalise AGP office in Jorhat to protest tie-up with BJP
Some Jorhat AGP office-bearers condemned the "unilateral" decision of the leadership to renew the alliance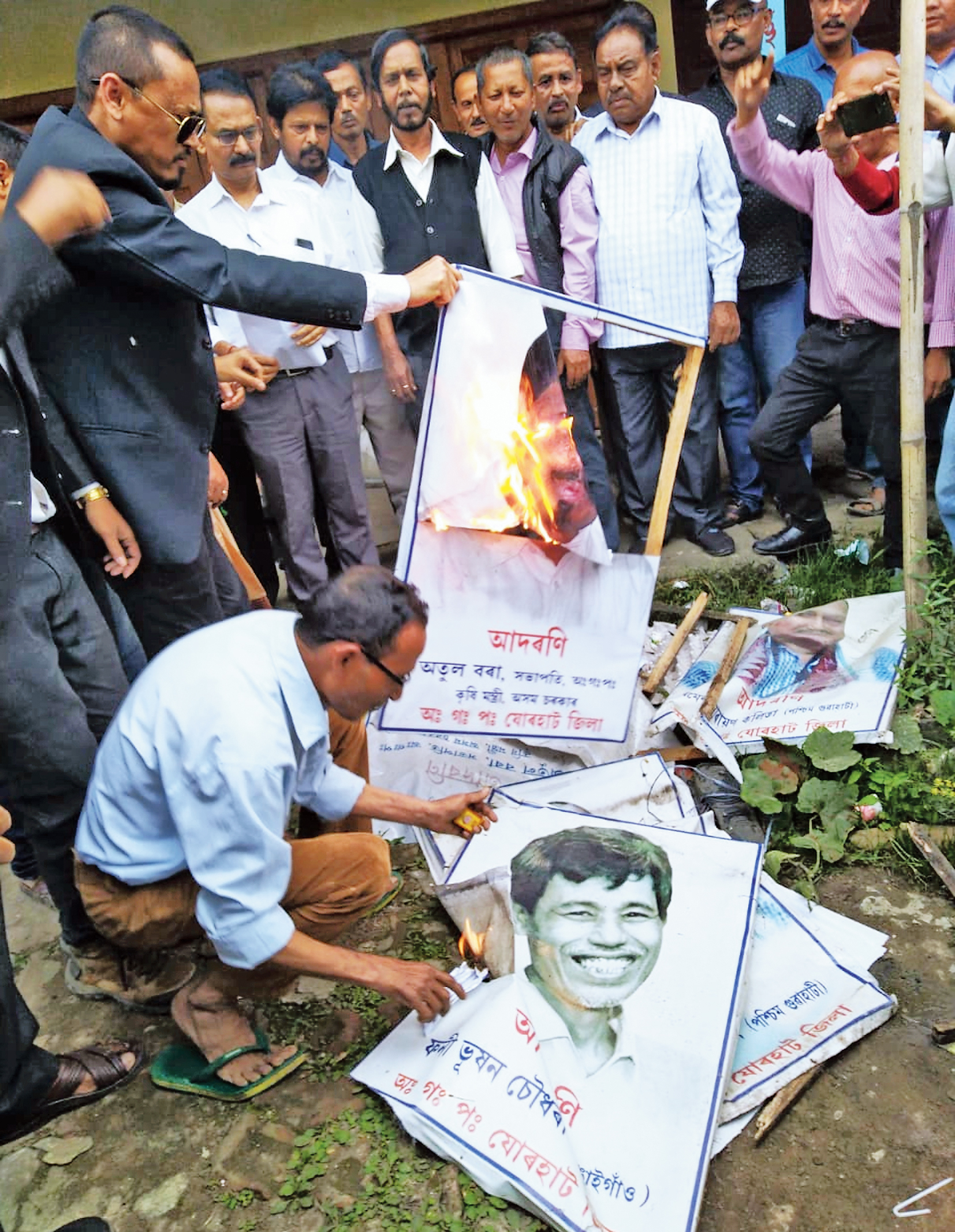 Party workers burn posters in Jorhat on Friday.
Picture by Devajit Baruah
---
Jorhat
|
Published 15.03.19, 06:05 PM
|
---
A section of AGP party workers on Friday vandalised the party office here and burnt posters of its president Atul Bora, working president Keshab Mahanta and leader Phanibhushan Choudhury, to protest against the decision to renew its alliance with the BJP.
Nearly 100 AGP workers gathered at the party office at Old Circuit House Road here around noon and held a meeting and decided to protest the decision to renew the alliance with the BJP. Around 2pm, they vandalised the party office and burnt posters of Bora, Mahanta and Choudhury in protest. The Jorhat district president and secretaries of the AGP were not present.
Police personnel kept a watch on the situation but did not intervene. No complaint was lodged in connection with the incident.
Some Jorhat office-bearers of the AGP condemned the "unilateral" decision by the leadership to renew the alliance for the Lok Sabha polls, which they felt would harm the image of the regional party.
Niren Sharma, executive member of the AGP's central committee, said the move would send a wrong signal to the electorate who were vesting their faith in the party to protect the identity of the indigenous people of Assam against the BJP's "overt ploy" to give citizenship to illegal Hindu Bangladeshis and others through the Citizenship (Amendment) Bill, 2019.
Another member, Raja Chakravarti, said the leaders were allegedly only interested in power and money and for them the means justified the end. "After withdrawing support from the BJP-led government in the state over the bill, which was being opposed by one and all except the BJP, this U-turn will hurt the credibility of the AGP and its prospects," he said.
The AGP had snapped ties with the BJP in January over the latter's firm stand to push the bill in Parliament.
Though the BJP could not pass the bill in Parliament in the budget session, its national president Amit Shah had publicly said it would push the bill if it retains power after the Lok Sabha elections, something which has not gone down well with the anti-bill brigade.
Former chief minister and AGP legislator Prafulla Kumar Mahanta had on Thursday also opposed the revival of the alliance and decided not to campaign for the party in protest. Several AGP leaders have also resigned in protest.
AGP president Atul Bora, however, defended the decision to join hands with the BJP. "We have come together to defeat the Congress and other parties. The BJP has a national agenda while we have our own position on the bill. We will solve the issue through consultations and consensus."