Women hit streets over onion in Tinsukia
Dhubri district Mahila Congress Committee staged a protest sporting garlands made of onions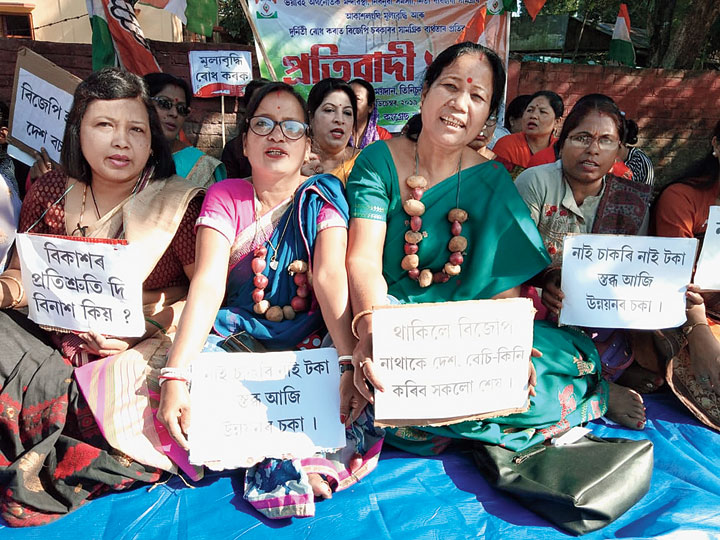 ---
Dhubri
|
Published 05.12.19, 10:10 PM
|
---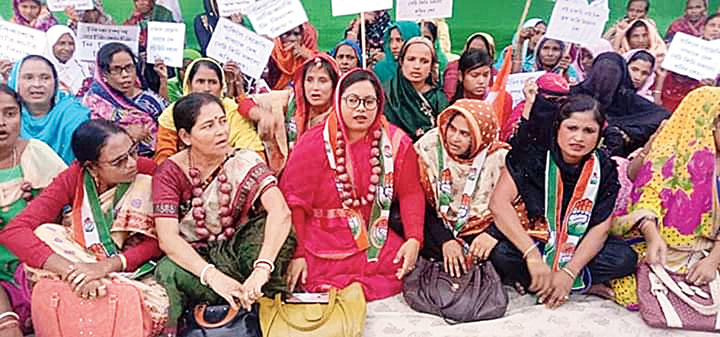 The women wings of the Assam PCC on Thursday hit the streets all across the state over the steep hike in price of onions that has not only burnt a hole in the common man's pocket but also led to a shortfall in supply.
The Dhubri district Mahila Congress Committee staged a protest sporting garlands made of onions and other vegetables in front of the office of the deputy commissioner.
Holding placards, the workers shouted slogans against Narendra Modi-led NDA led government at the Centre and Sarbananda Sonowal-led government in Assam.
The president of Dhubri District Mahila Congress Committee, Baby Begum, said, "Onions and other vegetables have now become precious commodities with prices ranging from Rs 100 to Rs 120 a kg."
Onion prices in and around Dhubri have risen from Rs 70 per kg in November to Rs 110 and Rs 120 per kg at present.
In Tinsukia district, hundreds of workers of Zila Mahila Congress Committee supported by Yuva Congress and Seva Dal staged a three-hour sit-in from 10.30am at Gandhi Maidan in the town wearing garlands made with potatoes and onions.
The regional block-level workers, officials, presidents and secretaries were also present in the protest.
In Tinsukia at Saiding Bazar, one of the biggest wholesale markets in the commercial hub of Upper Assam, onions are being sold at Rs 75 per kg. The sellers say the price rise is because of the low quality and supply shortage.The president, Tinsukia Zila Mahila Congress Committee, Gitanjali Sonowal, told The Telegraph over phone on Thursday, "The Modi government has failed to control onion prices which are increasing day by day. The price of other daily use commodities is also on the rise due to Modinomics."
Besides onion, prices of other vegetables are skyrocketing. Garlic costs Rs 200 per kg. Shreya Barua, a resident at Tinsukia, said, "The price rise of onions has affected our household budget."
A wholesaler of onion in Tinsukia, said, "Fresh stocks will start coming from January and the situation will become normal. Hoarding of onions is adding to the
problem." The activists alleged that the governments had failed to control prices and black marketers. "At present, prices of petrol and diesel are very high. Onion has crossed Rs 100 per kg, chilli and tomato too are selling at higher prices," an activist said.
Expressing concern over the price rise, chief minister Sarbananda Sonowal has already directed the food and civil supplies department to take immediate measures to control the exorbitant prices of onion and other essential commodities.
Onion prices have gone up because of short supply in flood-hit onion growing states such as Maharashtra, Karnataka Madhya Pradesh, Bihar and Uttar Pradesh.
Trade analysts blame floods and hoarding for the sharp rise in onion prices.
Additional reporting by Manoj Kumar Ojha in Doomdooma