Why traffic stood still on Bogibeel: 'tourists' and picnickers!
Earlier, large crowds used to turn up for picnics at the place were construction work for Bogibeel bridge was going on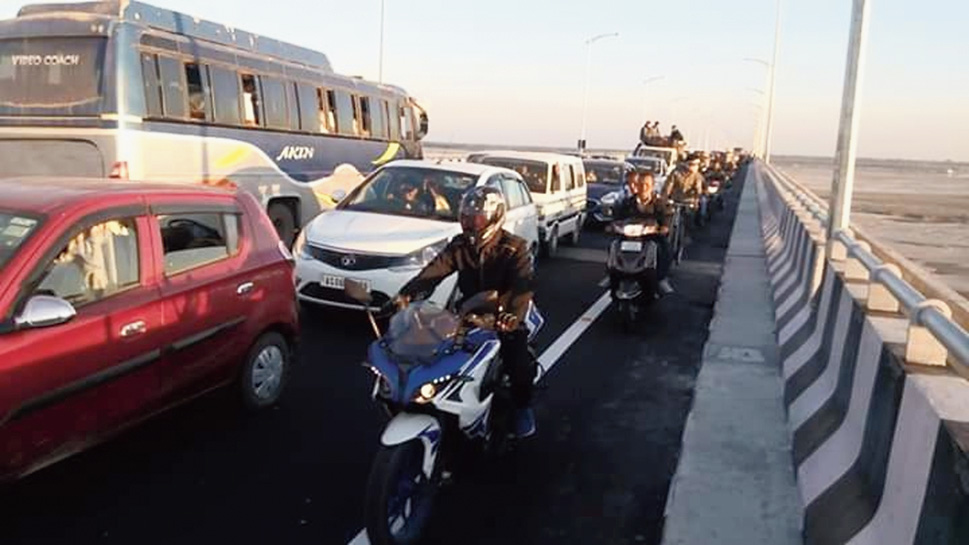 Bumper-to-bumper traffic on Bogibeel bridge on Tuesday.
Avik Chakraborty
---
Dibrugarh
|
Published 01.01.19, 07:26 PM
|
---
An unprecedented rush of picnickers at Bogibeel bridge on New Year's Day resulted in traffic congestion on both sides of the approach road to the bridge.
Every year, large crowds gather near Bogibeel bridge for picnics but this year along with picnickers, people are coming to see the bridge.
Prime Minister Narendra Modi inaugurated the Bogibeel bridge on December 25.
"We sat inside our car for one hour because of the traffic snarl. When we reached Bogibeel we could not find a place because a huge crowd had gathered there for a New Year's feast," said Rupjyoti Khound, a resident of Dibrugarh.
The Dibrugarh and Dhemaji district administrations in Upper Assam have issued directives for streamlining traffic on Bogibeel bridge.
On Saturday, the Dibrugarh administration issued a directive requesting police to immediately deploy personnel and adequate force for traffic management on the bridge.
The Dhemaji administration also issued an order on Saturday, prohibiting drivers of vehicles from stopping for more than three minutes on the bridge and warned of action if the rule was not followed. "Traffic management has become a huge challenge after the opening of Bogibeel bridge because vehicles are coming continuously from both the sides. Some of them parked their vehicles in the middle of the bridge to take photos. Our department is working day and night to streamline traffic on the bridge," said a traffic official.
Bogibeel bridge is the longest rail-cum-road bridge spanning 4.94km which connects Dibrugarh and Dhemaji districts of Upper Assam.
"We have come to see Bogibeel bridge but we had to face a traffic snarl and waited for two hours to get to the bridge. After two hours we finally crossed the bridge to the Dhemaji side," said Anjali Bhattacharjee, a resident of Tinsukia.
Accidents have occurred on Bogibeel bridge owing to lack of traffic management.
A seven-year-old boy was killed and another was injured on Thursday in two separate accidents on the bridge and its approach road.
John Pame, 7, died after being hit by a vehicle on the approach road at Kulajan in Dhemaji.
In another incident on the same day, Saurav Moran, 7, was critically injured after being hit by a car and admitted to a private nursing home in Dibrugarh.