Vendors switch trade to survive coronavirus crisis in Hojai
Trying out ways to make ends meet while abiding by lockdown guidelines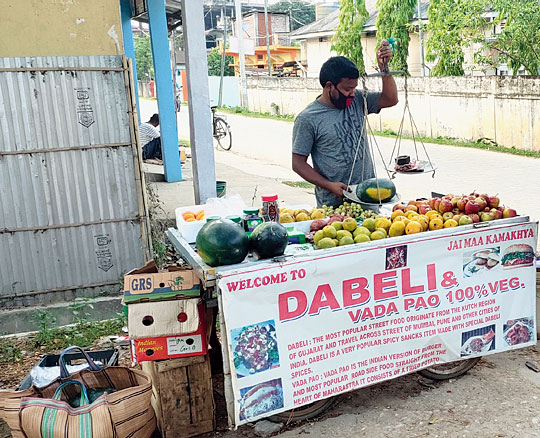 ---
|
Hojai
|
Published 12.05.20, 07:48 PM
---
Adaptation is the key to survival and that is what many people here are doing in the time of Covid-19, which had affected millions of people across the nation, especially the marginalised.
Vendors here are trying various ways to make ends meet while abiding by the lockdown guidelines.
Madhu Nath, 35, a resident of Bishnupally in Hojai town, who used to sell dabeli and vada pao (popular street foods originating in Gujarat and Maharashtra respectively) has now switched to vending fruits.
"I have been selling daveli and vada pao near a mart in Hojai town for four years now. People used to throng my cart and I used to earn more than Rs 600 daily. Now I don't earn even one-fourth of it," he told this correspondent on Tuesday.
"When the first phase of the lockdown was imposed because of the deadly coronavirus, I had thought matters would normalise once it is lifted but it had to be extended for our well-being. By this time my little savings had started dwindling and I had to do something to feed my family. In this situation, only vegetables or fruit-selling business could be started will a nominal capital. So, I switched from snacks to fruits about 20 days ago. I have received rice from the government as relief but for how many days can we rely only on rice?" he asked.
From watermelons, grapes, mangoes, apples, grape fruits, Madhu keeps around 30kg of fruits, purchased from a local market, in his cart. He also keeps soap and water to maintain hygiene. He is using his snacks cart so that his regular customers can recognise him. For the time being, he stations his cart in Bishnupally, which is not very far from the mart.
Lal Bahadur Shah, a panipuri seller, said, "Since we can't set up a stall or move around the streets with our cart now, last week I decided to pack panipuris or puchkas in a hygienic manner in different categories of Rs 60, Rs 30, Rs 20 and Rs 10 and sell it door to door to panipuri lovers. Every evening, my son and I pack panipuris on my bicycle and take it to people's doorsteps in areas such as College Road, Main Road, Bhimsaria Road, Bishnupally and Kedia Puram. My daily income has reduced from Rs 800 to Rs 200. I have been selling panipuris for 32 years now but have never experienced something like this."
He is also aware of the health department guidelines. He wears masks, gloves and uses hand sanitiser.
Many in Hojai district have changed their business from selling clothes, flowers and snacks to vegetables and fruits to survive this period of crisis. They have just one prayer on their lips – restoration of stability in their lives.