Vegetable prices soar
Tomato is selling for Rs 80, up from Rs 40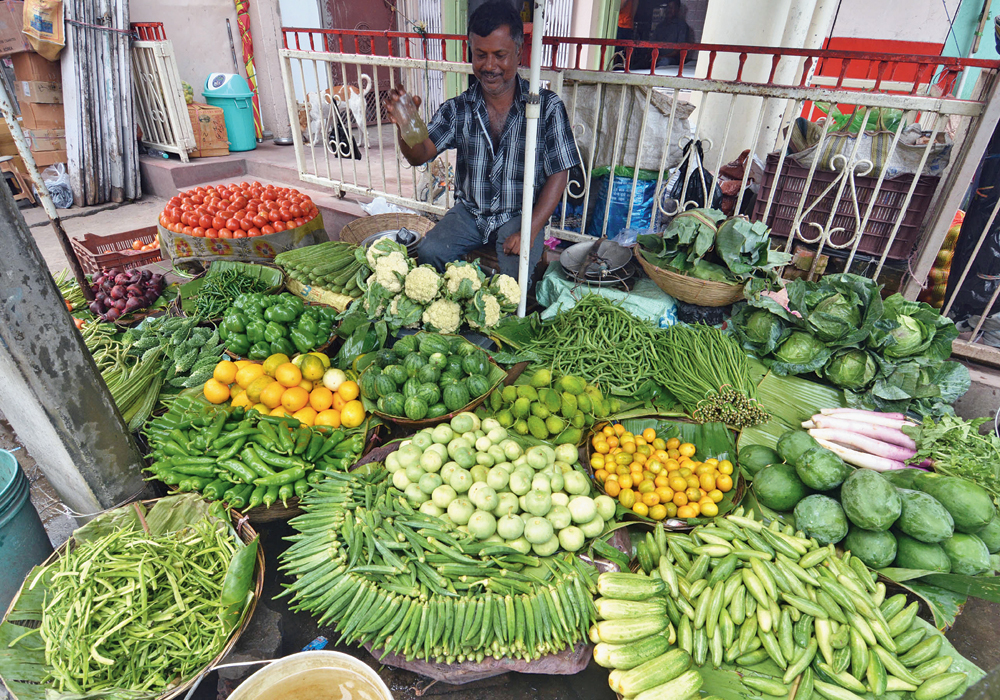 A vegetable vendor in Guwahati
(UB Photos)
---
Goalpara
|
Published 23.07.19, 07:10 PM
|
---
Prices of vegetables are soaring from Silchar to Dhemaji and Tinsukia to Dhubri, owing to disruption in supply caused by the floods that have affected the whole of Assam.
Prices of several vegetables have gone up substantially in Guwahati, with tomato selling for Rs 80, up from Rs 40.
"Vegetables supplied to Guwahati come mainly from Kharupetia, Dalgaon and Barpeta Road. Floods in these places has led to a fall in supply and a rise in prices," a vendor at Six Mile in Guwahati said.
In most retail vegetable markets in Guwahati, tomato, brinjal and carrot prices have more than doubled.
"Brinjal, which cost Rs 30-35/kg earlier, now costs around Rs 60-80. Prices have gone up by Rs 30 to 40 in just 10 days," a vendor in Jalukbari said.
Gauhati University student Tanbeer Choudhury said, "The high prices are affecting common people like us."
In Goalpara district, nearly 80 per cent vegetables come from sar areas like Baladmari, Pakhiura and Ujirersar. However, the supply lines have collapsed during the floods fuelling price rise as vegetables are being brought mostly from neighbouring Meghalaya.
Except the flood-free Dhupdhara, Rongjuli and Dudhnoi markets, the other ones in Goalpara town, Bhalukdubi, Lakhipur, Jaleswar, Gaurnagar, Boguan Ambari, Matia, Dolgoma and Sidhabari have seen a rise in price of most vegetables.
The recent wave of floods has seriously affected the supply of local vegetables in Cachar, Karimganj and Hailakandi districts of Barak Valley, which are now mainly dependent on vegetables brought from Meghalaya.
In Upper Assam, 300 vegetable vendors at Mangalbaria Bazar at Doomdooma in Tinsukia district are in despair as buyers are refraining from buying much owing to the exorbitant prices.
Dhemaji and Dibrugarh in Assam and East Siang in Arunachal Pradesh get their supply of vegetables and diary products from Kabochapori, Berachapori and Jampani. The devastation caused by floods in those areas has created a shortage of supplies and fluctuation in prices, a source said.
Restaurants and sweetmeat shops in Dhemaji and Dibrugarh districts are unable to manufacture quality products as flooding in the sandbars, where the people rear cows and buffalos, has led to a fall in milk production. The dairy farmers had to shift their livestock to higher land where there is a lack of feeding areas.
Additional reporting by Vinod Kumar Singh in Dhemaji, Manoj Kumar Ojha in Doomdooma, Satananda Bhattacharjee in Hailakandi and Rokibuz Zaman in Guwahati