Two budding actors from the Northeast have made a mark in the much-talked-about web series Paatal Lok, currently streaming on Amazon Prime Video.
Assam's Bodhisattva Sharma and Manipur's Mairembam Ronaldo Singh have played two important characters in the nine-episodes series, which is directed by Avinash Arun and Prosit Roy and co-produced by actress Anushka Sharma.
Bodhisattva plays Siddharth, son of Hathi Ram Choudhary, one of the major characters of the series acted by Jaideep Ahlawat.
"Acting has always been my greatest passion and the solace it has brought me is second to none. So this role really meant the world and more to me," Bodhisattva told The Telegraph.
Bodhisattva, who stays with his mother in New Delhi, said the role was a bit of a challenge as it was more to do with his expressions than words.
"I am sure many schoolchildren will relate to this character because the issues he went through were crafted perfectly by Sudip (Sharma) Sir (the writer) and that genuinely helped me with my character a lot. Playing Siddharth Chaudhary was definitely enjoyable. The character has more to do with expressions than words, so that was a challenge. I had to make sure I didn't give out too much energy or my character would have felt unauthentic. So, finding that fine line was surely something I worked on and enjoyed too," the 16-year-old added. It was a learning experience for Bodhisattva, who is a huge fan of Joker, to work alongside "some of the best in the business".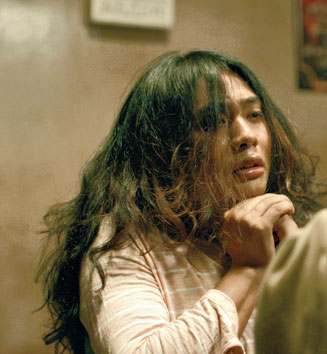 Mairembam Ronaldo Singh Sourced by the Telegraph
"Working with such a brilliant banner, director and writer and that too such a fun-filled and artistic cast and crew was definitely an honour. Everyone was very helpful and I never felt left out given it was my first time in front of the camera. It felt like a dream come true and I definitely couldn't have asked for more," he said.
Transgender actor Mairembam Ronaldo Singh plays Cheeni or Mary Lyngdoh, a transgender character. Cheeni's story and struggles held up a mirror to society's inhuman treatment of the LGBTQ+ community.
"I played the role of a transgender, who is abandoned by her family at a young age. I could easily identify with the character since growing up I faced a lot of difficulties surviving in this society. The role of Mary Lyngdoh was one that is very close to my heart," the actor told this correspondent.
The self-taught Ronaldo was glad to have got a chance to play the character. "I am really glad people liked my performance, as this is definitely the most unforgettable and challenging role of my life," the actor said.