Trust us, Sonowal tells health workers
Spread the good word on bill, urges Assam CM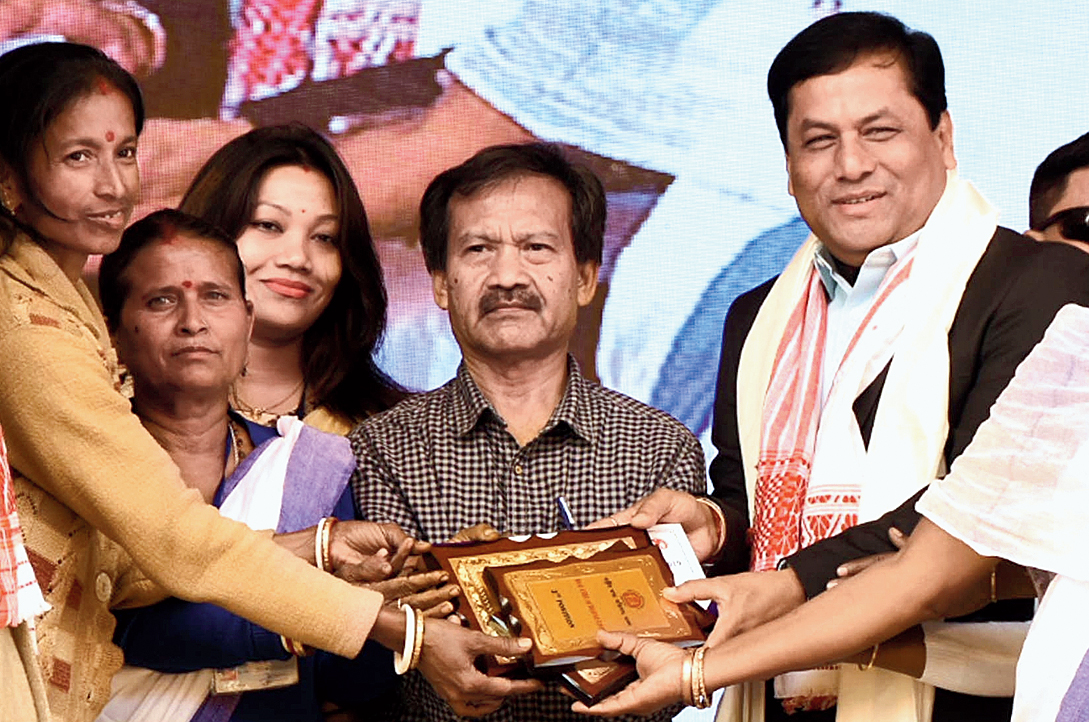 ---
Guwahati
|
Published 03.02.19, 06:57 PM
|
---
Assam chief minister Sarbananda Sonowal on Sunday urged the state's ground-level health workers to garner support for the Citizenship (Amendment) Bill, 2019.
Sonowal, in a convention here on Sunday, urged the Accredited Social Health Activist (Asha) and National Rural Health Mission (NHM) employees of the state to carry the message to the people that not a single Hindu Bangladeshi will enter Assam because of the bill.
The convention for Asha and NHM employees, ahead of the Lok Sabha election, was organised at Sarusajai Stadium here primarily to announce a number of schemes, including increase of monthly stipend, for them. Assam government has around 50,000 Asha and NHM employees of whom at least 10,000 attended Sunday's event.
Sonowal said a section is creating confusion among people that 1.9 crore Hindu Bangladeshis will enter Assam if the bill is passed in Parliament. "Not a single foreigner will come here because of the bill. They cannot when this government is in power. People believe in you. I urge you to carry this message to the people," Sonowal said. He urged the health workers to work as "ambassadors".
Sonowal said the BJP-led government will never do anything that would harm the people of the state. He said this government loves people and considers them as parents.
Health minister Himanta Biswa Sarma said the monthly stipend will increase to Rs 3,000 from Rs 1,000 for Asha workers, Rs 7,500 from Rs 5,000 for Asha facilitators and paid medical leave for NHM employees for the period of hospitalisation. Sarma said the government will bear half of the Rs 873 annual premium if an Asha worker enrols for Atal Pension Scheme and that Asha and NHM workers will be covered under a health scheme under which they will get medical treatment up to Rs 5 lakh a year. Sarma said there will be an increase in the compensation money against death of an Asha or NHM employee to Rs 7 lakh from Rs 5 lakh.
Sarma highlighted the achievements of the health department in reducing the maternal and infant mortality rate and lamented that the media does not give adequate publicity to such good news.
Sonowal presented awards to 10 best-performing Asha workers and best performing districts in different categories of health care services. He also handed over cheques of Rs 5 lakh each to family members of five deceased NHM employees.