Tripura to hold Hornbill festival
Hornbill Festival will be celebrated for 2 days from February 8 on the Baramura eco-park premises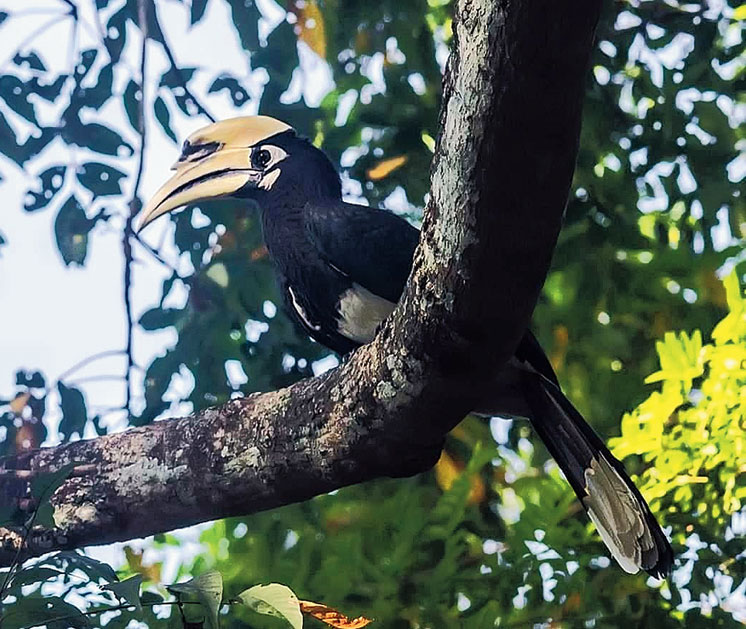 An Oriental pied hornbill at Sepahijala wildlife sanctuary
Picture courtesy: Bhaskar Datta
---
Agartala
|
Published 24.01.20, 06:40 PM
|
---
The Tripura government will organise a two-day event on the lines of Nagaland's Hornbill Festival from February 8 in Baramura Hills or Hathai Kotor in West district, around 35km from here, to boost tourism.
The Hornbill Festival is held every December at the Naga heritage village of Kisama, nearly 12km from Kohima. It aims to revive and protect the rich culture of Nagaland and display its traditions. The day is marked by cultural performances by various communities.
Deb recently tweeted, "Beautiful sighting has become very common nowadays in the Hathai Kotor (Baramura Hills), where two days Hornbill Festival is taking place on coming 8th-9th February to preserve this wild bird that is facing the threat of extinction. #IncredibleTripura".
Chief Whip of the Tripura Legislative Assembly Kalyani Roy during the recently held session of the House said the Hornbill Festival will be celebrated for two days from February 8 on the Baramura eco-park premises in West Tripura. Roy also spoke on the construction of a dak bungalow in Teliamura sub-division.
On August 22 last year, forest official Animesh Das said: "Several hornbills are spotted in Tripura. To develop the state's tourism sector, the government decided to organise a festival on the lines of the Hornbill Festival in Nagaland. The name of the festival in Tripura, however, has not been decided yet. We hope the festival will attract many domestic and foreign tourists."
He added that the indigenous people of Tripura consider the hornbills a gift of God and therefore, do not hunt them.
Over 300 hornbills are spotted across the state. They belong to the Oriental pied hornbill (Anthracoceros albirostris) species. Forest officials conduct awareness camps in the villages about the birds.
According to experts, the presence of hornbills in any region is an indication of its dense forest resources. Protection of natural resources is the only way to save them. The birds are dependent on the large stretches of forest. Hornbills select nest sites based on the availability of fruit-bearing trees.
The Tripura forest officials have set up a Hornbill viewpoint at Baramura hills where papaya and other fruit-bearing trees have been grown for the birds. Oriental pied hornbill at Sepahijala Zoo in Sepahijala district are preserved for rearing and breeding.