Tripura polling on, Supreme Court orders extra central forces
State EC sources said preliminary reports suggested a turnout of 'about 80 per cent' in the polls held in 222 seats, covering 14 municipal and nagar panchayats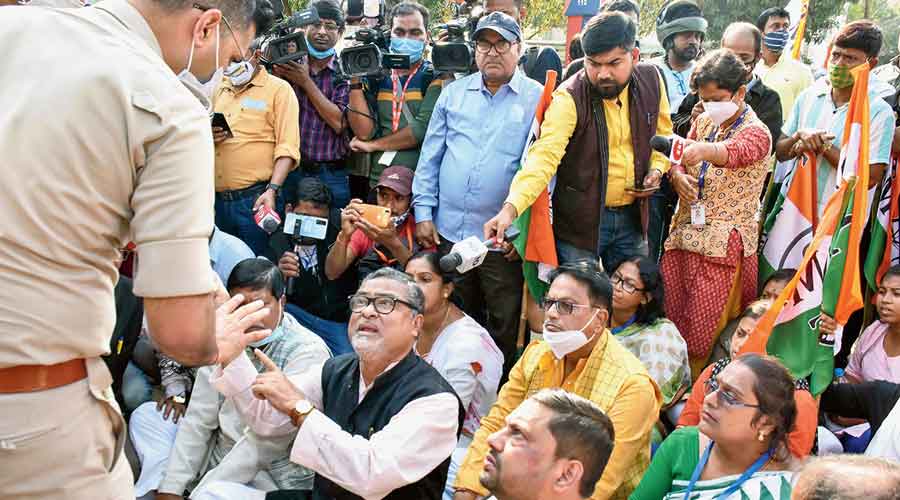 ---
Guwahati, New Delhi
|
Published 26.11.21, 01:56 AM
|
---
The Supreme Court on Thursday took the uncommon step of asking the Union home ministry while local body elections were going on in Tripura to deploy additional central forces to ensure free and fair polling.
The opposition Trinamul Congress and the CPM in the state told a bench that since polling started in the morning, its candidates and supporters had not been allowed to cast their votes.
The bench of Justices D.Y. Chandrachud, Surya Kant and Vikram Nath said in the order issued around  11am: "In the circumstances, we direct that the Union Ministry of Home Affairs to provide additional two companies of any CAPF (central armed police force) as expeditiously as possible, having due regard to the fact that polling has already commenced and in order to secure the polling booths so that polling can take place without any disturbance or dislocation."
In the absence of CCTV cameras at the polling booths, print and electronic media should be provided unhindered access, the apex court said.
The bench directed the DGP and the Tripura home secretary to immediately review the security arrangements and make a  requisition to the Union home ministry for additional forces, if required.
"We direct the State Election Commission, the director-general of police and the secretary, home affairs, Tripura, to ensure that every polling booth is manned by a sufficient strength of CAPF personnel, bearing in mind the sensitivity of the polling station and the need for a requisite number of personnel to guard the polling booths to ensure free and fair elections," the bench said.
State Election Commision  sources said preliminary reports suggested a turnout of "about 80 per cent" in the polls held in 222 seats, covering 14 municipal and nagar panchayats, including the Agartala Municipal Corporation.  Counting will take place on November 28.
Even before the first vote was cast, the ruling BJP had  won 112 seats, security majority in seven of the 20 urban bodies to which polls were announced in October.
Trinamul was active through the day, tweeting and uploading pictures of  the violence.
"Blatant abuse of democratic rights! Shame on @BJP4India! Fearing defeat, their goons are now casting votes on behalf of people. When the same 30-40 people showed up to the polling stations, they were told that their votes have already been cast. They were also threatened," said one of its tweets.
Trinamul Tripura convener Subal Bhowmik staged a protest in Agartala, the state capital, complaining of State terror. "Our candidates and agents were not allowed to enter the booths. The vote has to be held afresh," he said.    
This is BJP's first municipal polls after coming to power in Tripura while Trinamul is making its debut in the state.