The century-old cradle of Assamese intelligentsia - Heritage / Cotton College
Read more below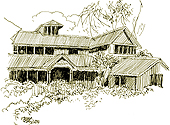 ---
Published 10.07.04, 12:00 AM
|
---
In the last quarter of the 19th century, a section of the Assamese intelligentsia raised the demand for a college in Assam. Most vocal among them was Manik Chandra Baruah who played an important role in mobilising public opinion in favour of establishing a college. In March 1899, Baruah submitted a memorandum to the government justifying the need to open a college in Assam. The memorandum stated, "Assam is the only province which does not have any college. Indeed, there is not a single institution worth the name…. A college at Gauhati with an European principal will be better appreciated by the students..." The issue found favour with the press and a number of articles appeared in local newspapers.
Chief commissioner, Henry John Stedman Cotton had so long preferred establishing a hostel for Assamese students in Calcutta to facilitate their higher studies. Now, however, he honoured public opinion. A government note (GAD number 7445-48G dated September 29, 1899) states, "The chief commissioner has decided to abandon his own scheme. He will endeavour to give effect to what is evidently the wish of the educated community for the establishment of a local government college... the chief commissioner has decided that this local college shall be entertained in Gauhati". This was in effect the first official resolution for setting up a college in Assam.
A major policy decision, it needed clearance from Her Majesty's government. The sanction from the secretary of state was received on June 20, 1900 and work started in full swing. Land was acquired. The PWD started construction of the first building, "a spacious and lofty single storey building containing three airy and well-lit classrooms, besides the principal's room, the office, and two large halls, one of which is a combined laboratory and lecture theatre and the other an examination hall and library." Subhrendu Mohan Goswami, assistant engineer, PWD, supervised the construction. The college was named Gauhati Government College. Henry J.S. Cotton formally inaugurated the college on May 27, 1901 and three weeks later, on June 17 the first student was admitted.
What was the opening ceremony of the college like? G.C. Bardoloi, who attended the inauguration, writes: "It was a gala day, the premises and the compound were beautifully and tastefully decorated. Refreshments were served to the guests. Raja Prabhat Chandra Baruah of Gauripur attended. He brought with him his court musician who played the pakhwaj. A Gorkha chaprasi played on the flute very well and Sir Henry Cotton seemed to enjoy it, the tunes being English."
Recognising the great service rendered by Henry Cotton, the residents of Guwahati at a public meeting on March 26, 1901 decided to rename the college after him even before the college was formally opened. Recommendations were sent to the Government of India, which accorded permission vide its circular number 752, dated August 28, 1902. Thus, in 1902 the Gauhati Government College officially became Cotton College, the name the public had given it right from the very beginning.
The college started with 77 students. Fredrick William Sudmerson, senior professor from Bareilly, joined as principal along with four professors. Each of these professors taught at least two subjects: Chunilal Dey (for physics and chemistry), Paresh Nath Lahiri (Sanskrit and history), Indu Bhusan Brahmachari (mathematics and logic), Abu Nasser Md Oheed (Arabic, Persian and Hindustani) and principal Sudmerson who taught English. All of them extended great service towards the cause of higher education in the province.
In its first decade of its existence, some other teachers joined the faculty. They include R.K. Barat, Kunjilal Ramlal, H.. Sen, .. Roy, A.K. Das, B.C. Sengupta, V. Vedantatirtha Chakravarty, S.. Chatterjee, M. Mirfan, A.A. Sayeed, P.. Bhattacharjee, P.C. Roy, A.T. Chatterjee and S.C. Dutta.
As time progressed, some of the best talents of Assam joined the college faculty. They include S.K. Bhuyan, A.C. Hazarika, B.K. Barua, B. Kakati, S.C. Rajkhowa, A.C. Dutta, M.. Goswami, H.K. Barpujari, S.. Sharma, Nabakanta Barua, L.. Chatterjee, R.K. Dev Sarma, H.C. Bhuyan and many others.
Cotton College has been a part of Assam's intellectual life — it has set new standards of education in eastern India. Not many today will believe that its first principal Sudmerson stayed away from the opening ceremony due to "depression" as he thought he had arrived in an abandoned corner of India!
His discomfiture doubled when someone showed him a "long range of mud huts declaring these to be hostels of the college." He had even started thinking of returning to Bareilly. But destiny decided otherwise. He changed his mind and decided to stay back.
This great personality nursed the nascent institution till it got a definite shape and structure. With fatherly care, he nurtured this college for 26 long years. His name became synonymous with Cotton College at that time.
The college started as a second grade college but it was upgraded to first grade in 1909. Honours courses were introduced in English, mathematics, chemistry, history, Sanskrit and philosophy in 1913-14. The same year, MA classes in English were introduced. Provisions were made for awarding scholarships to students.
To ensure accommodation for outstation students, separate Hindu and Muslim hostels were constructed within a short time. From 1922 the college started publishing a magazine, The Cottonian three times a year.
The doors of the college were thrown open to female students for the 1927-28 academic session and by 1933, there were 30 female students on its rolls. Before the girls' hostel was constructed, outstation female students were accommodated in the Ladies Hostel of the American Baptist Mission at Chatribari — thanks to the efforts of Dr Tuttle of the mission.
This great institute of higher learning is indebted to many great teachers who were associated with it. Their dedication and sacrifice of many noble souls have been instrumental in creating a rich heritage. The college has been blessed with exceptionally good teachers who had great faith in their students, colleagues and staff.
The excellent teacher-student relationship in the college is reflected in reminiscence by S.K. Bhuyan. "The late Prof. Chunilal Dey made chemistry as plain as water. He was extremely affectionate and devout; he would never hurt the feelings of anyone, injure a fly — he tried to find a reconciliation between science and religion. Prof. Dey was also a highly simple man, and would not distrust anybody. Some students complained that the heads of rau fishes were gradually becoming absent in the dishes: The cook explained away the uncomfortable situation by saying — 'the rau fish has no longer any head nowadays'. The superintendent, Prof. Dey accepted the explanation as one of the unfathomable mysteries of the universe." (A Cottonian's Reminiscences, 1909-11 by S.K. Bhuyan).
This faith, trust and dedication of the Cottonian fraternity made Cotton College what it is today.
Dipankar Banerjee