Tarun Gogoi lauds 3 NE chief ministers for stand on bill
He urged all organisations of the state to raise their voices as one against the Citizenship (Amendment) Bill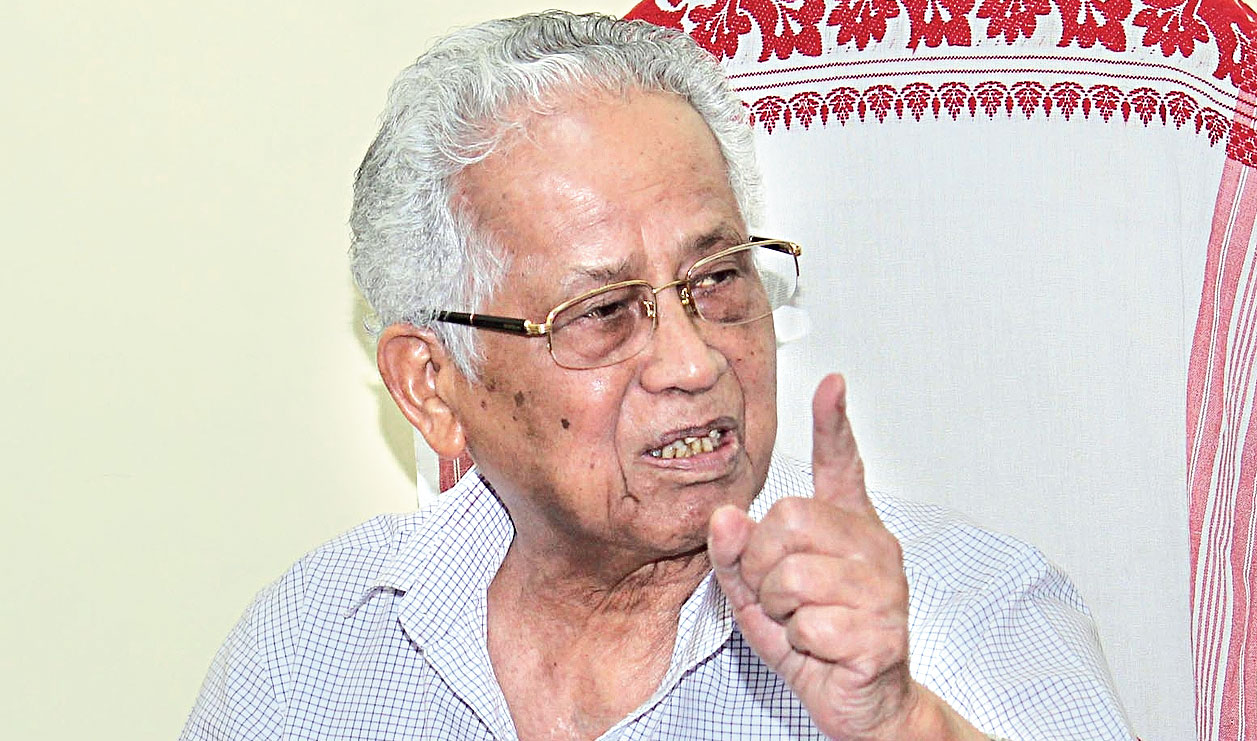 Former Assam chief minister Tarun Gogoi addresses the news conference in Guwahati on Tuesday.
Picture by UB Photos
---
Guwahati
|
Published 10.09.19, 07:10 PM
|
---
Former Assam chief minister Tarun Gogoi on Tuesday lauded the chief ministers of Meghalaya, Nagaland and Mizoram for categorically expressing their concern about the Citizenship (Amendment) Bill in front of Union home minister Amit Shah on Monday and flayed their Assam counterpart Sarbananda Sonowal for maintaining silence.
The three chief ministers had expressed concern at the fourth meeting of the North East Democratic Alliance (Neda), chaired by Shah, here.
Meghalaya chief minister Conrad Sangma said he was afraid the bill would allow illegal migrants to enter his state, Nagaland chief minister Neiphiu Rio said the bill would change the demographic pattern of the region and according to Mizoram chief minister Zoramthanga, it would be "quite meaningful" if the Northeast is kept outside the purview of the bill.
Sonowal did not talk about the bill. Instead, he described Shah as a "patriot" over abrogation of Article 370.
The bill seeks to grant Indian citizenship to Hindus, Sikhs, Buddhists, Jains, Parsis and Christians who fled religious persecution in Bangladesh, Pakistan and Afghanistan and entered India before December 31, 2014. It had sparked a series of agitation in the Northeast ahead of the recent Lok Sabha election.
"I thank the three chief ministers for categorically telling Shah how the bill would affect the region despite their being part of Neda. Sadly, two from Assam — Sonowal and Neda convener Himanta Biswa Sarma — remained silent," Gogoi said, adding that Sonowal and Sarma would be blamed by the people one day for not taking a stand against the bill.
Shah, during the Neda meeting, said when the Centre brings the bill, Article 371 being enjoyed by the six states of the Northeast will not be hurt and existing rules for protection of the indigenous communities will remain untouched.
His assurance also made it clear that the BJP-led Central government remains firm on pushing ahead the bill.
Gogoi said Monday would be known as a "black day" in the history of Assam instead of "historic" as Sarma had described in the meeting.
Gogoi urged all organisations of the state, including All Assam Students' Union (AASU) and Asam Sahitya Sabha, to raise their voices as one against the bill.
However, on Tuesday there was no reaction from the anti-bill organisations about Shah's statement.
"If you (Centre) were determined to pass the bill, why did you waste so much money on updating the National Register of Citizens (NRC). If the bill is passed, the NRC will become a waste paper," Gogoi reiterated.
The Centre has spent nearly Rs 1,600 crore to update the NRC with midnight of March 24, 1971, as the cut-off date.