Swing between hope & despair
Fear looms large as protests against the Citizenship (Amendment) Bill are spreading like an epidemic in the state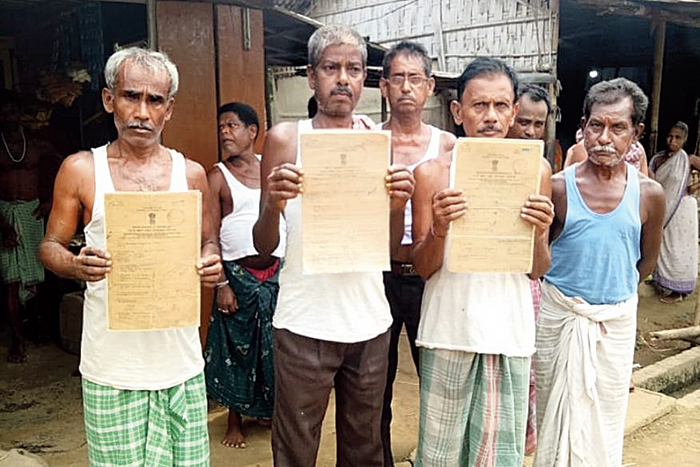 People show their refugee certificates at Choudhurypara
Telegraph picture
---
Guwahati
|
Published 12.12.19, 07:51 PM
|
---
Subhash Barman, 43, was not sure how to react. Having lived his entire life as a refugee, the Citizenship (Amendment) Bill kindled hope of a permanent refuge but fear looms large as protests against the bill are spreading like an epidemic in the state.
Barman is one of the 274 odd Hindu refugee families from erstwhile East Pakistan, settled at Choudhurypara in Bangaon in Kamrup district of Assam in the late 1960s, who were hopeful of getting Indian citizenship after the bill was passed.
Barman was not even born when his father fled to Assam in 1968 from Durgapur area of Mymensingh district of erstwhile East Pakistan after communal riots broke out in the neighbouring country.
Like Barman, the descendants of the 274 families, who now number about 2,000, were left out of the final National Register of Citizens (NRC). Mostly belonging to the Koch Rajbongshi, Hajong and Garo communities, this bunch of Hindu refugee families had applied for inclusion in the NRC but the lone document with them — refugee certificates — were allegedly not accepted by the NRC authorities.
"The question of our identity has become the biggest nightmare now. My father migrated from erstwhile East Pakistan. I was born here in a refugee camp and brought up with the local kids. Our family received land allotments in the late 1980s. With our names stripped off the NRC list, CAB was the lone resort for us. But with protests escalating over the passing of the bill, we are unsure of our future," Barman said.
Refugee certificates had been issued to them by the then ministry of rehabilitation. The certificates, now faded and brittle, read that they had arrived in Indian due to religious persecution and without any identity documents between 1964 and 1968.
Sushil Das, who still lives in the refugee camp Barman was born in, said, "After living in a refugee camp (Bamunigaon Permanent Liability Home) for a couple of years, the state government allotted small pieces of land to each family. After living here for over half a century and at least two generations later, we don't consider ourselves to be outsiders. Moreover, our families also reached here before the cut-off date of March 25, 1971. But what's going to happen to us? We don't have money for a lengthy and costly legal battle."
Many families had used the allotted land for cultivation and stayed at the camp.
The ruling BJP said the government had brought in the bill, looking at the crisis of these people. "All these people need to apply for citizenship according to the guidelines set under CAB. If they manage to prove that they fled Bangladesh because of religious persecution or in fear of religious persecution, their application will be assessed before they are granted citizenship," said BJP spokesperson Rupam Bhuyan.
He said unlike people's apprehension that hundreds of Hindu Bengalis would enter Assam after the bill is passed, the persecuted Hindu Bengalis are already living in the country.
A BJP internal survey revealed that out of the 19 lakh people who were left out of the final NRC published on August 31, 5,04,800 were Bengali Hindus.
On Monday, chief minister Sarbananda Sonowal, while advocating the bill in a public function, had said, "There are propaganda and rumours being spread over CAB. No one will enter India from Bangladesh and the bill will enable only some five lakh people to apply for citizenship."
Sources said the BJP is planning to complete the process of giving citizenship to them before the 2021 Assembly elections.