Students march against bill
Pritam Bhai Sonam warned that the Northeast would witness unrest if the bill is passed in the Rajya Sabha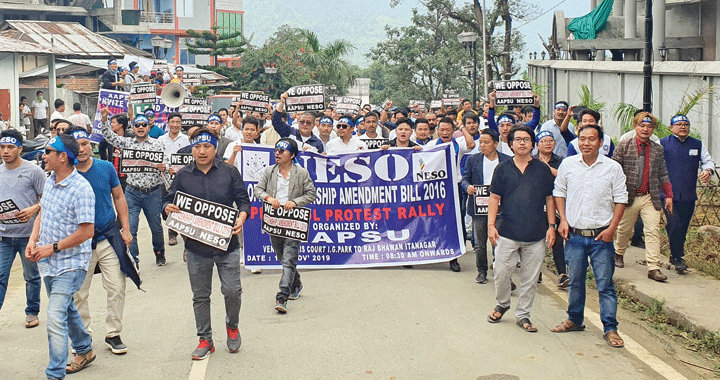 ---
|
Itanagar
|
Published 18.11.19, 08:35 PM
---
Hundreds of students representing several organisations of Arunachal Pradesh took to the streets on Monday to express their resentment and opposition against the Centre's proposal to implement the Citizenship (Amendment) Bill in the Northeast.
The protest here was organised by the All Arunachal Pradesh Students' Union (AAPSU) under the banner of North East Students' Organisation (Neso), a conglomeration of several student organisations of the region.
The students who marched from the Indira Gandhi Park till Raj Bhavan here shouted slogans opposing the bill and demanded that the Centre revoke its decision, keeping in mind the interests of the indigenous population of the state and region.
Neso organising secretary Pritam Bhai Sonam told reporters that the Northeast, particularly this state, is already flooded with refugees.
"We have been facing a refugee problem for the past 50 years. After the liberation war of Bangladesh, crores of refugees came into the Northeast. To accommodate them, the current government is adopting this "poisonous" bill," Sonam said.
He said the indigenous population of Arunachal Pradesh is only around 8-9 lakh but the population of illegal immigrants has already crossed the 6-lakh mark.
"Not even an inch of land will be given to the refugees. They should go back to their respective countries or whatever places they came from," Sonam said.
He warned that the Northeast would witness unrest if the bill is passed in the Rajya Sabha.
AAPSU president Hawa Bagang said, "The amendment is against the Northeast and is a move to gain political mileage."
"The ones sitting in Parliament should take decisions and make policies which are for Indian citizens and the indigenous people, not against them," Bagang said.
"This decision to implement the bill is a part of political propaganda and is in turn affecting the Northeast and its population. We don't
understand where the government intends to keep these foreigners. They have no place here in Arunachal Pradesh and the Northeast," Bagang said.
The leaders of the student groups also submitted a memorandum to Prime Minister Narendra Modi through governor Brig. (retd) B.D. Mishra regarding the bill.
The state cabinet headed by chief minister Pema Khandu sat for a special meeting on Monday to discuss the report of the consultative committee on the bill.
A statement issued by the cabinet secretary said, "Considering the sensitivity of the issue, it was decided to have a final discussion with all the stakeholders and forward the recommendations to the ministry of home affairs."
The final consultative meeting with all the stakeholders under the chairmanship of home minister Bamang Felix will be held on Wednesday, the statement added.