Stress on syllabus completion: Conrad K. Sangma
He said students in 20 schools would be provided with help to ensure that they clear the board examinations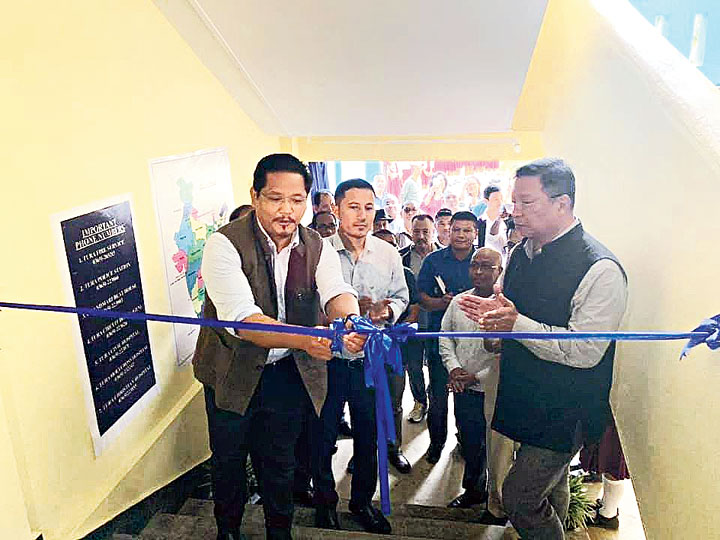 ---
|
Shillong
|
Published 26.10.19, 06:36 PM
---
Meghalaya will implement a strict mechanism to ensure that schools complete their syllabus on time while low-performing schools will get a fillip.
Making the announcement, chief minister Conrad K. Sangma on Saturday told a gathering in Tura that nearly 60 to 70 per cent of the schools do not complete their syllabus every academic year.
"They (schools) do not finish the syllabus. If the syllabus is not completed, how do you expect students to pass the examination? We do not need any extra money to complete the syllabus. We just need the system to perform better," Conrad said after inaugurating the new school building of Wadanang Secondary School in Tura, West Garo Hills.
He also said teachers are required to complete the syllabus while district education officers need to call a monthly meeting of all schools to enquire whether they have been able to complete the syllabus. He said such meetings should be held from April onwards, and not in November of each year.
"We have decided that we will talk to all the district education officers and we are going to have a very strict mechanism to monitor completion of course (syllabus) on time. This will start from 2020 onwards. But we have started to push some of the schools even now," Conrad said.
On the pass percentage of schools in the board examinations, he said there are over 20 schools in South West Garo Hills where the pass percentage has been "zero".
"Do you think the students are not intelligent? They are. But there is a problem somewhere in the system. We have decided to pick the bottom 20 schools in every district. There are at least five schools in every district where the result is zero," the chief minister said.
He said the state should be "ashamed" because of the pathetic pass percentage where some schools do not see even one student clearing the board examinations. "We are to blame; each one of us."
He said students in these 20 schools would be provided with help to ensure that they clear the board examinations.
In the Secondary School Leaving Certificate (SSLC) examinations this year, of 50,050 students who appeared, 27,887 passed. This year's pass percentage of 55.72 per cent was slightly lower than last year's 56.76 per cent.
But the pass percentage of all the five districts in the Garo hills region was lower than the state average. In the entire Garo hills, of 23,319 students who appeared, only 8,364 passed.
East Garo Hills, West Garo Hills and South Garo Hills recorded a pass percentage of 40.34 per cent, 38.17 per cent, and 39.07 per cent, respectively.
In South West Garo Hills and North Garo Hills, the pass percentage was 25.92 per cent and 36.32 per cent, respectively.