Standards set for jumbo-friendly tea
Scientists innovate to protect biodiversity, jumbos continue to die on tracks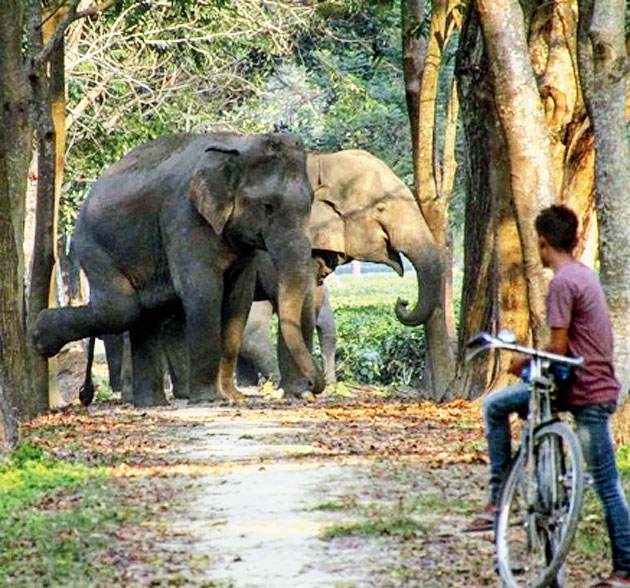 ---
|
Guwahati
|
Published 25.01.20, 07:02 PM
---
The US-based Wildlife Friendly Enterprise Network and the University of Montana have developed new science-backed standards to serve as a road map for tea growers concerned about the impact of their operations on Asian elephants and the human-animal conflict facing tea gardens.
The new standards are for tea producers who want to sell under the label Certified Elephant-Friendly Tea. This logo on a tea brand guarantees it was grown under conditions that meet these new standards, a unique effort in the tea industry. Tea produced by two small tea gardens in Assam's Udalguri district and Darjeeling in north Bengal have already been certified as elephant-friendly.
India is home to the largest remaining population of elephants and at least 70 per cent of its tea lands overlap with elephant ranges. They often use tea plantations in Assam as stepping stones between fragments of remaining habitat along their ancient movement routes, sometimes giving birth in tea gardens or visiting fields at the edges opportunistically to forage on paddy and other crops.
Some substantial challenges they face in and around tea lands include electrocution, chemical poisoning, ditch hazards, blockage of corridors and degradation of habitat.
Scott Mills, professor of wildlife biology in the University of Montana, told The Telegraph. "One of the key standards requires a written plan for reducing human-elephant conflict, using evidence-based best practices that directly reduce the activities that increase conflicts. As a part of this standard, provision of education and outreach materials to communities outside the tea gardens is also recommended. This increases the footprint of activities that improve the well-being of people and elephants. In addition to this, several other standards would indirectly reduce conflict by minimising stress on elephants like blockage of migratory pathways between water sources and natural foraging areas. Hence, the whole set of certification-related resources really becomes win-win, by making lives better for both people and elephants."
Some of the recommended standards are underground electrical service lines or high enough so that elephants can pass underneath, not using pesticides within five metres of a permanent water source, ban on hunting or trapping wildlife within the boundary of the tea plantation, access to natural water sources for elephants and reducing drainage ditches and other water channels to prevent risk of injury to elephants that wish to cross or access water.
Julie Stein, Network executive director and co-founder, said, "Globally our standards take the best available science and operationalise that by putting it to work in the field all powered by consumers so it takes some burden off local actors and helps incentivise coexistence with wildlife. We recognise that local communities are taking a risk by living near high biodiversity parts of the world. We want to connect the dots so that sustainable brands and their consumers can support their efforts to live with wildlife.
"Consumers increasingly want products that are healthier for themselves, for farm workers and for the planet. As consumer demand and willingness to pay grows, these initiatives become part of the cost of doing business and there is an associated savings to society and an investment in ecosystem services provided by forests, clean air, soil and water — all things humans and elephants need to survive and to thrive," she added.