Sangha spreads unity message
This was followed by the cultural procession with a length of 16 km was led by a special structure known as Hongsajan of epic Mahabharat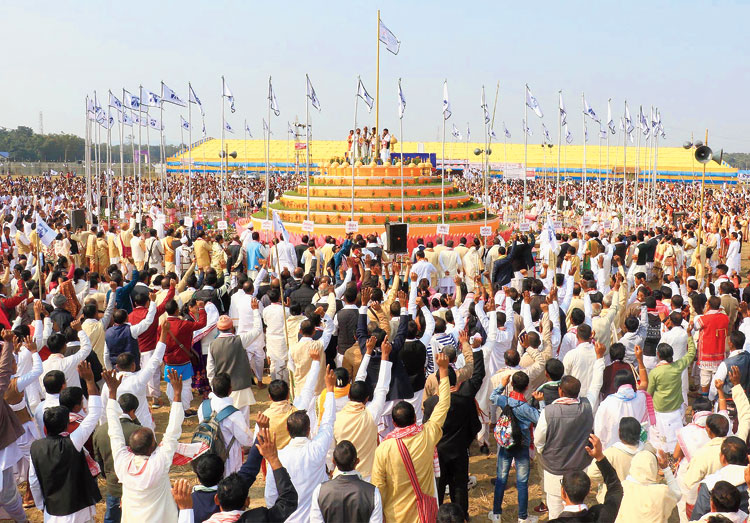 During the flag hosting ceremony of 89th annual session of Srimanta Sankardev Sangha at Kamargaon Dihingia-Mohura Pothar near Bokakhat in Golaghat district on 07-02-2020
Picture by UB Photos
---
Bokakhat
|
Published 07.02.20, 07:01 PM
|
---
The padadhikar (chief) of the Srimanta Sankaradeva Sangha, Kamala Kanta Gogoi, hoisted the flag of the Sangha during the four-day 89th annual session of the organisation at Kaziranga Samanway Kshetra on Friday and spoke of its expansion.
"Formed with seven followers of Srimanta Xankardeb in 1930, the Sangha is now the largest socio-religious organisation in the Northeast. Earlier, it expanded from Sadiya to Cooch Behar but now it crosses the boundary of India and has reached London as well. At present, no negative force can affect the Sangha," he said. Through his speech, the padadhikar also urged all the devotees to be united under the flag.
The altar made for the flag-hoisting by artiste Gopal Bora (Kolamani) in the shape of a 11-foot lotus with seven steps, was the main attraction.
The mini Kaziranga set up at the main entrance also attracted crowds and spread the message of environmental conservation.
This was followed by a cultural procession, led by a special structure known as hongsajan of the Mahabharat, followed by a separate vehicle with the padadhikar, minister Atul Bora, president and secretary of the reception committee, Dharmeswar Hazarika and Chandra Kanta Bhuyan and the general secretary of the Sangha, Babul Bora.
The procession with 72 cultural troupes demonstrated different religious, cultural and social phenomena.
As many as 10,000 people from different castes, communities and religions participated in the procession.
Altogether 2 lakh people gathered at the site on Friday, for the third day of the programme. An open meeting was held with the padadhikar, inaugurated by the chief adviser of the Sangha, Bhabendra Nath Deka.
Assam finance minister Himanta Biswa Sarma on Friday said the Sangha was the only steersman organisation in Assam. "Anyone who comes to a Sangha meeting should always come as a devotee, not with any political or social designation. There is no need to portray the Sangha as a platform of politicians," he said.
He urged the adviser of the All Assam Students' Union, Samujjal Bhattacharjya, to make this clear regarding the invitation of political leaders to any meeting.
He conveyed the best wishes of Prime Minister Narendra Modi and urged the gathering to be united under the Sangha.
The minister also declared financial assistance of Rs 10 lakh each to the 56 schools managed by the Sangha.
Taking part as a distinguished guest, journalist Prasanta Rajguru said the Sangha is a disciplined organisation. "It leads the society with the philosophy of Xankar-Madhab," he said.
Earlier, the general secretary of the Sangha, Babul Bora, read out his secretarial reports of all the branch committees. Several awards were also given away.