Skulls & bones in Mizoram mystery
Skulls from megalithic period discovered at a construction site in a village in Muallungthu, over 20km from Aizawl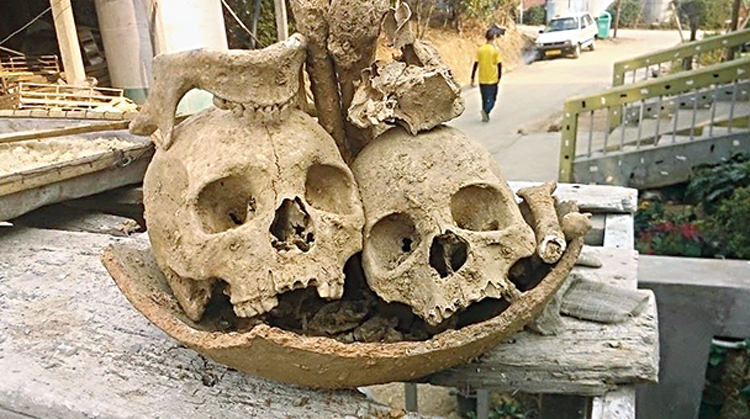 The skulls and bones unearthed in Muallungthu.
Picture courtesy ASI, Aizawl circle
---
Guwahati
|
Published 24.02.19, 08:25 PM
|
---
The discovery of two skulls at a construction site in a village in Muallungthu, over 20km from Mizoram capital Aizawl, has left experts from the Archaeological Survey of India (ASI) and Birbal Sahni Institute of Palaeo-botany (BSIP) wondering.
The dug up skulls are examples of a system where the bones of a corpse or corpses are placed in a pot and then buried.
The Lucknow based autonomous institute under the Centre's department of science and technology is expected to collaborate with the ASI in studying the two skulls, found along with long femur bones, for scanning and DNA tests.
The skulls were found last week while an excavator machine was working at a construction site.
Experts from both the institutes said the discovery may have a trace dated back to the BC era or could be part of the megalithic period.
Niraj Rai, a BSIP scientist and an expert in archaeogenetics of ancient DNA, said, "The skulls and the bones require DNA testing and carbon dating. We will work on it. But we don't know the date yet. It could be of the sixth century as pot burial was common in the megalithic period. It is said the megalithic period ended in the 400 AD. The bones were found 10 feet below the ground. The soil deposition is quite old. We can estimate the date of burial when the soil gets deposited naturally. As in this case, the soil deposition is 10 feet, it may go back to 600 BC."
It was a common form of burial in different parts of the world. Instances of pot burial can be found in the ancient cultures of Egypt, India, Japan, Cambodia and Syria, among others.
Sujeet Nayan, the deputy superintending archaeologist of ASI, Aizawl circle, said, "The discovery is important but it is too early to make any concrete statement. I have spoken to Rai, who will visit Mizoram in the first week of April. We are planning thescanning and DNA testing of the skulls and the bones. For further study we shall require permission from the authorities concerned, including the ASI director general's nod from New Delhi. Nonetheless, the new discovery has added a new dimension to the history of the state."