Sales dip before festivals in Doomdooma
The ongoing economic slowdown has cast a shadow on the festive mood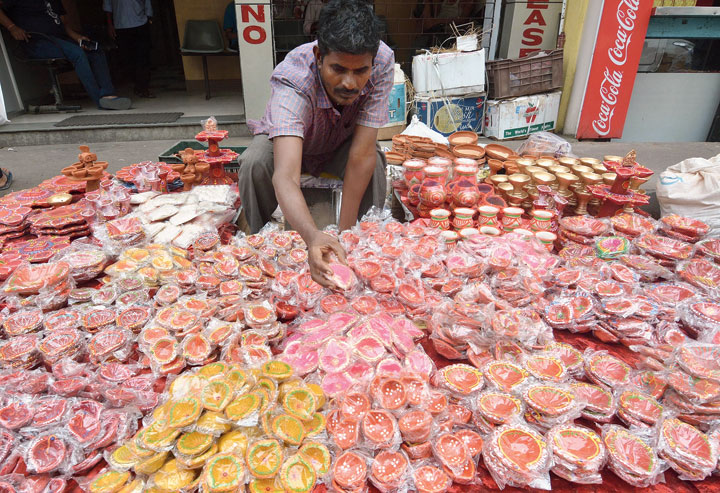 A vendor sells coloured earthen lamps in Guwahati on Thursday ahead of Diwali
UB Photos
---
Doomdooma
|
Published 24.10.19, 07:34 PM
|
---
Assam witnessed heavy to very heavy rainfall on Thursday which affected preparations for Dhanteras, Diwali and Chhath. To make matters worse, the ongoing economic slowdown has cast a shadow on the festive mood.
This year, Dhanteras — which is traditionally the splurge time ahead of Diwali in terms of buying jewelries and automobiles — has failed to boost sales.
Debasis Dey, who runs Loknath Jewellers in Tinsukia, said compared to last year, this time business was just half.
"There are very few bookings and too few enquiries. This time we are hoping for sale of light jewelleries and small gold coins," Dey said.
Radhika Prasad, owner of Radhika Jewellers, echoed Dey, adding that this year the moneyed-class has not placed orders of big amounts.
"Dhanteras is on Friday but so far we have no big orders. This is strange because Dhanteras, Diwali and Chhath are auspicious occasions for buying jewelleries and other valuables. People also stock jewelleries for winter weddings. However, compared to last year, my business is down to 40 per cent," she said.
Owner of a Honda bike showroom in Tinsukia town agreed that market was sluggish. "Last year, I had bookings for 592 two-wheelers on Dhanteras, but this year I am struggling hard to sell 200 bikes and scooters. Market is very slow," she said.
Bulin Raj, sales manager of Pankaj Motors, agreed. "Last year, I had around 120 car bookings on Dhanteras, but this year so far I have received only 70 bookings and do not see scope for any more bookings."
Dhananjay , who has a TVS showroom, however, seemed happy.
"Last year, my showroom was new and there were limited bookings for Dhanteras. I had 50 bookings for two-wheelers. This time the number is 100. However, business would have been better if the market condition was good," he said.
Asked about the reason for the gloom in the market, Hiralal Sharma, a retired professor of economics, said, "Market is slow. The Northeast, including Assam, is affected by market slowdown across the country."
"Demands for products across segments have fallen drastically as people are not buying anything unless it is urgent. The wealthy have gone into savings mode to be prepared for any future crisis such as job cuts. New jobs are not being created and companies are reducing staff. Farmers also have low purchasing power."
Asked whether the salary hike of government employees would ramp up demand, he said, "How many people in the state are government employees? Most customers work in private firms or are doing small business. The health of the market depends on them."
"Buyers nowadays prefer online shopping. There is no tension at all," Kamlesh Jha, a teacher, said.