RSS warms to beefeaters
NOT BIASED, SAYS VAIDYA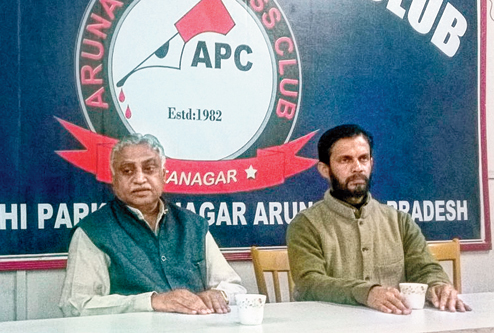 ---
Itanagar
|
Published 09.12.15, 12:00 AM
|
---
Itanagar, Dec. 8: Eating beef cannot come in the way of becoming a member of the Rashtriya Swayamsevak Sangh (RSS), its all-India prachar pramukh Manmohan Vaidya has said.
Vaidya, who is on a three-day visit to Arunachal Pradesh, was addressing reporters here today. What was meant to be a promotional exercise and an attempt to remove doubts about the RSS's activities quickly turned into a discussion on the beef ban.
Vaidya said there were misconceptions about the RSS's work, stating that it is not a religious organisation but a social one. "We want to make India the number one country," he said and added that progress cannot be made without uniting society.
Claiming that the Sangh is not biased against any religious community, Vaidya said it is only opposed to anti-national activities.
Earlier, a representative of the RSS in the state, Sunil Mohanty, called the Sangh "the most misunderstood organisation today".
There are 27 daily shakhas of the RSS in the state which conduct extra-curricular activities and prayer sessions, "asking for invincible power from god". Vaidya said prayers are offered to a "formless god".
The news conference turned to the topic of beef bans and intolerance when reporters broached the subjects.
Vaidya said food habits have nothing to do with the RSS but that consuming beef is not traditional all over the country. However, he said in places such as Arunachal people have always consumed beef.
"We don't tell society what to eat or not to eat," he said, before adding that people who eat beef can also become its members.
On the topic of perceived "growing environment of intolerance" and writers returning their awards as a sign of protest, Vaidya said "people of certain ideology who have always been intolerant of ideas other than their own are speaking of intolerance".
Speaking of its relationship with the BJP and alleged interference in the party, Vaidya said "a lot of things are written in the media bina soche-samjhe (without thinking or understanding)".
It was informed that there are around 3,000 members of the RSS in the state, many of whom do consume beef.