Protest dipped in blood
Indian National Congress legislator writes poster with his own blood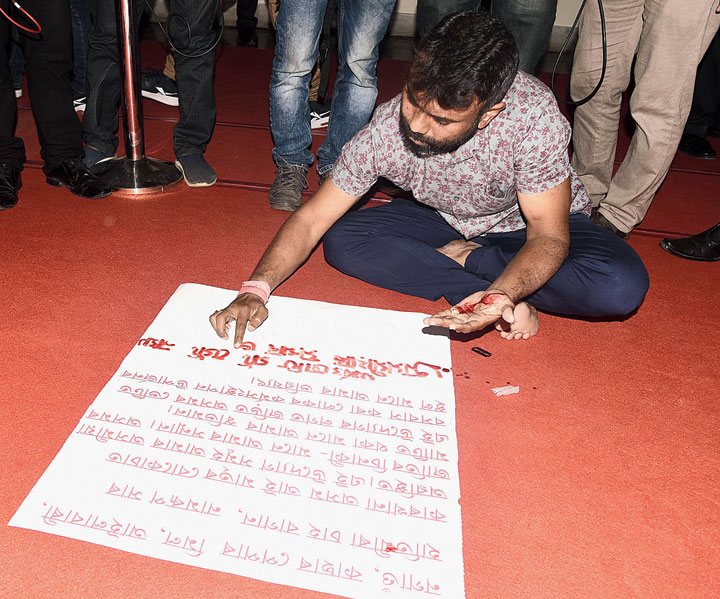 ---
|
Guwahati
|
Published 03.12.19, 09:10 PM
---
Mariani Congress legislator Rupjyoti Kurmi triggered a controversy on Tuesday by writing words of protest with his blood on the premises of the Assam Legislative Assembly.
After question hour, Kurmi was seen sitting at the entrance to the Assembly Hall, inscribing words of protest on a sheet of paper expressing his concern about industries like Nagaon and Cachar paper mills and Brahmaputra Valley Fertilizer Corporation Limited which are gaping at an uncertain future.
A shaving blade was seen lying beside him and blood was oozing out of his left palm. He used the forefinger of his right hand to scribble the words: "Do not gobble up community, land and home. We will not allow sale of the pride and future of Assamese people. Jai aai Asom".
Kurmi said, "Through this protest, I want to send the message to the government that instead of squandering money on melas and film festivals, it should use it to revive these industries."
Assam had witnessed such protests during the six-year anti-foreigners Assam Movement. One such protester was student activist Dulal Sarma, who slashed his chest with a blade and wrote with his blood on a street in Guwahati: "Tej dim, tel nidiu (We will give blood, not oil)".
Although Sarma's emotional outburst was hailed by many at that time, Kurmi's act did not go down well with the legislators of the ruling BJP. Other Congress MLAs, too, were not around when Kurmi continued the protest for around 15 minutes. Subsequently, the Assembly's medical staff persuaded him to proceed for treatment after administering first aid at the protest site.
Sootea BJP legislator Padma Hazarika later raised the issue in the Assembly. He told the House that bringing a shaving blade into the high-security zone of the Assembly was a breach of security.
Speaker Hitendra Nath Goswami said he was not aware of the incident and promised an inquiry if it was found to be true. Kurmi later wrote a letter to Goswami, apologising for his act.