Pramod Boro elevated to the post of president of the United People's Party Liberal (UPPL)
Boro said the UPPL would contest in all the 40 constituencies of the BTC and was also open to alliance with the BJP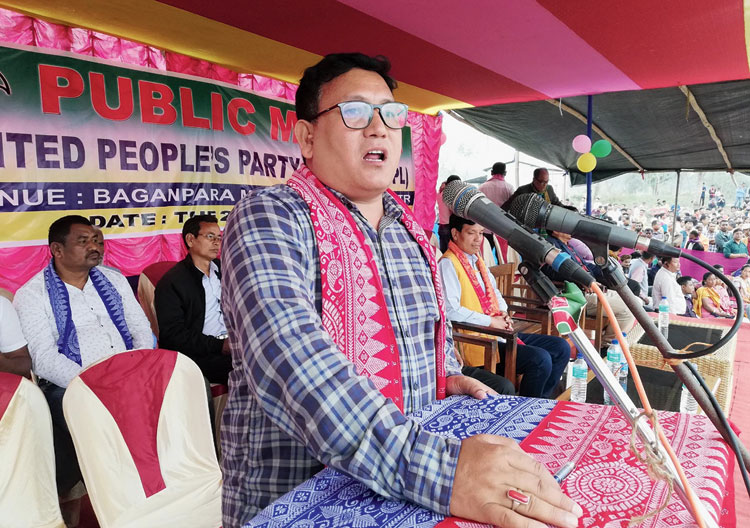 ---
|
Udalguri
|
Published 25.02.20, 06:34 PM
---
Former All Bodo Students' Union (Absu) president Pramod Boro was unanimously elevated to the post of president of the United People's Party Liberal (UPPL) on Tuesday in the run-up to the Bodoland Territorial Council (BTC) polls.
Boro, 44, who had joined the UPPL as its vice-president on February 21, was elevated to the top post at a party meet at Baganpara in Baksa district.
Former Rajya Sabha MP and UPPL chief Urkhao Gwra Brahma, who made way for Boro to the post, said, "We have unanimously made Pramod Boro the president of the party because he is a key signatory to the Bodo pact and it is his duty and responsibility to work for implementation of its clauses and also because I am suffering from illness for a prolonged period and can't take an active role in the party any more. I will remain a member and special invitee in every meet of the party."
He said the UPPL would contest in all the 40 constituencies of the BTC and was also open to alliance with the BJP.
"We sincerely think it is the moral responsibility of the BJP to work hand in hand with the signatories of the pact, which the party materialised, for effective implementation of the clauses," he said.
Boro said, "I have worked as a student leader and got insights into the real issues plaguing the people. Serving the people is a social responsibility. Politics is neither my hobby nor my passion. I take it just as an assignment, where I have the responsibility to march forward. I am committed to work selflessly."
He said there was a scarcity of innovative, creative and dedicated leaders who worked selflessly for the cause of society, which was why he joined active politics.
He also said, "Election procedures must be simple to ensure wide participation of every class of society. It must have a congenial atmosphere, as it is a celebration of the democratic republic where people choose good leaders and oust the inefficient ones."
Boro, a resident of Souraguri village near Tamulpur in Baksa district, was a key signatory to the BTR Accord signed on January 27. At the helm of Absu, he was instrumental in bringing the four factions of the National Democratic Front of Boroland (NDFB) to the negotiation table which led to signing of the new Bodo Accord.
Boro is likely to play a key role and be the face of the Opposition in contest with the Hagrama Mohilary-led ruling Bodoland People's Front (BPF) in the BTC polls scheduled for April.