Portable kit cry in hooch aftermath
The victims had fallen prey to higher quantities of methanol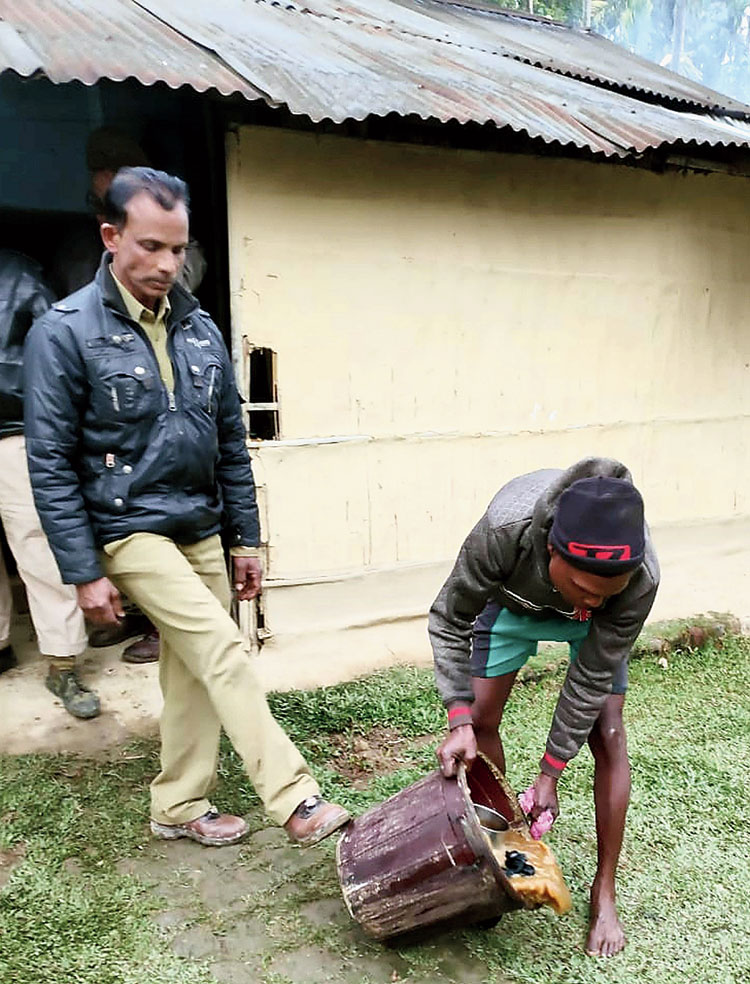 Officials destroy an illicit liquor unit in Golaghat
File picture
---
Guwahati
|
Published 07.03.19, 07:02 PM
|
---
These are testing times for Assam's excise department.
Following the hooch tragedy that killed over 155 persons, mostly tea plantation workers in three gardens of Upper Assam's Jorhat and Golaghat districts last month, the commissionerate of excise has now asked the National Chemical Laboratory (NCL), Pune, to develop portable alcohol-testing kits.
The kits will be used by excise field officers and polices who are assigned to keep tabs on liquor outlets that are found in hundreds across Assam's villages and tea gardens.
"The NCL has been asked to develop a low-cost easy-to-handle kit to test the various components, or at least the poisonous ones such as methanol or volatile acids, so that even common people can check the liquor. Once the kit is developed, we will distribute those among the district offices and the liquor shops across the state, apart from the police and excise field officials. The kit will also be made easily purchasable in the market so that people can buy and check their alcohol in their houses," Sailendra Pandey, the public relations officer
of excise minister Parimal Suklabaidya, told The Telegraph.
Due to the illegal catalysts that go into the making of hooch and country liquor, often during fermentation, ethanol, the spirit used in alcohol, has the propensity to turn into methanol, a deadly spirit that once consumed beyond a quantity of 10ml, can turn fatal.
While the forensic reports are yet to come in, those who lost their lives and eight others who lost their vision are believed to have fallen prey to higher quantities of methanol that was present in the hooch (sulai) they had consumed.
"After the kits are developed (expected within four months), we will follow it up by launching awareness programmes teaching people how to use those," Pandey said.
Sulai, that often contains molten molasses, has traditionally been consumed across Assam and most parts of the Northeast.
However, the Assam excise department has never been fully equipped to identify and measure the exact quantities of ingredients used in such alcohol.
"A project funded by the World Bank is under way to develop a state of the art fully-computerised lab for the department within the next six months that will be capable of not only identifying the components in alcohol but also the amount of various spirits that had gone into the making of country liquor or hooch," Pandey said.
A team of two chemists from NCL had on Wednesday visited the current "ill-equipped" laboratory at Baminumaidum and have noted observations besides taking the responsibility to develop the testing kits.