Placards to practise social distancing
Overcoming lack of awareness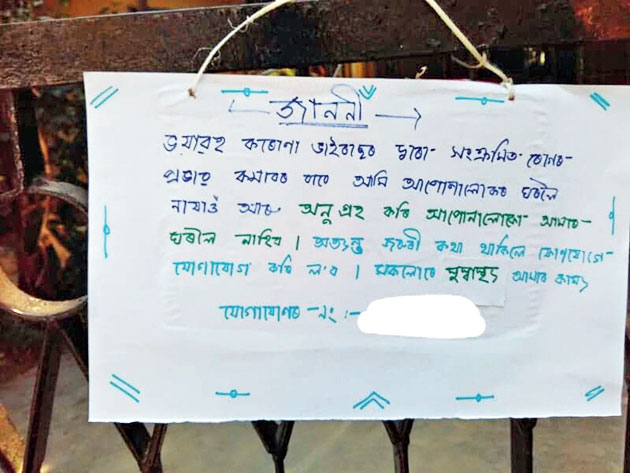 ---
|
Guwahati
|
Published 24.03.20, 07:09 PM
---
Local residents in Guwahati have come up with novel ideas to check the coronavirus pandemic. While a few resort to hanging placards outside their houses saying: "Kindly don't visit our place; neither will we visit yours", others keep handwash outside their entrances to compel stray visitors to wash their hands before they are allowed in.
Sandeep Sarma, a resident of Chandannagar, was busy putting up a handwritten placard on the main gate of his campus.
"It has become mandatory now. News carried by the media is full of coronavirus deaths and confirmed Covid-19 cases. The virus is really spreading fast and one never knows who is touching whom. People are still there on the roads," Sarma said.
"My father is over 60 and his chance of being affected is high. So I do not want any visitor to come to my place during this time of crisis," he added.
Mrinal Borah of Sorumotoria has kept a bottle of handwash on his verandah, while he let people go inside his place but only after washing hands.
Khanindra Kakati of Bhangaghar made a placard that said that if the directions are not complied with, the person cannot complain if he is beaten up.
"Mine is a big campus with rent facilities. Many people frequent it without my notice. Stringent action has become the need of the hour. People are not concerned even when the Northeast has a confirmed case of Covid-19," Kakati said.
Citizens said lack of awareness has compelled them to think of innovative ideas.
Especially because fearing shortage of goods, people are thronging groceries without caring about social distancing.