Parishad warns of threat to Assamese
Anti-Assamese campaigns before every census since 1991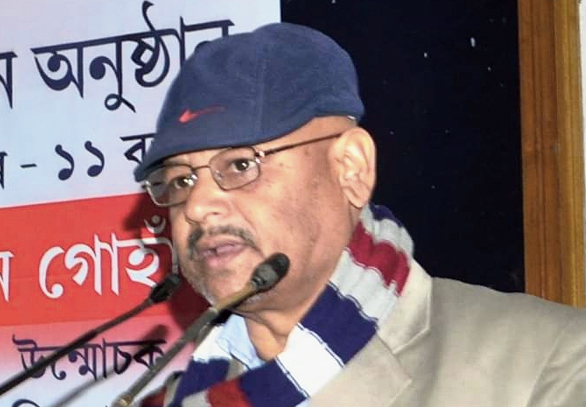 ---
|
Guwahati
|
Published 03.06.19, 08:46 PM
---
Char Sapori Sahitya Parishad, the biggest literary body in the sar sapori (sandbar) areas of Assam, has alleged that haphazard filing of objections in the National Register of Citizens (NRC) update process has prompted the launch of the Chalo Paltai campaign, which is requesting Assamese-speaking people to mention their mother tongue as Bengali in the 2021 census.
The Parishad said Assam has witnessed anti-Assamese campaigns before every census since 1991 and Chalo Paltai, launched a week ago, is just one of them.
The campaign, launched on a Facebook page reportedly by a person from Calcutta and a few from Assam, is seen as aiming to influence sar sapori inhabitants, who now send their children to Assamese-medium schools and identify themselves as Assamese, burying the past when they identified themselves as Bengali.
Parishad president Hafiz Ahmed, who has for long been fighting such campaigns, recalled how Janamat, a Calcutta-based organisation, had asked sar sapori inhabitants to identify themselves as Bengali in the census when they came for flood relief at Jania and Baghbar Assembly constituencies in lower Assam in 1991. At that time, the memory of the six-year Assam Movement was fresh in the minds of the people and many had to go through citizenship tests.
"I, along with a few intellectuals, including Hiren Gohain, opposed it. But a similar campaign by a few Calcutta-based organisations resurfaced in 2001. We opposed it again. When it did not stop, we formed the Char Sapori Sahitya Parishad in 2005 to work in an organised way to check such inroads among sar sapori people," Ahmed said.
He said they held meetings in districts to counter such campaigns, after which he and a woman writer were assaulted by miscreants in 2011.
Ahmed said a political leader from lower Assam, now an MP, demanded "Miya language" status for the inhabitants of sar sapori, alleging latter's harassment by Assamese people. As there was no "Miya language" in census, those who had mentioned their mother tongue as Miya were recorded as Bengali.
Ahmed highlighted how the sar sapori inhabitants gradually assimilated with the Assamese people. "In 1931, a section of sar sapori people identified themselves as Assamese and the rest as Bengalis. In 1941, several prominent persons from Barpeta district, representing the sar sapori people, submitted a memorandum to Congress leader Gopinath Bordoloi with the request to introduce themselves as Assamese. In 1951, the sar sapori people en masse identified themselves as Assamese, prompting cultural icon Jyoti Prasad Agarwala to famously describe them as na-Axomiya Mymensinghia (new Assamese from Mymensingh).
"In 1931, Assamese-speaking people in the state were a little over 31 per cent which increased to 56 per cent in 1951. It was the result of sar sapori inhabitants en masse identifying themselves as Assamese. But after the Assam Movement, things seemed to have taken a different turn," he said.
"Sar people are like pawns. Chalo Paltai, I believe, is an outcome of haphazard filing of a large number of objections in the NRC update process, triggering a sense of insecurity among sar sapori inhabitants. People like Garga Chatterjee have taken advantage of it and launched the campaign. Those who have responded to it are associated with political parties. Their aim is to shatter the Assamese society," he alleged.
Ahmed believes if the Citizenship (Amendment) Bill is passed, it will help increase Bengali-speaking population in Assam by allowing many to enter the state from Bangla-desh. "In such a situation, if the sar sapori people identify themselves as Bengalis, the Assamese language will be a minority in the state," he said.