Pact relief for Brus in Tripura
Solution to 25-yr-old problem, says Shah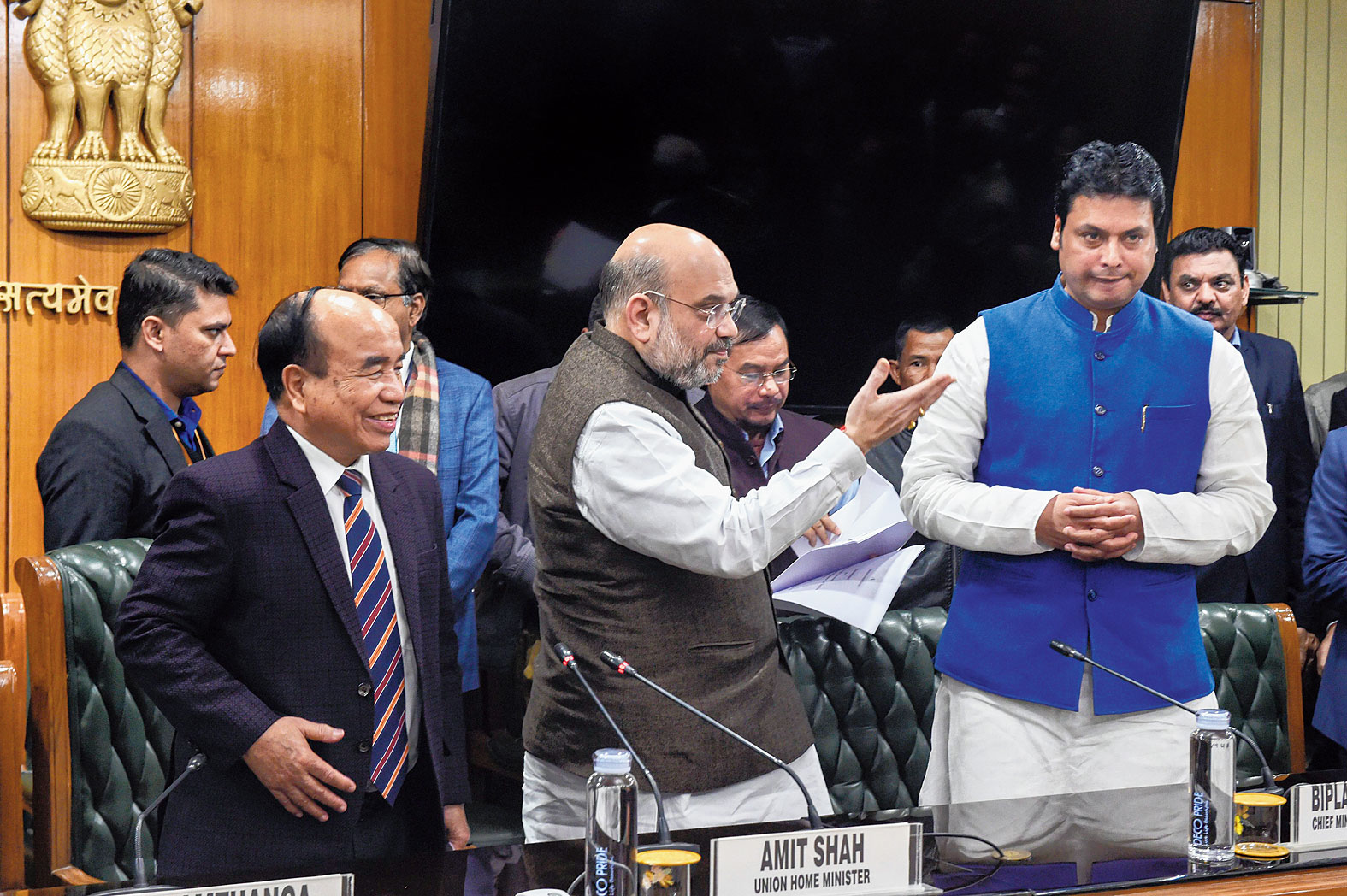 ---
Agartala
|
Published 16.01.20, 10:10 PM
|
---
 More than 30,000 internally displaced Brus from Mizoram, who have been living in North Tripura since 1997, will now permanently settle in the state under a quadripartite agreement signed in New Delhi on Thursday.
Union home minister Amit Shah told reporters in New Delhi that the 25-year-long problem had finally been resolved. He thanked Tripura's chief minister Biplab Kumar Deb, royal scion Pradyot Kishore Manikya Deb Burman, the state's political parties, Mizoram chief minister Zoramthanga and North-East Democratic Alliance (Neda) convener Himanta Biswa Sarma for taking the matter to a logical end.
Over 37,000 Bru people had fled to Tripura from Mamit, Kolasib and Lunglei districts in Mizoram during ethnic clashes in October 1997. They were sheltered in six relief camps in Kanchanpur and Panisagar subdivisions of North Tripura district.
"Since then (1997), no permanent solution was found to their problems. On July 3, 2018, the Narendra Modi government, along with the Tripura and Mizoram governments and Bru leaders, signed an agreement and a package was announced which gave the internally displaced people a chance to return to Mizoram. However, since 2018 till now, only 328 families have returned to Mizoram. It has now been decided that the Bru people, numbering around 34,000, will be permanently settled in Tripura. All the organisations and both the state governments have agreed to this final decision," Shah said.
Giving details of the package for the displaced Brus, Shah said every Bru family would get a 40ftx30ft plot of land and Rs 1.5 lakh to build a house, Rs 4 lakh fixed deposit, financial aid of Rs 5,000 per month and free rations for the next two years. Altogether Rs 600 crore has been sanctioned to resettle the Brus in Tripura, Shah said.
He hoped that both the state governments would do the needful to improve the lives of the displaced Brus. "The Brus have been living without proper healthcare, drinking water and drainage. Now with the agreement, they will settle down in their new homes," he added.
Mizoram Bru Displaced Peoples' Forum president A. Sawibunga told The Telegraph, "This agreement allows Bru refugees who want to stay back to permanently settle in Tripura. We are happy with it".
He said apart from the forum, two other organisations, the Mizoram Bru Displaced Peoples Coordination Committee and the Mizoram Bru Indigenous Democratic Movement, had also signed the agreement this time.
Prime Minister Narendra Modi tweeted: "Committed to the development of the Northeast and it's citizens! Today's agreement will greatly help the Bru-Reang refugees. They will also benefit from numerous development schemes. A special day indeed".
Deb tweeted: "It's a historic agreement between Government of India, Governments of Tripura & Mizoram and Bru-Reang representatives in New Delhi today, to end the 23-year old Bru-Reang refugee crisis. My heartfelt thanks to PM Shri @narendramodi ji & @AmitShah ji for this decision".
Royal scion Deb Burman tweeted: "It's a start and a wonderful one at that! Our Bru people have been given the rehabilitation inside Tripura! United we stand".
Tripura PCC president Pijush Kanti Biswas said they were happy with the agreement.
Senior CPM leader and former East Tripura MP Jitendra Chaudhury said a lot of initiatives had been taken in the past two decades for repatriation of the Brus but nothing had materialised.
"The decades-long problem will finally be solved at the initiative of both the central and Tripura governments. Since the governments have taken the decision, they should ensure land, financial packages and proper source of livelihood for the Brus. "Since there had been a dispute with the locals, they should also see to it that no inconvenience is faced by the localities," Chaudhury added.
However, a few local civil society groups, mostly non-tribals, in Kanchanpur subdivision were unhappy about the agreement.
The president of North Tripura-based Nagarik Suraksha Mancha, Ranjit Nath, said they were "not happy" with the agreement. They felt that the arrival of the Brus in Tripura in 1997 had damaged the bond between tribals and non-tribals in Kanchanpur subdivision in North district.
The Nagarik Suraksha Mancha and Unnayan Manch have held a series of protests in the Bru-inhabited North and Unakoti districts to press for their 11-point demand, the first of which seeks to immediately repatriate the Bru refugees to Mizoram.
"We shall continue our agitation but if everyone in Tripura agrees to the pact, what can we say? We shall decide on our next course of action on January 26," Nath said.
In Mizoram, Central Young Mizo Association (CYMA) president Vanlalruata, who is also the president of the NGO Coordination Committee, a conglomerate of major civil society and student groups of the state, declined comment. He said the committee would hold a meeting to discuss the clauses of the agreement.
"I can't comment before knowing what is written in the agreement and whether it is good for Mizoram or not. We will hold a meeting to discuss the clauses of the agreement to see if it is good for Mizoram," he said.
The NGO Coordination Committee has been demanding that Bru families reluctant to return to Mizoram should be disenfranchised and made to settle in Tripura permanently.
B. Vanlaltana, president of Mizo Zirlai Pawl, Mizoram's apex student body, welcomed the agreement as it fulfils the longstanding demand of Mizoram NGOs to settle Bru refugees permanently in Tripura.
The Mizo Students' Union welcomed the quadripartite agreement.
Additional reporting by Henry L. Khojol in Aizawl