NPP blames Meghalaya govt for 'inviting' coronavirus
9 members, including former legislator Justine Dkhar tendered their resignation to the party leadership on Saturday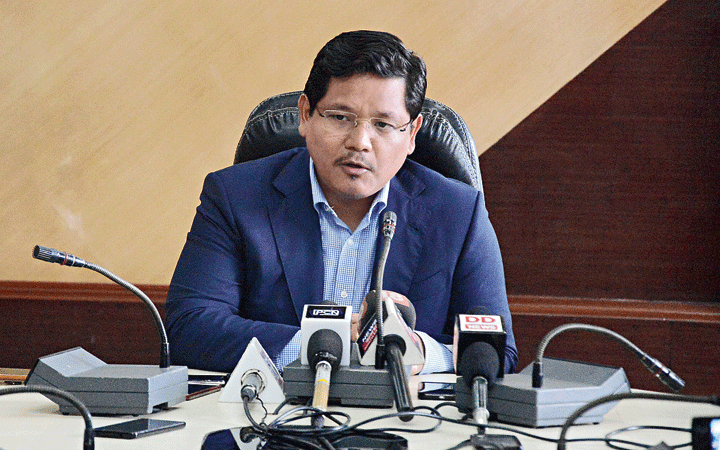 Conrad K. Sangma
File picture
---
Shillong
|
Published 10.05.20, 06:39 PM
|
---
A section of National People's Party (NPP) members from Meghalaya's East Jaiñtia Hills has blamed the Conrad K. Sangma government for "inviting" the novel coronavirus into the state by allowing coal transportation to take place from outside.
The nine NPP members, including former legislator Justine Dkhar tendered their resignation to the party leadership on Saturday.
"People are fighting hard against the spread of the pandemic whereas the party, which is leading the government, is inviting the virus through truck drivers and helpers by allowing them to come from outside the state (red-zone areas) to East Jaiñtia Hills," the members wrote in their resignation letter.
However, the NPP members did not specify from which state or red-zone areas was coal being allowed to be transported to East Jaiñtia Hills.
They also noted that while the NPP knows very well that East Jaiñtia Hills has enough raw materials for the requirement of cement factories, but they said the government was "adamant" to the facts.
Last week, various groups had protested against the government's decision to allow coal transportation from outside Meghalaya to feed the cement factories.
An order was issued by the state transport department on April 30 allowing the transportation of coal from Assam to East Jaiñtia Hills.
The state government had allowed the resumption of work in cement factories but the operations should be at 50 per cent capacity, and subject to regulations by the commerce and industries department.
The protesting groups appealed that the government should immediately start the auctioning of two lakh metric tonnes of coal of 32,56,715 metric tonnes as permitted by a committee constituted by the National Green Tribunal.
In March, the NGT committee approved the auctioning of two lakh metric tonnes of coal on a pilot basis.
The coal to be auctioned consists of 75,000 metric tonnes in East Jaiñtia Hills, 50,000 metric tonnes each in West Khasi Hills and South Garo Hills and 25,000 metric tonnes in South West Khasi Hills.
However, the lockdown in view of the pandemic has delayed the auctioning of the two lakh metric tonnes of coal.
The NPP members said the party was not well organised and there was no platform to listen to public grievances.