NFR move for smooth traffic
The NFR has 1,499 manned level crossings in the northeastern states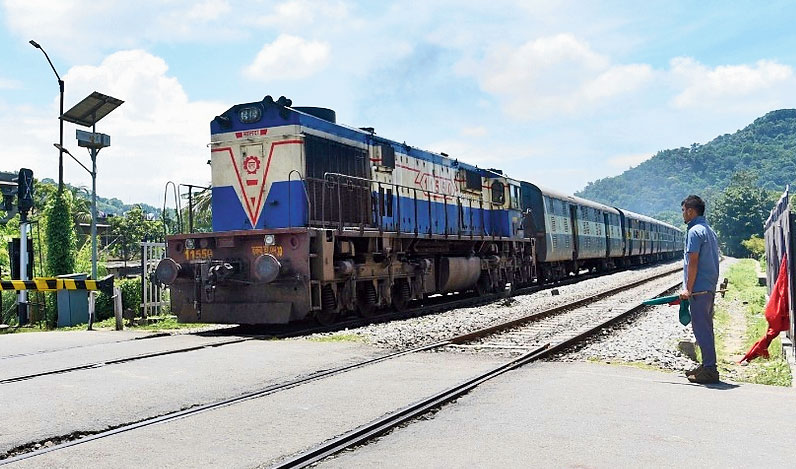 A manned railway crossing.
Picture by Satananda Bhattacharjee
---
Hailakandi
|
Published 13.08.19, 06:46 PM
|
---
The Northeast Frontier Railway has decided to open some of its manned railway crossings for vehicular traffic and road overbridges will be constructed over some of them.
The NFR has 1,499 manned level crossings in the northeastern states.
An NFR official said these level crossings are all "manned" by a person who is responsible for closing and opening of the gates. The crossings have a stipulated system of operation to ensure the safe passage of trains and vehicles. At a number of gates, the normal position is "closed to road traffic" which means the gate will always be closed for vehicles. Such gates can be opened for the passage of vehicles only when there is no train passing and an elaborate system has to be followed to open the gates for traffic movement.
The official said with development and increasing vehicles, it was noticed that at such gates, inconvenience was caused to road users because they would be closed to traffic for long periods and they have to wait at the gates for a long time. It was seen that considerable pressure was put on the gateman to open the gate and they have to work under a lot of stress.
In view of these conditions, the NFR has changed the normal position of many gates which are closed to road traffic to open them always for the passage of road users. These gates would now be closed to road traffic only during the passage of trains.
So far, the NFR has changed the systems in 558 gates after which the road users do not have to wait at these level crossings for a long period.
The operation of the gates has also become less stressful and swift.
This initiative of the NFR has been praised by road users especially in remote areas, which have recently undergone development.
It is also to be mentioned that depending on traffic density and the density of vehicles, the NFR is undertaking the construction of road overbridges and underbridges at different locations on a case-to-case feasibility basis.