Navy divers reach floor of Meghalaya coal mine
State has been requested to help pump out water so that level is brought down to safe-diving limit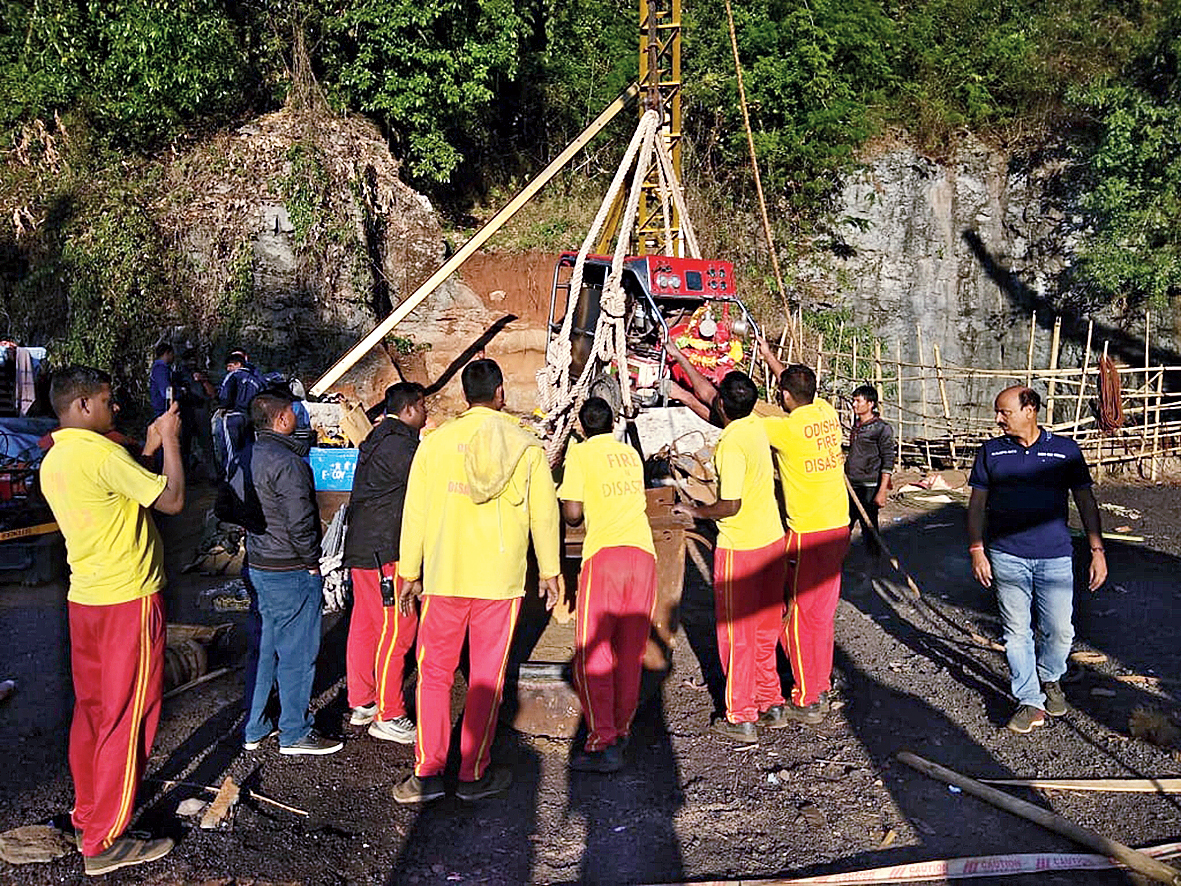 Odisha fire and disaster management service personnel load a water pump to take it inside the mine in Ksan on Monday
The Telegraph picture
---
Shillong
|
Published 31.12.18, 06:14 PM
|
---
An Under Water Remotely Operated Vehicle (UWROV) on Monday detected some wooden structures, a rat-hole and coal inside the mine at Ksan in Meghalaya's East Jaintia Hills district where 15 miners are feared trapped since December 13.

The device was pressed into service by Indian Navy divers who went inside the 320ft mine for the second consecutive day.
"The navy divers who stayed inside the shaft came out after three hours. The UWROV found that there are some wooden structures inside and coal was also found beneath. Visibility is very poor — only around one foot at the bottom. A rat hole was also found with coal at its mouth," official spokesperson R. Susngi said from ground zero.
The mine is located at Ksan near the Lytein river under Saipung police station.
Susngi said according to the navy, if the water level comes down, a search will be feasible. The mine has been flooded and the water level is said to be more than 150 feet.
Susngi said the site had been cleared for Odisha fire and disaster management services personnel to start dewatering from the main shaft. "Other shafts nearby are being prepared to keep the pumps from Odisha in working condition," he said.
At least three machines were kept in the nearby shafts. These pumps can take out at least 1,600 litres of water per minute.
Susngi said a joint operation by the navy and the National Disaster Response Force (NDRF) began at 10am. The navy entered the main shaft to survey the bottom of the sheet using the UWROV.
The navy requested the district administration to assist in dewatering so that the water level in the main shaft comes down to 30 metres or within safe-diving limits.
The search-and-rescue operation at Ksan comprises personnel from the navy, NDRF, Odisha fire and disaster management services, SDRF, civil defence and state police. Personnel of Coal India Ltd (CIL) are also at the site.
A high-powered submersible water pump from CIL arrived late on Sunday. The pump can dewater about 500 gallons per minute.
Seven persons from Rajabala in West Garo Hills district, three from Lumthari village and five from Assam are confirmed trapped inside the mine. The state government had announced Rs 1 lakh interim relief on December 22 to the kin of each of them.