Nagas suffering for seven decades: Rio
Neiphiu said the Centre has recognised the unique history, culture and tradition of the Nagas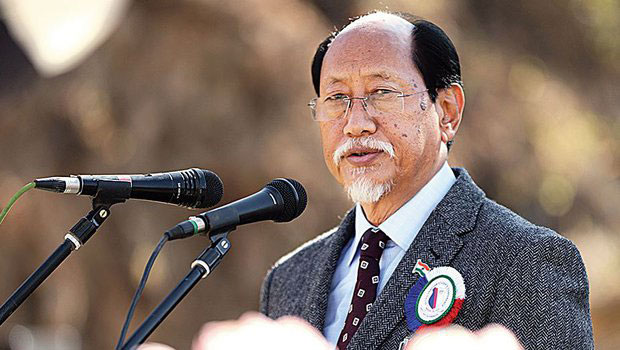 ---
|
Dimapur
|
Published 23.01.20, 06:46 PM
---
Nagaland chief minister Neiphiu Rio on Thursday said the Nagas have been suffering for the Naga political issue for the past seven decades now.
"But we have to be reasonable and responsible in a manner that what is possible and what is not and what is achievable," Rio said, addressing the 71st Chakhesang Students Union's general conference, coinciding with Pfutseromi Village Students Union platin-um jubilee, as a guest at Pfutseromi village in Phek district.
He said many people talk about politics but there is hardly anyone to act and take corrective measures. Saying the present student leaders are the future of society, Rio said, "Therefore, we have to take life seriously and learn to equip ourselves to face the challenging world."
He said the Centre has recognised the unique history, culture and tradition of the Nagas. So, the Nagas have to unite and find a settlement and the students and youth of today have to work together to build "our future", he added.
On the Citizenship Amendment Act (CAA), Rio said the state government demanded that the Bengal Eastern Frontier Regulation Act (BEFR), 1873, be enforced in Nagaland to which the Centre has been kind enough and agreed.
The inner-line permit (ILP) was introduced by the British in the BEFR 1873 in the states of Arunachal Pradesh, Nagaland, Mizoram and Manipur. The ILP was introduced in Manipur recently, making it the fourth state in the country to come under the system.
He said the Nagas, including six Scheduled Tribes of the Northeast, have been exempted and protected from CAA.
Union home minister Amit Shah has also assured that CAA will not affect the Nagas, he said. "But our people should use the ILP carefully. Otherwise, the danger will come from our own people who will misuse it. So, it is the duty of the Nagaland government to see that the ILP is enforced properly," Rio added.
He said education is a very interesting and serious business as it is in one of the best things that has happened to the Nagas after Christianity.
"One should pursue education very seriously. We should take the student period seriously so that we build our future with knowledge as a man without education is like a bird without wings," he added.
Rio also unveiled the platinum jubilee monolith of the students' union.