Multi-faith message at Tarun Gogoi's funeral
The procession with his body stopped at a church, a naamghar (community prayer hall), a mosque and a temple during the 17km last journey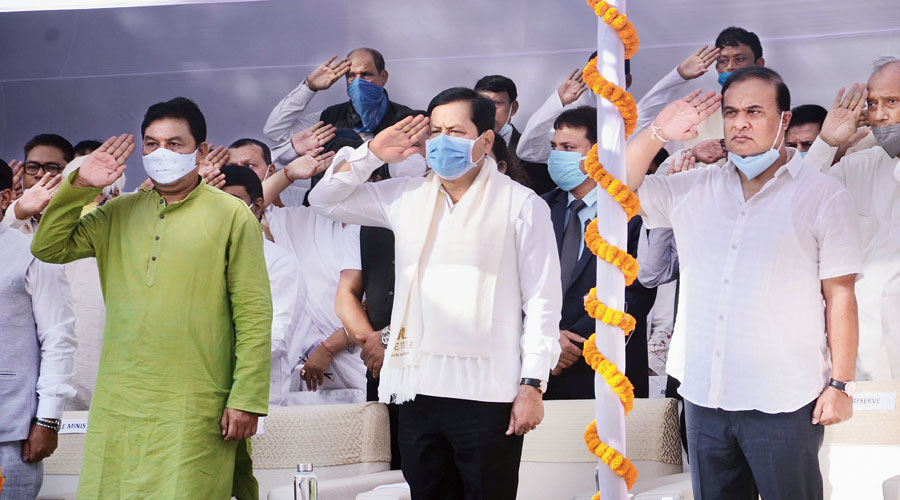 Assam BJP president Ranjeet Kumar Dass (left), chief minister Sarbananda Sonowal (centre) and minister Himanta Biswa Sarma at the Navagraha cremation ground on Thursday.
Sourced by correspondent
---
Guwahati
|
Published 27.11.20, 01:54 AM
|
---
Places of worship of several religions were chosen as pit stops during former Assam chief minister Tarun Gogoi's last journey on Thursday, in keeping with the Congress veteran's last wish, to send a message of harmony amid "polarisation". 
Before Gogoi's last rites were performed with full state honours at the Navagraha cremation ground in Guwahati in the afternoon, the procession with his body stopped at a church, a naamghar (community prayer hall), a mosque and a temple during the 17km last journey, said state Congress president Ripun Bora.
Gogoi, 86, passed away on Monday evening due to post-Covid complications. He was chief minister for three terms from 2001 to 2016.
"The stoppages, as desired by our departed leader, were to send a message of communal harmony in these polarised times," said Assam Congress general secretary Diganta Choudhury, referring to perceived attempts by the ruling BJP to divide the society along religious lines in the run-up to next year's Assembly elections.
The BJP maintains that such allegations are false and claims that it remains committed to the promise, made before the 2016 polls, to protect Assam's jati (identity), mati (land) and bheti (base).
However, BJP leaders have been referring to Bangladeshi Muslim migrants, an emotive issue in Assam, as "Mughals" and "miyas". 
Assam Minority Development Board chairman M. Aowal had said in February that the state had a population of 1.3 crore Muslims, of whom around 90 lakh were of Bangladeshi origin. Assam's total population is around 3.2 crore.
Satyen Sarma, former state senior additional advocate-general, said Gogoi's life was a message and his last journey was no different.
"He had once said in a TV interview that 'I will always be there for the Hindus, will always be there for the Muslims, will always be there for the Sikhs. I will stand for whosoever is an Indian.' This was proved in his death as his last wish. There was a message for the people of Assam to preserve its composite and secular culture," Sarma told The Telegraph, referring to the prevailing political atmosphere.
His views were shared by Allen Brooks, former member of the Assam Minority Commission. "He (Gogoi) was everyone's leader, represented every community and section.
He wanted the blessings of everybody even on his last journey. There is a message to everyone: that we need to accept, respect and live in harmony with India's diversity, Assam's diversity, more so in this polarised environment."
The funeral procession was reminiscent of the farewell accorded to legendary singer Bhupen Hazarika in November 2011.
"There were not as many people but it evoked memories of Bhupenda's last journey. There were hundreds lining up the streets with folded hands as the procession passed.
He (Gogoi) got a farewell befitting of a mass leader," said Aroop Baruah of Jorhat, who attended the procession on Thursday.
Senior Congress leaders and workers also joined the funeral procession. Chief minister Sarbananda Sonowal, health minister Himanta Biswa Sarma and state BJP president Ranjeet Kumar Dass attended the cremation at Navagraha along with several ministers and senior officials. The state government had made elaborate arrangements for the funeral. Gogoi's son Gaurav lit the pyre.
Gogoi was a six-time MP and five-time MLA, besides being a Union minister of state in the early nineties. He has been credited with ushering in peace in Assam as chief minister after years of insurgency. 
On Wednesday, the All Assam Students' Union (Aasu), an influential outfit and a bitter critic of Gogoi, had in its tributes lauded his "democratic and humane" approach towards resolving complex problems, appearing to send a message to the ruling BJP for crushing protests and dissent.