MNF observes exodus day
On December 1971, about 1,000 MNF cadres were held in Rangamati headquarters by joint forces of Mukti Bahini guerrillas and Indian Army, following the defeat of East Pakistan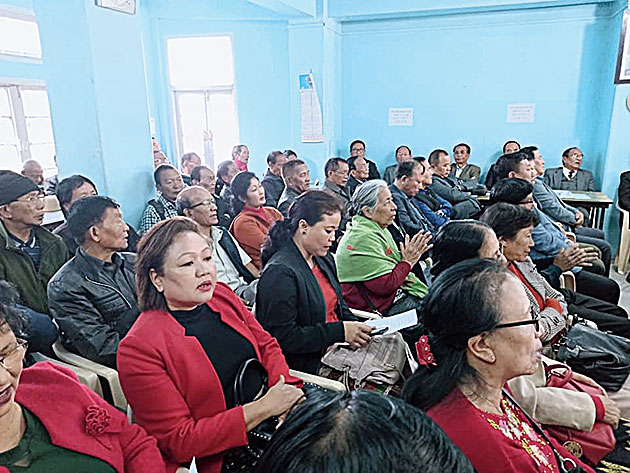 MNF workers observe Exodus Day.
Picture by Henry L. Khojol
---
Aizawl
|
Published 16.12.19, 06:35 PM
|
---
December 16, which marks the victory of India over Pakistan in the Indo-Pakistan War of 1971, it is the day of "exodus" for the erstwhile underground outfit, the Mizo National Front (MNF), which spearheaded movements from 1966 to 1986 to secede from India .
Over 48 years ago, over a thousand MNF cadres were miraculously rescued with the help of Pakistan forces from the combined forces of the Indian Army and Mukti Bahini guerrillas in Bangladesh after Pakistan surrendered before India in 1971.
The day is observed as exodus day by the MNF in Mizoram. Hundreds of MNF workers assembled at the party office here to remember the day, which coincided with the closing ceremony of the party office for the current year.
Speaking on the occasion, chief minister and president of the ruling MNF Zoramthanga said December 16, 1971, was a memorable day for the Mizo community as God had miraculously delivered the MNF cadres that day to carry on and keep alive the growth of "Mizo nationalism".
Recollecting the day, he said the MNF camp in East Pakistan (now Bangladesh) was under siege at its Rangamati headquarters by the allied forces of the Indian Army and the Mukti Bahini guerrillas of Bangladesh, following the defeat of East Pakistan, leaving the MNF cadres nowhere to go.
MNF founder and then president Laldenga, who led the cadres, suggested that they pray to God thrice. After praying three times, the MNF cadres miraculously escaped through a water route enveloped by heavy fog.
"We were desperate and prayed for God's intervention. God sent a Pakistani army major, who showed us the way to escape through the Faruah river," Zoramthanga said. The MNF cadres escaped with the help of boats and survived at least two encounters on the way, he added.
Equating Exodus Day with the Biblical narrative of the Israelites crossing the Red Sea to escape from Egypt, the rebel leader-turned-politician said, "It was miracle of miracles."
He said the MNF, which spearheaded the "freedom movement" for the Mizo community, withstood many troubles during its journey and God will continue to lead the MNF despite adversities.
"The star (MNF party symbol) will continue to shine as God will not forsake us midway," he said.
Zoramthanga exuded hope that his party would win the next Assembly polls and take more than 27 seats, the party's current strength in the Assembly. He said the MNF has not abandoned its main ideologies and basic principles even after 60 years of its birth.
On June 30, 1986, the MNF had signed a peace accord with the country, ending two decades of insurgency.
On February 20, 1987, Mizoram became the 23rd Indian state.