Forum seeks Roy ouster
Roy had said the Citizenship bill should have been proposed long back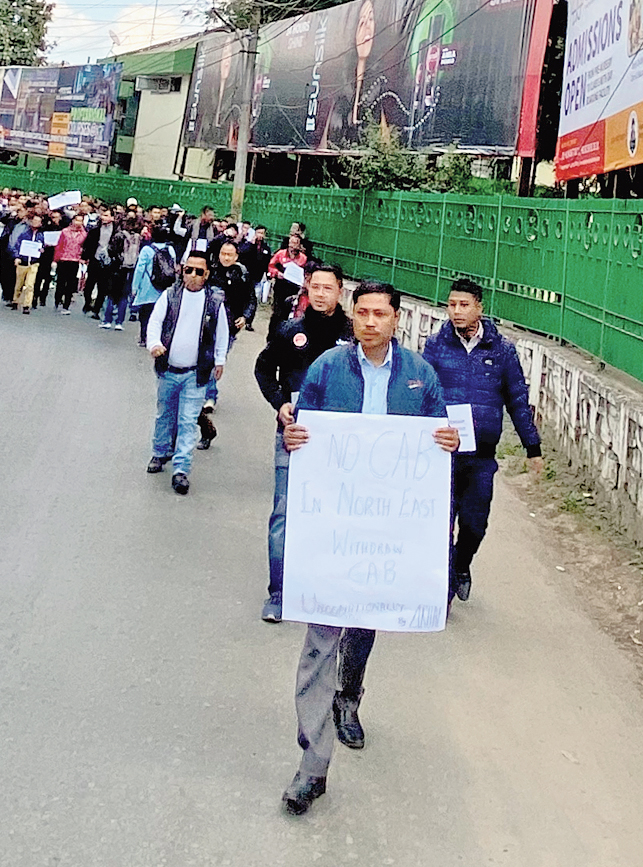 The members of the confederation hold placards in Shillong on Monday
(Picture sourced by The Telegraph)
---
Shillong
|
Published 09.12.19, 07:46 PM
|
---
The Confederation of Meghalaya Social Organisations staged a protest on Monday against the Citizenship (Amendment) Bill while demanding immediate recall of governor Tathagata Roy.
The members of the confederation, an umbrella body of various organisations, assembled in front of the Meghalaya BJP office and chanted slogans against Prime Minister Narendra Modi, Union home minister Amit Shah and the NDA government for brining the bill.
From there, the protesters marched towards the parking lot near the additional secretariat building, but they were disallowed from going towards Raj Bhavan.
The protesters also shouted slogans against Roy, demanding his recall or resignation from gubernatorial office for his pro-bill comments.
Roy had said the bill should have been proposed long back.
The organisations were peeved with Roy for his delay in giving assent to an ordinance amending the Meghalaya Residents Safety and Security Act, 2016. The ordinance will make it mandatory for visitors who wish to stay more than 24 hours in the state, to pre-register themselves. At Motphran, speakers of the confederation said while the BJP government was pushing for implementation of the citizenship bill, the governor had not yet given assent to the ordinance which would be a safeguard for the state.
The confederation vowed to continue protest against the bill. It said granting citizenship to illegal migrants would pose a threat to the indigenous communities.