Mawlynnong mention in Modi's Mann ki Baat
Prime Minister exhorts citizens to follow the practices of the residents of 'cleanest village in Asia'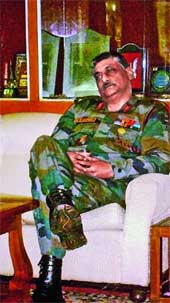 ---
Published 26.10.15, 12:00 AM
|
---
Shillong, Oct. 25: Meghalaya's Mawlynnong, described as "God's own garden" and the cleanest village in Asia, today basked in glory after it found a mention in Prime Minister Narendra Modi's monthly radio talk.
"Meghalaya governor V. Shanmuganathan wrote to me and mentioned Mawlynnong village. This village has been devoted to cleanliness since several years, he said in his letter. He said this village was awarded the cleanest village in Asia a few years ago," Modi, the chief propagator of the Clean India Campaign, said in the Mann ki Baat programme this morning.
Surely the inhabitants of the village, situated nearly 90km from here in East Khasi Hills along the Indo-Bangladesh border, would be delighted that the place they have nurtured has found a mention in Modi's speech.
"I was happy to know that in our country there is such a village in the Northeast, in Meghalaya, which is passionately carrying forward the mission of cleanliness for years. It has become the habit of the residents to maintain cleanliness," he added.
"All this infuses confidence in us that our country will surely become clean through the efforts of fellow citizens," Modi said.
Reacting to the Prime Minister's statement, Mawlynnong village headman Thomlin Khongthohrem, said they were happy that the village had found a pride of place.
"Although he is yet to visit our village, we feel proud and enthused that the Prime Minister has lauded our work and given us recognition. We will be motivated to carry on with our mission to keep the village clean," Khongthohrem told The Telegraph over phone.
The village, which has around 80 households and not more than 500 inhabitants, welcomes around 250 guests on a daily basis, he said.
Thousands of tourists flocked to Mawlynnong in the past few days.
"As the years roll by, there are more tourists visiting our village. We never allow them to litter in the village and we appeal to them to use waste bins," he said.
The village uses khoh - a coarse, cone-shaped basket made of bamboo - to throw waste.
Among the new initiatives being undertaken, Khongthohrem said the residents are constructing a swimming pool for tourists and a viewpoint.
The viewpoint will enable the tourists to witness the plains of Bangladesh.
On his message to the rest of the country, the village chief said, "Our aspiration is to see a clean nation. The Prime Minister has been leading the way and we give him our encouragement and support. We also appeal to the citizens to work together to achieve the dream of a clean India."