Manipur groups want CM Biren Singh to clear air on citizen bill
Chief minister and his govt want protection for smaller indigenous groups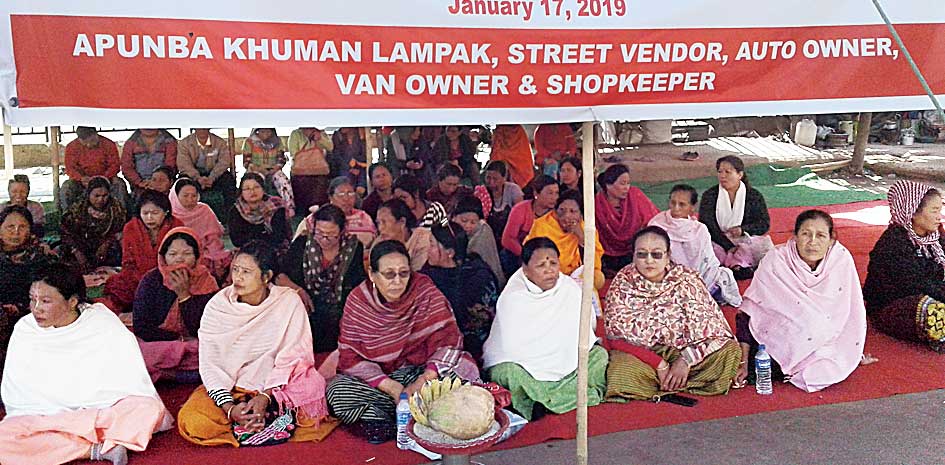 People at the protest in Imphal on Thursday.
Picture by Ngangbam Indrakanta Singh
---
Imphal
|
Published 17.01.19, 06:44 PM
|
---
Groups in Manipur have asked chief minister N. Biren Singh to make his stand clear on the Citizenship (Amendment) Bill, 2019, while asking the MPs of the state "why they are inactive when people are rising up against the bill".
Street vendors, auto and van runners and shopkeepers in the Khuman Lampak area of Imphal staged a sit-in at Khuman Lampak on Thursday. They demanded the "immediate" withdrawal of the bill that was recently passed in the Lok Sabha.
"The chief minister should give a clear stand on the bill and he must boldly declare that he would resign if the Centre failed to listen to him," said a leader of a street vendor organisation, Y. Indrani.
Biren Singh had said his government would oppose the bill until and unless a clause for exemption of Manipur and protection of the indigenous people of the state is inserted in it.
The chief minister and his team met Union home minister Rajnath Singh in New Delhi recently. He said the Manipur government demanded that the Centre should first consider the protection of the smaller indigenous communities residing in Manipur and the Northeast if the bill was to be passed in the Rajya Sabha.
"We strongly oppose the bill which is a threat and challenge to the indigenous people of the region. The influx that would result because of the bill will flood the original settlers of Manipur, Assam and other northeastern states. The bill should not be passed in the Rajya Sabha," said Indrani.
The North East Peoples' Parliament (a regional organisation) stated that demands for political autonomy for the whole northeastern region might arise if the legitimate demand for withdrawal of the bill was not fulfilled.
Demanding withdrawal of the bill, various groups organised protests at Chingmeirong, Lamphel and Sagolband Tera Amudon in Imphal West district and at Checkon in Imphal East.
The protest at Chingmeirong was organised by the Joint Committee on Inner Line Permit System.
R.K. Tharaksana, general secretary of Khwai Lamphel Women Development organisation, which along with student groups, organised the rally at Laphel, said while the indigenous people of Manipur are threatened by the increasing number of immigrants, the bill, which allows immigrants from Pakistan, Afghanistan and Bangladesh to settle in India, was passed in the Lok Sabha.