Manas under invasive plant species threat
The present study revealed that almost 15 to 20 per cent of the total park area is under the threat of the invasion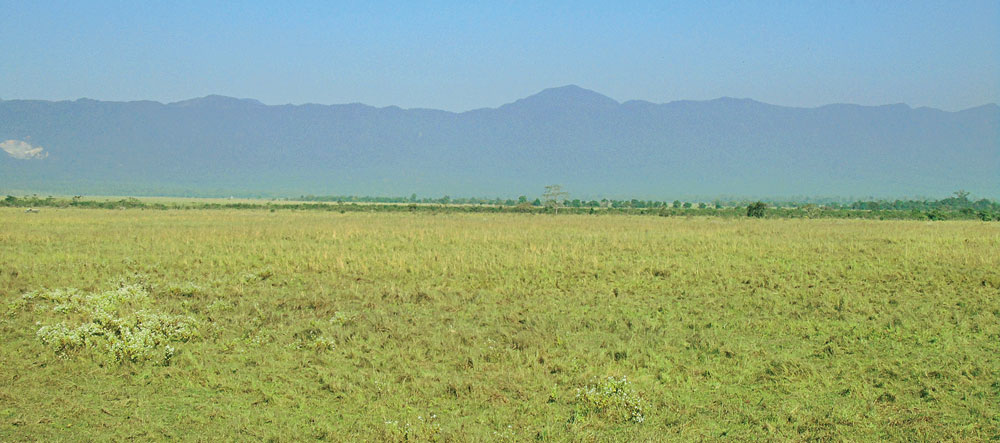 Chromolaena odorata flowering in the Terai grasslands of Manas National Park
Picture courtesy: Alolika Sinha
---
Guwahati
|
Published 29.05.19, 12:35 AM
|
---
Significant wildlife habitats in Manas will be affected and altered if the invasive plant species from South America continues to grow, a new study has warned.
A study titled "In search of aliens: Factors influencing the distribution of Chromolaena odorata and Mikania micrantha in the Terai grasslands of Manas National Park" by Anukul Nath, Alolika Sinha, Bibhuti P. Lahkar and Namita Brahma in ecological engineering has found that if both the invasive species — Chromolaena odorata and Mikania micrantha — continue to grow at its present rate, they will spread over entire grassland area of the park.
The present study revealed that almost 15 to 20 per cent of the total park area and more than 30 per cent of grassland area are under the threat of the invasion.
"They are one of the biggest threats to biodiversity. It is already too late. Proper attention needs to be urgently given by the government to check it or else it will get out of control," Lahkar, a grassland management specialist with Aaranyak, said.
An invasive species is one that is not native to a particular area, but arrives (usually with human help), establishes a population and spreads.
In recent years, invasive plant species have had a devastating impact on the sustenance of natural habitat for the in-situ conservation of threatened species.
According to the present predicted distribution map, if both the invasive species continue to grow at its present rate, they will spread over the park's grassland area.
Chromolaena odorata is a perennial herbaceous shrub native to Mexico, the West Indies and tropical South America. In 1845, it was first introduced to Calcutta's Acharya Jagadish Chandra Bose Indian Botanic Garden as an ornamental plant, and Jamaica was considered as the likely geographic source to India.
Mikania micrantha, being a perennial herbaceous weed vine native to tropical Central and South America, was introduced during World War II to camouflage airfields of the British allied army.
The study said considering the present probable areas in which these two invasive species are likely to invade, there are high chances that the majority of the significant wildlife habitats will be affected and altered in the near future leading to habitat shrinkage of Asiatic wild buffalo, introduced one-horned rhino, swamp deer and hog deer.
"The small size of the park, highly connected road network and uncontrolled burning may provide further opportunity to the invasive plants to invade the greater area of the national park. We highly recommend that the forest department should strictly prohibit the use of random paths/trails in the grassland areas, since C. odorata was found to invade vigorously in open areas," it said.
The study said invasion risk maps can be used as an early detection tool for the management of invasive species, which could help in minimising the ecological significance and economic cost of invasions.
The World Heritage Committee, in its report on Manas, said the initiative to develop a science-based protocol for grassland management in collaboration with experts as well as the establishment of monitoring teams is appreciated.