Learn from Delhi results, BJP told
AAP's state coordinator Bhaben Choudhury said the result was a 'victory over the communal forces of India'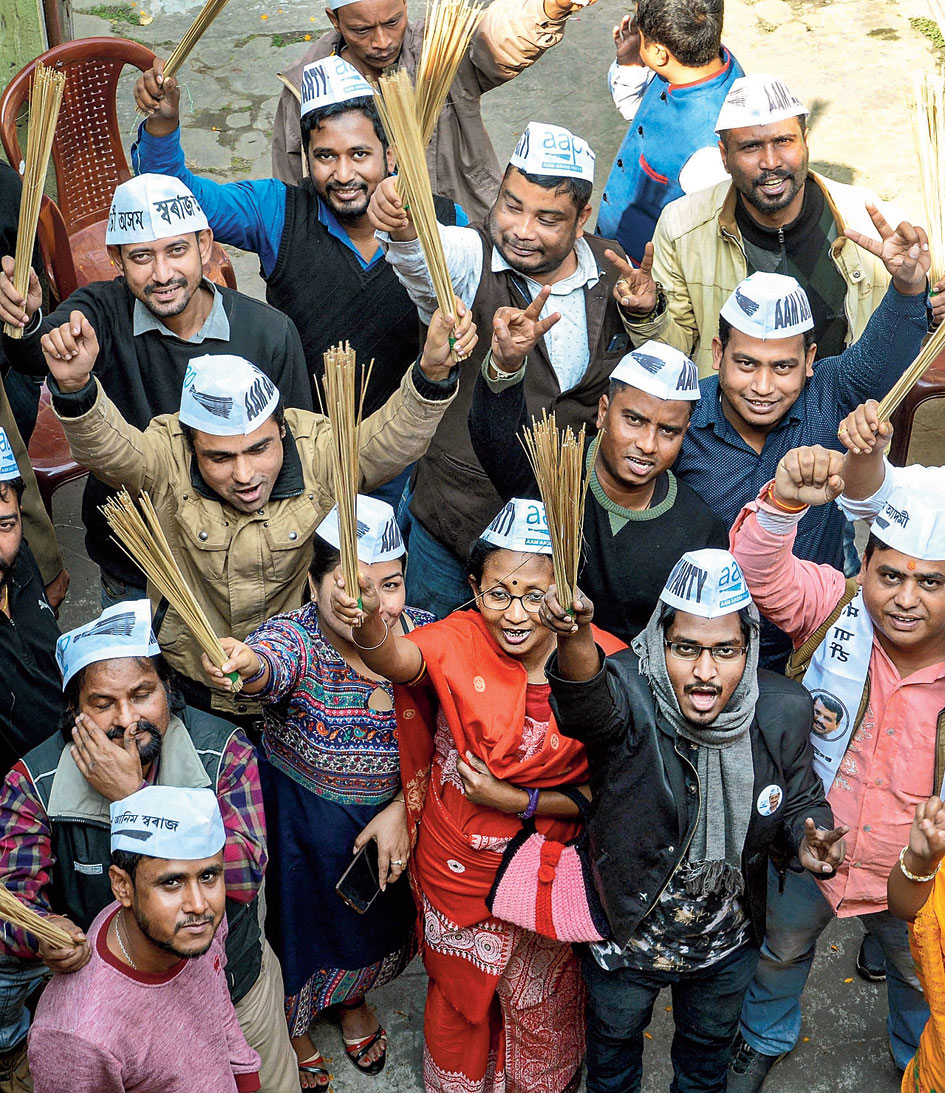 Aam Aadmi Party workers celebrate in Guwahati on Tuesday
(PTI)
---
Guwahati
|
Published 11.02.20, 06:49 PM
|
---
Organisations opposed to the citizenship law in Assam said the decisive mandate for Aam Aadmi Party (AAP) in the Delhi Assembly polls on Tuesday was a clear message to the ruling BJP to focus on development instead of playing the communal card to win elections.
The organisations said the people of Delhi wanted development that the AAP government had delivered or tried to deliver against the BJP's alleged bid to divide people on religious lines, which became clearer through the Citizenship (Amendment) Act.
The AAP victory also seemed to have given a huge boost to the anti-CAA brigade amidst perception that the ongoing anti-CAA movement in the state was going nowhere given the apparent indifferent attitude of the state government towards the protests which started in December.
"This is a clear mandate from the people of Delhi that the politics of communalism and hatred will no longer be tolerated. It was a message that people want development and economic uplift," said Lurinjyoti Gogoi, general secretary of All Assam Students' Union, which has spearheaded protests against CAA. "CAA had a direct impact on the Delhi election. People of Delhi saw how the BJP was trying to divide people on religious lines. They rejected it."
Another anti-CAA organisation, Asom Jatiyatabadi Yuba Chatra Parishad (AJYCP), echoed Gogoi. "Delhi election results show that people want development and playing the communal card cannot guarantee electoral victory," said AJYCP general secretary Palash Changmai. He said the results also made it amply clear about the relevance of a regional party. He said BJP wins elections when its main opponent is the Congress.
By noon when it became clear that BJP's 39 star campaigners, along with a galaxy of parliamentarians and legislators, including Assam chief minister Sarbananda Sonowal and cabinet minister Himanta Biswa Sarma, had failed to stop the AAP from retaining power, its Assam unit cadres started celebrating and organised a motor cycle rally here.
AAP's state coordinator Bhaben Choudhury said the result was a "victory over the communal forces of India".
AAP's state secretary Bandip Dutta said very soon the party will start participating in the elections in Assam with very careful selection of candidates. He said preference would be given to people with a clean image and having the ability to lead the state. "People with communal or oppressive mindset have no place in the AAP," he added.
The Assam Congress also said the poll result was a message against communal politics. "It reflected failure of communal politics by the BJP," said Debabrata Saikia, leader of the Opposition in the Assam Assembly.