Ladies pin hope on Hagrama Mohilary
Around one lakh women cheer for BPF chief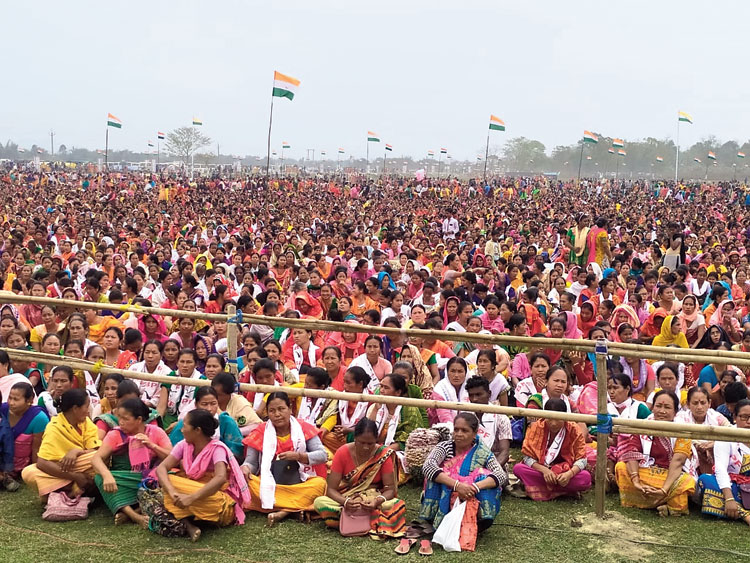 ---
|
Udalguri
|
Published 25.02.20, 07:03 PM
---
Momi Devi Baishya, a mother of two, travelled 131km to Bishmuri in Kokrajhar of Assam, all the way from Barama in Baksa to listen to Bodoland People's Front chief Hagrama Mohilary, who she believes is the only leader who can resolve the issues of every community residing in the Bodo belt.
Tutumoni Medhi, a stay-at-home mother of one and an ardent supporter of the BPF from Udalguri, also travelled 254km to reach Bishmuri.
She said her friends also loved Mohilary, adding, "We like it when somebody promises to do something and they follow through on it."
Both of them are among nearly a lakh women who converged from every nook and cranny of Udalguri, Baksa, Chirang and Kokrajhar to cheer for the BPF at a massive mass pre-poll rally hosted by Bodoland Territorial Council (BTC) chief Mohilary on Tuesday.
The massive show of strength comes amid speculations of an anti-incumbency wave against the BPF, which has been in power for three consecutive terms since its inception during the formation of the BTC in 2003.
"We arranged for the all-women's meet to strengthen our party's vote base and to ensure active participation of women as conscious voters in the BTC polls," said the president of the BPF women's cell, Supriya Rani Brahma.
Rajya Sabha MP and BPF working president Biswajit Daimary told reporters on the sidelines of the rally, that the energy and momentum displayed by the women show that the BPF is the clear favourite in every household in the council polls.
Daimary said, "A section of media is claiming in reports that the BPF is passing through rough waters but this rally proves that the party is strongest ever and has the unwavering support of the people."
Mohilary said, "The BPF will take up a project before the polls under which financial aid of Rs 5,000 will be extended to 500 self-help groups in 40 BTC constituencies. Cycles will be provided to women ASHA workers and midday meal cooks."
He added that the BJP and AGP will be alliance partners of the BPF in the council polls.
In the meet, Mohilary feted 114 former United People's Party Liberal (UPPL) and All Bodo Students' Union (Absu) members with aronai as they formally joined the BPF.
The all-women's gathering was also attended by Assam social welfare minister Pramila Rani Brahma and tourism minister Chandan Brahma, among others.
In the 2015 council polls held in 40 seats of the 46-member council where six members are nominated by the governor from the non-represented communities, the BPF retained power for the third consecutive term by winning 20 seats and gaining 28.5 per cent votes.
The BPF also lost 11 seats in contrast to the last election in which it won 31 seats.