KMSS adviser Akhil Gogoi opposes move to release foreigners
NRC authority urged to reject cases if objectors are absent as more fake cases surface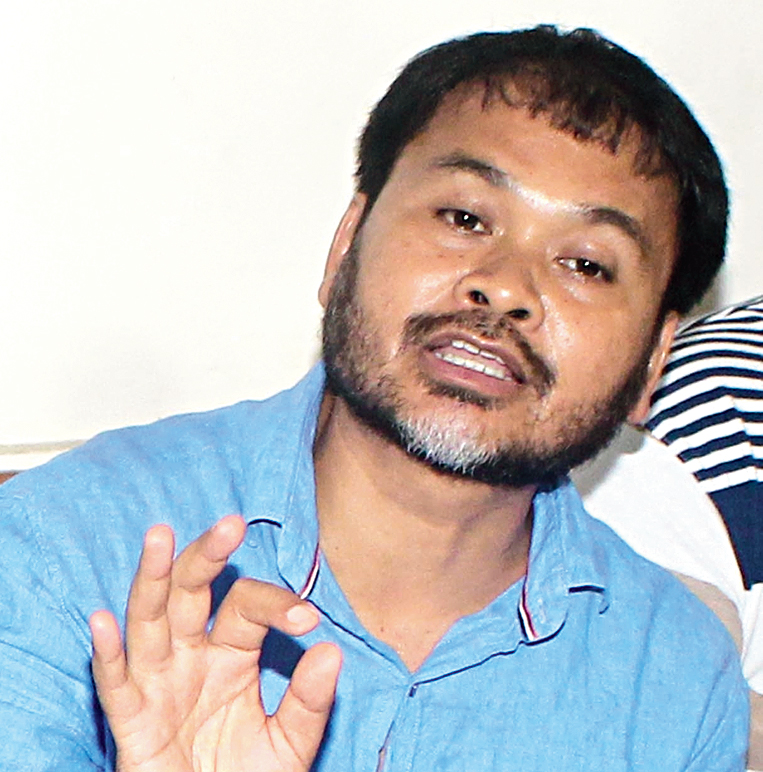 Akhil Gogoi addresses the news conference in Guwahati on Sunday.
Picture by UB Photos
---
Guwahati
|
Published 12.05.19, 08:03 PM
|
---
The Krishak Mukti Sangram Samiti (KMSS) on Sunday opposed the release of declared foreigners from detention camps, describing it "suicidal".
KMSS adviser Akhil Gogoi blamed the Assam government for submitting affidavits with the Supreme Court proposing to release declared foreigners from detention camps.
"The Assam government, in its affidavits submitted to the Supreme Court again and again, suggested releasing the declared foreigners from detention camps. This was strange. But the court agreed. We strongly oppose the decision," said Akhil.
The apex court on Friday said the detainees may be released on execution of bond with two sureties of Rs 1 lakh each of Indian citizens; if he or she specifies verifiable address of stay after release; biometric of his/her iris (if possible) and all 10 fingerprints and photos shall be captured and stored in a secured database before release from the detention centres and shall report once every week to the police station specified by the foreigners tribunal.
Assam has six detention centres, with 939 people.
Akhil demanded the NRC authorities to reject all objections filed in the NRC update process if the objectors do not turn up for hearings.
"Filing objections is not illegal. However, filing them in bulk numbers without having any proof and documents in support of the objections is tantamount to scuttle the NRC update process," said Akhil.
He said a few organisations have fallen in the "trap" of the BJP to scuttle the NRC update process by filing objections in huge numbers.
"Assam chief minister Sarbananda Sonowal and cabinet minister Himanta Biswa Sarma were often seen criticising the organisations for not filing objections. Their motive was to dilute the anti-citizenship bill protest as well as to scuttle the NRC update process. Later, a few organisations actually fell into the trap and filed objections in bulk," said Akhil.
He, however, did not mention the name of any organisation.
The NRC authorities have received over two lakh objections and most of them were filed in the last few hours of December 31, 2008, the deadline of filing objections.
However, the objection process has run into a controversy as the objectors are not turning up up at hearings.
NRC Assam state coordinator Prateek Hajela admitted this in the Supreme Court, which has been monitoring the update exercise of the NRC.
"We demand the NRC authorities to reject the objections where the objectors do not turn up. Otherwise, the NRC process with be delayed. At the same time we demand not to reject genuine objections," Akhil said.