Jumbo-proof paddy storage to mitigate man-animal conflict in Assam
Make it a better place for you & for me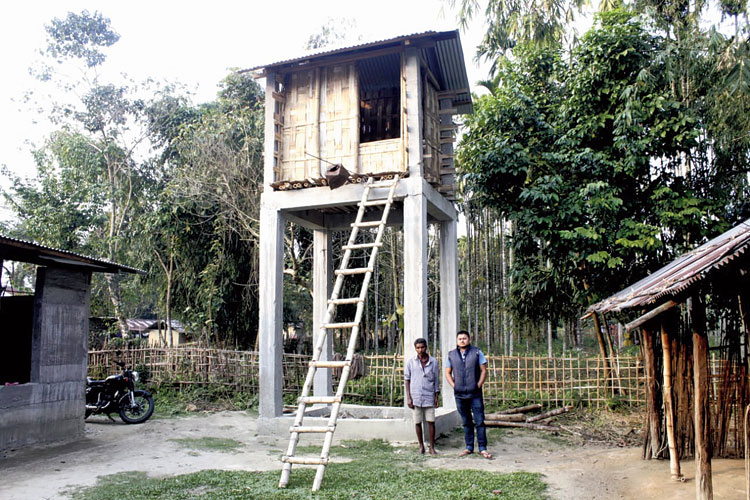 ---
|
Guwahati
|
Published 11.03.20, 07:03 PM
---
It's a project aimed at protecting humans and elephants alike.
The Assam Wildlife Rescue and Research Organisation (AWRRO), in collaboration with Wildlife Trust of India (WTI) and David Shepherd Wildlife Foundation (DSWF), has constructed an experimental elephant-proof paddy storage structure under the RAP (rapid action project) at Golajuli village in Lakhimpur.
Golajuli is one of the highly human-elephant conflict-prone villages of Lakhimpur district of Assam. It shares its northern boundary with Ranga reserve forest in Lakhimpur district and is close to the Dorpong-Duimukh elephant corridor.
"Paddy stored at home attracts wild elephants which raid the houses and cause heavy damage. This new experimental elephant-proof paddy storage is 19 feet in height with a capacity to store about 1,000kg of paddy. This also costs less than the compensation which the Assam government pays for the damage of a concrete house by an elephant. We are still monitoring elephant behaviour and its impact on the construction for improvement in this experimental design," AWRRO president Tilak Kr. Pradhan said.
People in rural Assam traditionally store their paddy in a house on wooden stilts, locally called bhoral ghor. The walls of these traditional structures are made of bamboo and clay to protect the paddy from moisture content of both air and soil. The stilts also help protect the stored paddy from flood and cattle.
However, these traditional structures are now unable to withstand the elephant raids as those are neither high nor strong enough. Hence, farmers store their paddy inside their houses, inviting trouble.
"I am a poor farmer. Elephants damage our crops every year. We collect the rest of crops and try to store it for the next season. But elephants damaged my house several times and devoured the stored paddy too. I am just lucky to be alive after so many elephant attacks. I am happy with the new bhoral. It has already repelled two jumbo attacks," said Rushu Kara at whose house this structure has been built.
Forest officials are hopeful that this project will help save both humans and animals.
"I would like to thank AWRRO and WTI for this multi-effective and innovative initiative," forest range officer Pranjal Kataky said.