Interpreter of feminine pain - PERSONALITY
Read more below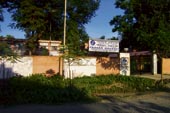 ---
Published 28.04.04, 12:00 AM
|
---
Anima Guha. Picture by S.H. Patgiri
Anima Guha
Social activist, writer, academician, wife of a noted historian and mother of a successful son, 72-year-old Anima Guha juggles all these roles to perfection. But it is as a women's rights crusader that we know her best.
There's more to Anima than meets the eye. Part of her charm lies in her easy accessibility and her motherly appeal. Popularly known as "Anima baidew", she is ubiquitous at almost all functions and rallies. She has been in the news for her activities as the president of Nirjatan Birodhi Oikya Mancha, a women's rights forum.
Sipping black tea from a glass attached to an exotic glass-holder used for drinking vodka in Russia, she says, "When I see myself in the mirror, I feel that I am growing old. Otherwise, I am as spirited and energetic as a 16-year-old. In fact, I often say that for a woman, life begins at 50."
Her academic career was a roller-coaster ride, as she gave priority to her family. She completed her Masters degree after her marriage to Amalendu Guha and did her PhD in anthropology from Pune University after her only son, Supratik, started going to school. "I was lucky enough to have a liberal father and an equally broadminded husband who were inclined towards academic pursuits and actively encouraged me to do so," she says.
She recalls her early years in Kokrajhar where her father Girindra Mohan Das was the assistant dewan at the Bijni royal estate.
"Kokrajhar did not have schools for girls and my father made me enrol in the boys' school along with a friend of mine way back in 1942," she reminisces.
"I had never been a "delicate creeper", which a woman is generally supposed to be but was very spirited and independent-minded. The fact that I was not allowed to climb trees or ride bicycle beyond a certain point because I was girl, sowed the seeds of feminism in me," she says.
However, she does not believe in the extreme brand of feminism. "For me, feminism means freedom of the mind and a chance for women to realise their own individuality and potential. She ought to realise that there is virtually no difference between man and a woman."
Apart from being a post-doctoral fellow of the Anthropological Survey of India, Calcutta (1976-1989), she was also pool officer of the Council of Scientific and Industrial Research from 1980-84.
As a research associate of the UGC, attached to the department of anthropology, Calcutta University from 1985 to 1990, she worked mainly on the genetical study of birth defects and on indigenous health practices among different tribal groups and other backward population of Assam.
She has published a number of research papers in scientific journals apart from participating in various seminars and conferences. She had also presented papers at the International Congress of Anthropological and Ethnological Science held in Zagrel (Yugoslavia) and in New Delhi.
Looking wistfully at the photographs of her two grandsons, Rishab and Anubhav on the bookshelf, she speaks proudly of their achievements. Her son and his family live in the US. "Both my son and my daughter-in-law, Manisha, have sound careers and I want them to achieve greater heights. Today's world is a small place and everything is easily accessible. I visit them whenever I feel like," she says.
A literary pensioner, Anima has written several books, essays, articles, translations and travelogues. She translated a book from Marathi to Assamese while she was in Pune. "I picked up Marathi from my friends and acquaintances. I also took the help of the dictionary," she says. She was also invited to preside over the 18th biennial conference of the Sadou Asom Lekhika Samaroh Samiti in Goalpara in 2000.
Anima is also an efficient housekeeper. She is fond of needlework and embroidery. "Earlier, I used to take out all the books from the shelves and dust them every month. But these days, I would rather spend that time either reading or writing something," she says, glancing at the shelves stacked with books in her living room.
She is at present at the beck and call of many mahila samitis or women's groups. She is ready to counsel victims of domestic strife or crisis, where the woman is usually the sufferer.
"We try to advise them to come to an amicable resolution. It is heartening to note that the mahila samitis are nowadays playing an active role in solving these kinds of disputes in their localities. Sometimes, they even boycott such a family," she says.
Anima is distressed by the plight of widows. "I remember my mother started wearing white clothes and stopped donning ornaments after the demise of my father. I was too young to understand then. Even today, I see many of the widows hesitate to join social functions as they are considered inauspicious," she says. "I remember one of my colleagues who was widowed at an early age. She used to say she barely remembered her husband's face but she has mourned his death all her life by abstaining from good clothes and even good food," she says. Anima wants to bring about a change in the attitude and mindset of the people. "Women should not harbour any inferiority complex and develop her individuality." As she finishes her glass of black tea, she looks out of the window. "It's getting dark and the weather is rather cloudy. You should get going," she says.
On a final note, she said she wants to be remembered as a humanist who championed the rights of women, the suppressed lot. "We still have a long way to go," she signs off with a winning smile.